Home Plate January/February 2014
Little Bangladesh: The Garden City Shopping Center on Lee Highway; Cooking Classes; José Andrés new line of imported Spanish foods
Little Bangladesh
The Garden City Shopping Center on Lee Highway (just east of the intersection with George Mason Drive) is home to five Bangladeshi-owned markets and restaurants, as well as an Indian restaurant and a Pakistani grocery. The sum total is an Indian subcontinent destination.
"People come from all over, from Baltimore to Richmond, just to be here on weekends," says Ash Sirazul, a Bangladeshi native and Arlington residential property developer. During lunch hour, Sirazul is often found at the 14-seat Gharer Khabar café, where, he says, "the food is unbelievable and you can't beat the prices." I'd have to agree. A generous basket of the satisfying mughlai paratha (fried flatbread stuffed with egg and ground beef) is a mere $5.
Folks who are more familiar with Indian cuisine will discover that Bangladeshi fare tends to be a tad oilier, surprisingly sweet and always layered with fresh ground spices and abundant chili peppers. Fish is a dietary staple, and natives tend to prefer the bony, strongly flavored, imported catch from their own rivers and shores. Their hands-down favorite and "national fish" is ilish, a shad variety that's available frozen in most of the shops in this strip mall. The same markets carry essential ingredients for Indian, Pakistani and Bangladeshi cooking, as well as custom-cut halal meats.
Here's a rundown of the offerings:
Grocers
Asia Halal Supermarket. More than 50 kinds of fish and shrimp, imported from Bangladesh, are available in the frozen foods aisle. 5171 Lee Highway; 703-533-0606
Asia Market. Shop here for more than 20 kinds of rice, including the top-selling, fragrant, Royal brand basmati, grown in the Himalayan foothills. 5143 Lee Highway; 703-533-1505
Bangla Bazar. The Islam family sells seasonal vegetables, Bangladeshi snacks and locally made desserts. 5149 Lee Highway; 703-241-7040
Raja Bazaar. Little Raja is a go-to spot for Pakistani brands of spice mixes, snack foods and a wide selection of dried lentils. 5135 Lee Highway; 703-536-4322
Restaurants
Aladdin. Chef Shiuli Rashid and her husband, Harun, are best known for their traditional Bangladeshi desserts. The full-service restaurant also pleases diners with bone-in fish in curry sauce, lamb biryani and chickpeas cooked with tamarind. 5169 Lee Highway; 703-533-0077
Gharer Khabar. Chef Nasima Shreen and partner Raja Siddique serve traditional Bangladeshi street foods and entrées in this small, casual café, decorated with artwork from their homeland. Customer favorites include the large shrimp prepared with coconut milk, spicy-hot dried fish and goat biryani. 5151 Lee Highway; 703-973-2432, www.gharerkhabar.com
Saran Indian Cuisine. Since 1998, the Hazrah family has served popular vegetarian dishes such as samosa chaat with chickpea curry (#9); sitafal curry of fresh pumpkin with onions and spices (#39); and baigan ka bartha, a dish made with oven-roasted eggplant (#43). 5157 Lee Highway; 703-533-3600, www.sarancuisine.com
23
The number of pounds of hops used in beer production each week at Mad Fox Brewing Company in Falls Church, which typically offers 10 or more house brews on tap. madfoxbrewing.com
Class Acts
Want to learn the secrets behind flaky, buttery croissants or classic dim sum? Cooking classes are a terrific way to meet new people and broaden your culinary skills. And there are plenty of options in our area. (Check the websites below for specific class dates and prices.)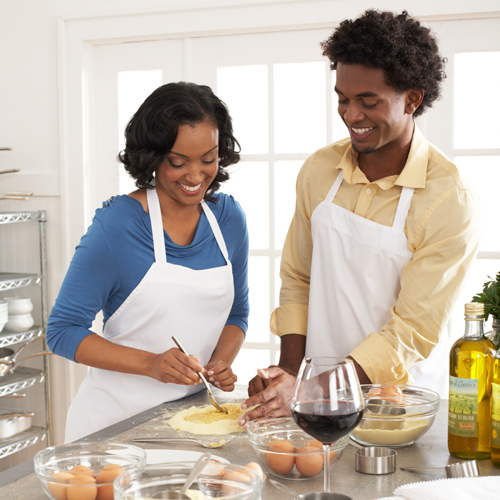 After language classes, the most popular courses taught through Arlington Public Schools' Adult Education Program (703-228-7200, www.apsva.us/adulted) are in baking, cooking and nutrition. "There's an immediate satisfaction with a cooking class," says Raul Matos, APS coordinator of adult education. "You learn how to make sushi. You eat sushi. You leave happy." More than 50 different cooking classes are offered at school locations across the county.
Cookware store Sur La Table in Pentagon Row (1101 South Joyce St., Arlington, 703-414-3394, www.surlatable.com) hosts at least one class per day (sometimes more) in its professional teaching kitchen. In recent months, coordinators have noted an increased interest in the Chocolate Workshop, as well as Kids and Teen Camps and Date Night classes.
If family-style Middle Eastern cuisine stirs the palate, Lebanese Taverna Market (4400 Old Dominion Drive, Arlington, 703-841-1562, www.lebanesetaverna.com) offers classes on Wednesday and Thursday nights, during which participants learn to make signature dishes from the restaurant's menu (an appetizer, entrée and dessert). Classes are offered in a professional teaching kitchen inside the market.
For an intimate culinary experience, instructor Sunny Singh of CocoFitness (703-286-5115, www.cocofitness.com) conducts small classes in kitchen skills, healthy cooking and various ethnic cuisines (e.g., Thai, Peruvian and Indian) in his Ballston home.
Open Kitchen, the restaurant, wine club and event space (7115 Leesburg Pike, Falls Church, 703-942-8148, openkitchen-dcmetro.com), no longer offers regularly scheduled classes; however, coordinator Holly Camalier will arrange private culinary instruction with a team chef, or group classes (minimum of six people) for bridal showers, birthday parties and corporate team-building events. Favorite sessions in the past have focused on French Bistro fare, Cooking with Beer and Caribbean cuisine.
José's Way
José Andrés wants you to put potato chips in your omelet, just as he does at home. And not just any chips will do. The internationally known chef, co-owner of Jaleo and the soon-to-open (by March) America Eats Tavern in McLean (as well as a dozen other ThinkFoodGroup restaurants), prefers that you buy the bag with his picture on it.
It's all part of his new line of imported Spanish foods. Of the products I recently sampled with an informal tasting group of friends, I'll give top marks to the spicy and fresh Arbequina extra virgin olive oil, which pairs beautifully with the chef's rich and sweet "al Pedro Ximénez" sherry vinegar. We also enjoyed creating our own tapas by pairing plump "Galician Style" mussels, with an escalivada salad (grilled and marinated eggplant, onions and red bell peppers) on "Pa de Pagès" rustic Catalan toast rounds. And we loved the delicate potato chips, made with extra virgin olive oil and pink salt.
José Andrés Foods are available in the wine shop at Jaleo Crystal City (2250-A Crystal Drive, Arlington, 703-413-8181, www.jaleo.com/crystal-city); Whole Foods Markets; and online at: www.joseandresfoods.com