Home Plate July/August 2013
Discover what's so great about goat, and why an "extra virgin" label does not necessarily promise a superior olive oil.
Sweet Success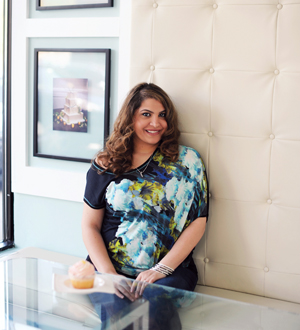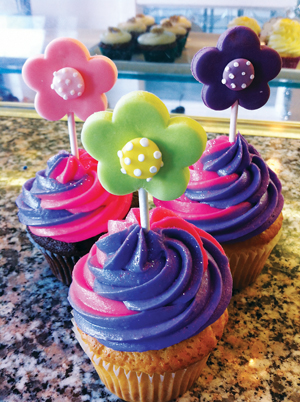 Cake designer Lara Stuckey outgrew her commercial kitchen earlier this year and needed additional space for the daily cycle of baking, cooling, icing and hand decoration. "With the growing wholesale accounts and more retail customers, we simply ran out of room," says Stuckey, who opened her McLean cake shop, Fluffy Thoughts, in spring 2010, with custom cakes starting at $45. Down came a wall into an adjacent, unoccupied 1,500-square-foot space, and a far bigger Fluffy was born.
In addition to providing more elbow room for the bakers, the expanded space now includes a central area for cake-decorating classes and cake-tasting parties (in which as many as 12 guests can try six cake flavors and a dozen fillings for $10 per person). Floor-to-ceiling windows let passersby in on the baking action, while six café tables provide outdoor seating for, say, a glass of fresh-squeezed lemonade and a Key Lime cupcake.
Tired of cupcakes? Fluffy's repertoire also includes blondies, cake pops, coconut and chocolate-covered macaroons, French macaroons, lemon bars and Mexican wedding cookies, which range in price from $1.25 to $4 each.
Plus, the bigger store isn't the only expansion. For baseball fans seeking sweets to accompany their beer, Fluffy Thoughts now has a new on-site kiosk at Washington Nationals Park offering cupcakes, sugar cookies, chocolate brownies and Rice Krispies treats. Batter up!
Fluffy Thoughts Bakery, 1320 Old Chain Bridge Road, McLean, 703-942-5538, www.fluffythoughts.com
Goat-To Source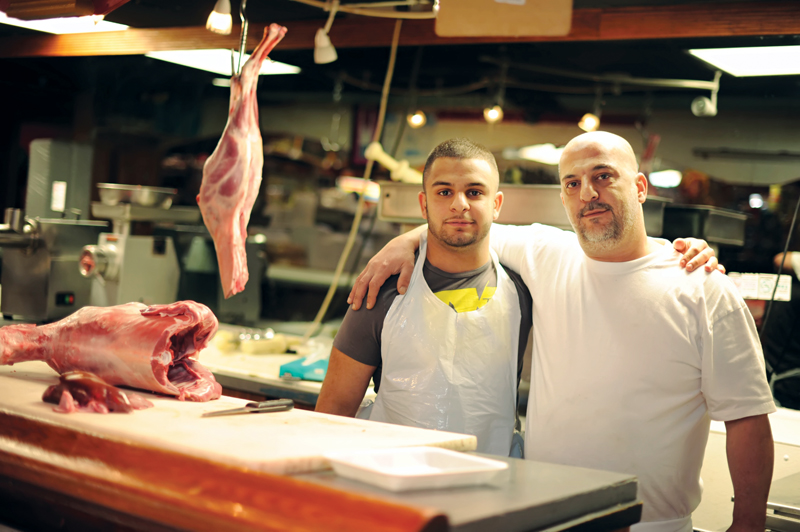 For 25 years, Kheder Rababeh has raised grass-fed sheep, beef cattle and goats on his farm in Warrenton, Va. He slaughters the animals under halal Islamic dietary guidelines and sells every cut at his Middle Eastern grocery, Lebanese Butcher, in Falls Church. (Earlier this year, he moved the business from Hillwood Avenue, near Lee Highway, to a combined space that adjoins his restaurant, Mount of Lebanon, at 2922 Annandale Road.) Lamb has always been the leading seller. But in recent years, goat sales have soared.
"More Americans know goat is a healthy meat. They are the new customers," says Rababeh, who learned butchering skills as a 9-year-old, at his father's side in Beirut. "I've gone from selling two goats per week to more than 75 per week."
Served as daily fare in many parts of Asia, Africa and Central and South America, goat is the world's most consumed red meat. And here's a tip for the health-conscious: it has fewer calories and less saturated fat than beef, pork, lamb or even chicken. Most shoppers at Lebanese Butcher prefer the tender, three-month-old kid, which lacks the gamy flavor associated with the nanny and presents less of a chewing challenge.
With grill season in full swing, the loin ($8 per pound) and the 12-chop rack of kid goat ($10 per pound) are, as a rule, the desirable cuts. Rababeh recommends marinating the meat for 15 minutes or longer in a mixture of ground onion, olive oil, vinegar, oregano, salt and black pepper. For summer gatherings, he prepares a grill-ready, 15- to 22-pound whole kid goat (order one day in advance), which he marinates in yogurt and his own seven-spice blend and seals in foil. At home, the Weber kettle grill-sized bundle cooks to medium rare in three hours. Says the goat expert: "You will find that it's very juicy."
Lebanese Butcher, 2922 Annandale Road, Falls Church, 703-533-2903
Oil Change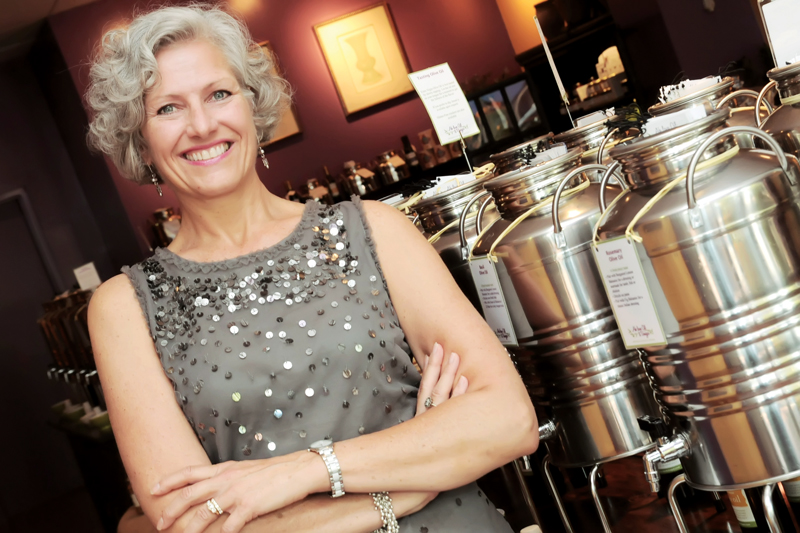 First-time visitors to the specialty boutique Ah Love Oil & Vinegar often find that there is much to consider when it comes to the key components of a salad dressing. Extra virgin? Fruity? Peppery? Buttery? Grassy? It's best to take the encounter one taste at a time. Nibbles of cubed bread are available for dipping throughout the store.
"With all the stainless steel tanks and bottles, people are mystified as to what they are looking at," says owner Cary Kelly, who opened her flagship store two years ago in the Village at Shirlington and added a second location last fall in the Mosaic District in Merrifield. In stock are more than 40 estate-bottled and infused olive oils, as well as 20 vinegars—from a deep and rich sherry from the Cadiz region of southwestern Spain, to thick and sweet balsamics from Modena, Italy. "We walk [customers] through the experience, tell them how closely we work with producers and guarantee that what we're selling is fresh oil."
Supermarket olive oils, by comparison, can be adulterated or past their prime. (A 2011 study by the University of California Davis reported that most of the top-selling olive oil brands "regularly failed to meet international standards for extra virgin olive oil.") So for Kelly, knowing the source of the oil and the harvest date of the olive crop is crucial. For the best flavor and nutritional value, she says, the optimal window is two years from harvest to consumption.
The most popular oils at Ah Love are the citrus-infused trio of lemon, lime and orange olive oils ($19.25 for 12 ounces), made by adding fresh fruit rind to the olives during the milling process. But after a lengthy sampling, I chose a spicy, earthy extra virgin made by Quebrada de los Olivos in Rocha, Uruguay ($20.95 for 17 ounces). For a perfect vinaigrette, I whisked in a little of Kelly's house-bottled 25-star white Aceto di Balsamico, aged 18 to 20 years ($25 for 12 ounces). This extraordinary duo works beautifully atop a platter of assorted sliced heirloom tomatoes.
But don't stop with salads, Kelly advises. "Add balsamic to cocktails. Or drizzle some over summer fruits, like white peaches."
Ah Love Oil & Vinegar, 4017-B Campbell Ave., Village at Shirlington, Arlington, 703-820-2210; 2910 District Ave., Merrifield (Mosaic District), 703-992-7000, www.ahloveoilandvinegar.com