Home Plate September/October 2012
Speakeasies, sweets on the go, and more
Rossyln's Best-Kept Dining Secret
Hipsters often take pride in knowing the whereabouts of foodie speakeasies: exclusive, hush-hush dining spots with no signs out front. But these scenes aren't limited to Manhattan and L.A.
Rosslyn has its own hidden gem (albeit an experimental version) tucked into the 12th floor of the Ames Center building. Culinaire Restaurant is a hands-on dining lab for the 600 students taking professional-level courses at the International Culinary School at the Art Institute of Washington.
If you're a bargain-hunter with a taste for adventure, this place is for you. Just keep in mind that the 40-seat, white-tablecloth operation is a perennial work in progress. Over the course of a semester, students rotate through every station in the kitchen and attend to all aspects of the dining room, taking turns as line chefs, waitstaff and dishwashers. The short, contemporary-American menu—which always includes meat, fish and vegetarian options—is reasonably priced, with dinner entrées from $10 to $15.
Note, however, that it's a dry establishment. No alcoholic beverages are served, and there is no BYOB policy.
Hours of service coincide with the class schedule. For the summer session (through Sept. 10), Culinaire is open for dinner on Monday, Tuesday and Wednesday from 7:30 to 9 p.m. The fall session begins Oct. 9, offering both lunch (11:30 a.m. to 1 p.m.) and dinner. Reservations are recommended. The venue can also be reserved, free of charge, for private events.
Culinaire Restaurant, 1820 N. Fort Myer Drive, Arlington, 703-247-3841, www.welcome.aiwsites.com/culinaire.
Smart Cookies
Three years ago, Falls Church residents Leah Kuo and Laura Englander launched Cookies & Corks, a line of all-natural, sweet and savory cookies created for the adult palate and crafted specifically for pairing with wine.
Now they're packaging their wares for convenience. In September, the baking duo introduced CookieZen Bites, 2-ounce grab-'n'-go packs containing four of their most popular snacks. We had our first taste at this summer's National Association for the Specialty Food Trade's Fancy Food Show, held at the Washington Convention Center. Both Zesty Lemon and Sea Salt Chocolate Oatmeal are crisp and light and not too sweet. They also pair well with beer or milk.
For local retailers, go to: www.cookiezenbites.com
Salad Days
When Joan Horwitt gazed upon the 2.5-acre property that once held Arlington's last dairy farm, she saw something more than a boarded-up farmhouse. She saw an underutilized agricultural resource.
In spring 2010, Horwitt established the nonprofit Reevesland Learning Center, a teaching garden where local residents can get their hands dirty. It's named in honor of farmer Nelson Reeves, who owned the property until his death in 2000 at the age of 99.
"Nelson Reeves loved to invite kids to visit his garden and show them how to grow things," says Horwitt, a former teacher and dining columnist for The Washington Post. "Why not grow something edible there instead of lawns?"
Although county officials are currently considering various options for the land (it's now county-owned and designated as a historic site), Horwitt has been putting the estate to good use in the interim. For the past two years, eight raised garden beds on the property have been planted with lettuce cultivars such as Tennis Ball, Bronze Star and Thai Oakleaf.
It's all part of "Lawns 2 Lettuce 4 Lunch," a program that engages students and volunteers in cultivating local produce. The most recent crop yielded enough lettuce to feed 500 students and guests at a June lunch celebration at Ashlawn Elementary. An additional 50 pounds of lettuce was donated to the Arlington Food Assistance Center.
Continuing the momentum, Horwitt and her crew will once again distribute vegetable seeds this September, door-to-door, in Boulevard Manor, Bluemont and Dominion Hills. "We want to involve the whole community in raising food," she says.
For more information, go to reevesland.wordpress.com.
Meat and Potatoes and…
Since its opening in McLean in late 2005, the Organic Butcher has evolved from a premier market for pastured, grass-fed, locally raised, dry-aged meats into a one-stop shop offering much more. In addition to its certified-humane meats and poultry (a selection that includes Wagyu beef and game ranging from farm-raised elk to wild boar), the store offers select organic vegetables, fine wines and wild-caught fish on ice. Shelves are stocked with a wide assortment of dairy products, sauces, marinades and seasonings with seasonal and sustainable origins. And the baked goods are local too: fresh breads and cookies come by way of LeoNora Bakery in Clarendon.
By popular demand, co-owner Don Roden produces gluten-free meatloaf and meatballs in-house, made with pork, beef veal and a binder of almond flour. For entertaining, he also creates choice cheese and charcuterie assortments with all the accompaniments.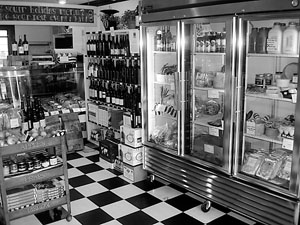 Over the summer, the shop launched a new, resource-rich website that highlights its offerings from small farms and artisan food producers. We're particularly appreciative of the glossary of meat cuts with sharp pictures of what's what, where it comes from on the animal and what to expect in texture and flavor. The site also includes a guide to sustainable seafood, and a local produce chart indicating what's in season during any given month.
For the first time, the butcher has a delivery service to area homes, which interested customers can sign up for online.
The Organic Butcher, 6712 Old Dominion Drive, McLean, 703-790-8300, www.theorganicbutcher.com