Hot Dishes
What's in demand right now? Seven local establishments share their most coveted spring selections.
J. Gilbert's
J. Gilbert's is, first and foremost, a steakhouse. But there's more here than steak. "For lunch and dinner, salmon lovers go crazy for this preparation," says executive chef Frank Casper, who added maple plank roasted salmon (see photo on page 42) to his menu in 2012. Farm-raised in the North Atlantic without growth hormones and with all-organic feed, the fish is roasted in an 800-degree, mesquite-fired oven on thin maple wood discs made from farm-raised trees in Maine. The dish is then dressed in a deep, amber glaze of Virginia maple syrup and Kentucky straight bourbon. Many diners forgo the mashed potatoes and upgrade to a $3 side of lobster mac 'n' cheese, says Casper, a Norfolk native and graduate of the Culinary Institute of America.
Open since 1999 and perhaps best known for its wood-grilled prime Angus steaks, J. Gilbert's is a Kansas City-based dining concept owned by Houlihan's Restaurants Inc. (Joe Gilbert was a Houlihan's co-founder). The 272-seat restaurant has the look and feel of an upmarket ski lodge, with a forest of natural wood surfaces. Generous mixed drinks and a busy happy hour make it a popular retreat for employees of the nearby Central Intelligence Agency. J. Gilbert's, 6930 Old Dominion Drive, McLean, 703-893-1034, jgilberts.com
Perfect Pairings
What to order:
Maple Plank Roasted Salmon ($27), a 9-ounce fillet, served with a maple syrup-bourbon glaze, haricot verts tossed with pecans and shallot jam, and mashed potatoes.
What to drink with it:
A not-too-oaky California Rodney Strong Vineyards Chalk Hill Chardonnay.
Where to sit:
Table No. 43, a four-person booth that sits opposite a fireplace in the dining room.
Copperwood Tavern
Executive chef Allan Javery works with area farmers year-round to keep his top-selling salad seasonal—which, in early spring, means a bonanza of primavera colors. "It highlights the farm-to-table movement that we are all about," says Javery, a graduate of the French Culinary Institute in New York, whose résumé includes a stint at J&G Steakhouse at the W Hotel in downtown D.C.
His go-to for crisp, hydroponically grown lettuce is TrueFarms in Haymarket, Va. "That's less than an hour away. You can't get much more local than that. Add a protein to it and you got the whole nine yards," he says, noting that most customers opt for a $4 upgrade of grilled chicken. The light herbal dressing lets the freshness of the produce speak for itself.
Opened in fall 2013 in Shirlington Village, the 168-seat, rustic-styled saloon features mountain cabin/barn décor in every direction, from light fixtures made with reclaimed pulleys and amber Edison bulbs, to mason jar drinking glasses. A lively portrait at the entrance of the dining room depicts the renowned Tennessee moonshiner Marvin "Popcorn" Sutton, who died in 2009. (In lieu of bread, diners are greeted with a tub of seasoned popcorn.)
Leaving no glass half full, bar and beverage manager Boris Stojkovi´c oversees an all-domestic wine cellar, 20 craft beers on tap, and a bar that stocks 20 small-batch single-barrel whiskeys. Women, he says, tend to gravitate toward his "Moonshines" of corn whiskey flavored with seasonal fruit. All ingredients for the craft cocktails are made in-house.
Copperwood is owned by Wooden Nickel Bar Co., which also operates Wilson Tavern in Courthouse. Copperwood Tavern, 4021 Campbell Ave., Arlington, 703-552-8010, www.copperwoodtavern.com
Perfect Pairings
What to Order:
Farmers Salad (pictured) ($12), a platter-size portion of grilled asparagus, sugar snap peas, shaved radish, yellow squash, sunflower seeds and organic mixed greens, topped with herbed goat cheese and a basil-balsamic vinaigrette.
What to drink with it:
The light and refreshing Commonwealth Mule, a craft cocktail of vodka with ginger-lime syrup and spices, served in a copper mug.
Where to sit:
Table No. 41, an upholstered booth with throw pillows that seats eight, located in the front section of the main dining room.
La Côte D'or Café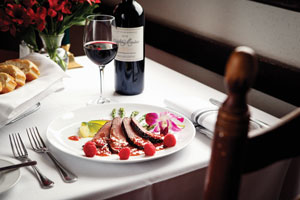 Rare roasted duck breast has been Raymond Campet's signature dish ever since 1979, when the chef and his wife, Lynne, opened the French café La Brasserie near Union Station in the District. After selling that restaurant in 1992, the Falls Church couple opened the snug and romantic La Côte D'Or Café in Arlington's East Falls Church neighborhood, where they continue to feature the classic entrée as a menu special.
"This is the most well-known dish from the region of France where I'm from," says Campet, a Vichy native. "I've been eating it since I was a kid." He sources only Mulard duck, a Muscovy and Pekin hybrid known for its slight gamy flavor and tender breast meat. The skin, he explains, is less fatty than that of other breeds and can be seared to a beautiful crisp texture. Named for their grandson, Luke, the dish is one of several on the menu named after family members.
In January, the couple downsized, closing the small adjoining market and private dining room that were once part of La Côte D'Or, but the 50-seat café is still in fine form. La Cote D'Or Café, 6876 Lee Highway, Arlington, 703-538-3033, lacotedorcafe.com
Perfect Pairings
What to order:
Magret of Duck Luke (pictured) ($26.50), a seared and roasted, 9-ounce duck breast with a wine reduction sauce and fresh raspberries, served with a vegetable mousse.
What to drink with it:
A powerful French Bordeaux, such as Chateau Gontey Saint-Emilion Grand Cru.
Where to sit:
Table No. 5, a tucked-away corner table for two in the main dining room.
Ovvio Osteria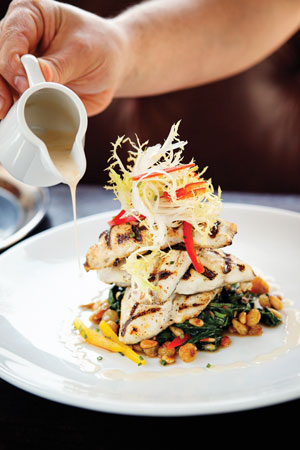 "I want to be authentic and use as many ingredients imported from Italy as I can," says Giovanni Carlo, who took over as executive chef of Ovvio in January. His flaky, mild-tasting grilled branzino, caught in Mediterranean waters, is a standout on a menu that is primarily devoted to house-made pastas and pizzas. Pine nuts bring a bit of crunch, while the raisins and shallots provide a perfect combination of sweet and salty.
"[This dish] captures my cooking style," says Carlo, who was raised in a small town near Naples, and for seven years worked as a sous chef at noted restaurateur Roberto Donna's award-winning restaurants Galileo and Laboratorio in downtown D.C. "It represents the benefits of healthy Mediterranean cooking, especially the smooth garlic sauce, which is reduced three times until mellow and light."
Opened in August 2013, Ovvio features fresh walls of white subway tile and a compact display kitchen. It's owned by the Boston-based real estate investment firm DSF Group, the developers of the Halstead Square apartment and shops complex. Ovvio Osteria, 2727 Merrilee Drive, Halstead Square, Merrifield, 703-573-2161, ovvioosteria.com
Perfect Pairings
What to order:
Grilled Branzino ($20), a 7-ounce fillet of Mediterranean sea bass served on a bed of sautéed spinach, roasted pine nuts, golden raisins and shallots. It's topped with micro-greens and flower petals, and circled with a creamy garlic sauce.
What to drink with it:
A crisp, white Greco di Tufo from the Campagnia region of Italy.
Where to sit:
Table No. 42, a freestanding four-top between the bar and dining room, with a view of the open kitchen.
William Jeffrey's Tavern
"This is a burger that people come back for," says executive chef Sam Adkins, who has managed the kitchen at this spacious watering hole on the Pike since opening day in late 2011. "We wanted to show our neighborhood that we can break away from the run-of-the-mill stuff," adds the D.C. native, who previously manned the ovens at Jackie's in Silver Spring and Cashion's Eat Place in Adams Morgan.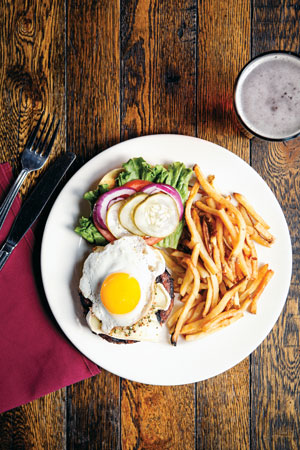 It's certainly more decadent than the average burger. Both the country-style paté and cornichon relish are made in-house, and the brie is sourced from a small dairy in Vermont. Most guests opt for a side of hand-cut french fries, plus one of the 15 craft beers that are offered on tap.
Known for its Prohibition-themed décor, William Jeffrey's is owned by Vintage Restaurant Inc., which also operates Rhodeside Grill in Rosslyn, Ragtime in Courthouse and Dogwood Tavern in Falls Church. William Jeffrey's Tavern, 2301 Columbia Pike, Arlington, 703-746-6333, williamjeffreystavern.com
Perfect Pairings
What to order:
The "Thomas Jefferson" Burger ($12.50), a grilled 8-ounce Angus beef patty on a potato Kaiser bun with pork and chicken liver paté, brie, a sunny-side-up egg and cornichon relish.
What to drink with it:
The house favorite, Blue Point Brewing Co.'s Toasted Lager.
Where to sit:
Nook No. 2, a semiprivate alcove for eight, with a drape closure and a personal TV.
Carlyle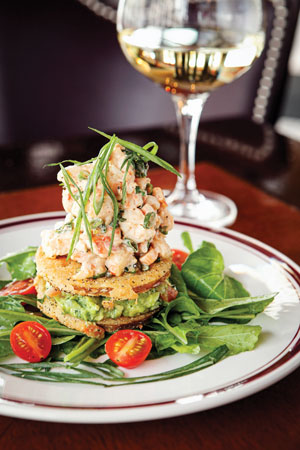 Carlyle's best-selling seasonal appetizer relies on large unripe tomatoes—which are not always readily available, so you've gotta get it while it's hot. "You find the best [tomatoes] in the early spring and before the first frost. That's when we put them on the menu," says executive chef Todd Pozinsky, a Falls Church High School graduate who previously worked as sous chef at the now-shuttered Colvin Run Tavern in Tysons Corner. He says he developed this Southern-style dish after joining Carlyle's kitchen team in 2008. "You need a firm tomato that stands up to frying." The avocado and the zesty mayonnaise dressing bring a rich intensity to the tomatoes' crunch.
Now celebrating its 30th anniversary, the 400-seat restaurant on two levels is best known for New American cooking and perennial favorites such as the short-smoked salmon fillet and warm flourless chocolate macadamia nut waffle. A staff of more than 120 employees, from back to front of the house, serves 500,000 guests per year.
Carlyle's parent company, the Great American Restaurants group, also owns the neighboring Best Buns Bread Company, Coastal Flats in Tysons Corner Center and Sweetwater Tavern in Merrifield. Carlyle, 4000 Campbell Ave., Arlington, 703-931-0777, www.greatamericanrestaurants.com
Perfect Pairings
What to order:
Fried Green Tomatoes
($10), a "sandwich" of cornmeal-coated fried green tomatoes, stuffed with guacamole. It's served atop a bed of arugula and mounded with 1.5-ounces of chopped poached shrimp in a spicy rémoulade sauce.
What to drink with it:
A bright and citrusy New Zealand Kim Crawford Sauvignon Blanc.
Where to sit:
Table No. 81, a secluded, round corner table for eight on the second-floor "deck level."
Grand Cru Wine Bar & Bistro
Trent Conry's scallops—graced with a gorgeous crust, thanks to a quick sear in grape seed oil—are complemented by a perfect balance of salty capers and naturally sweet, oven-roasted cauliflower and wine-soaked golden raisins.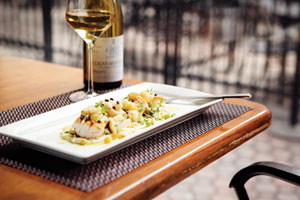 "I only use the hand-harvested diver scallops, usually from Nantucket, as the commercial ones release too much juice and you don't get that crust," says Conry, who, for three years, has headed the kitchen at Grand Cru, a 60-seat café and wine shop owned by wine connoisseurs Lena and Troy Thorpe. "Being schooled in many French restaurants, as I was being trained through the years, it's my take on an old-style dish, which is usually made with sole," says Conry, who previously worked under legendary chef Jean-Louis Palladin at Jean-Louis at the Watergate, before it closed in 1996. He went on to serve as corporate chef for the Knightsbridge Restaurant Group, whose properties include the fine-dining destinations 701 and Rasika in downtown D.C., before assuming his current post.
Part of the fun here is selecting a wine from the 450 bottles that are on display in the cozy restaurant and its adjoining shop. A corkage fee of $7 is applied to wines that retail for less than $20 per bottle; that fee drops to $5 for bottles priced over $20. In addition, a wine list at the table offers more than 20 wines by the glass. In warm weather, the café offers a beautifully landscaped, 60-seat outdoor terrace for al fresco dining. Grand Cru Wine Bar & Bistro, 4401 Wilson Blvd., Arlington, 703-243-7900, grandcru-wine.com
Perfect Pairings
What to order:
Sautéed Diver Scallops ($23), an ensemble of four large scallops served over sautéed leeks and a cauliflower purée. It's topped with a mixture of roasted cauliflower, capers, lemon zest, shallots and golden raisins, crowned with micro-celery, and circled with basil oil.
What to drink with it:
An elegant French white burgundy, such as Puligny-Montrachet.
Where to sit:
Table D-7, a discreet corner table for four with a good view of the café and windows on two sides that overlook the garden patio.