House Blend
Random Harvest holds a treasure trove of ever-evolving home furnishings that you won't find anywhere else.
I feel like I'm meeting the great Oz as I walk through the doors of Random Harvest, the eclectic antiques and home furnishings store at the corner of Lee Highway and Lorcum Lane. As it turns out, the woman behind the curtain (drapes?) is owner Beth Aberg, a tall redhead with exquisite taste and an aura of deconstructed elegance.
I have been stalking Aberg's decorating sensibilities for years, never missing an opportunity to pop into one of her stores with hopes of absorbing, by osmosis, her style vibe: luxe but not stuffy, confident but not condescending, aspirational yet accessible.
On past visits, I've fallen in love with a mirrored coffee table here, a Chinese cabinet there. I once tried to memorize the way she styled a set of vintage calligraphy brushes on a console table, wondering, If I brought them home, how long would it be before my kids decided to dip them in tempera paint?
My living room is populated with "safe" furniture—the kind that won't be any worse for wear if it's accidentally doused in red wine or chocolate ice cream—but standing in Aberg's store now, I'm inspired to change my home from "safe" to "stunning." I believe that I can live like this.
Aberg moved to the D.C. area from New York City nearly 30 years ago, bringing with her the small home furnishings boutique that she'd established on Manhattan's Upper West Side. In October 2007, she opened Random Harvest's fourth and newest location in the Lee Heights Shops in Arlington.
"I really felt that the Arlington and McLean market was underserved," she explains. "Random Harvest is a step more sophisticated than the catalog stores, but is neither as scary nor as expensive as the [Washington] Design Center. You can update an entire home or solve small problems with us."
Store manager Ashley Baker, who redecorates the Arlington space "at least once a week," is responsible for constantly reinventing the shop's tableaux as new shipments arrive from markets and accessories shows in Paris, Milan and New York. She describes watching the mystery boxes pile up on the loading dock with the spoils of those scouting missions: "It's like Christmas morning in the store every time [Aberg] comes back from a trip."
Because Random Harvest sources many one-of-a-kind pieces (for example, the aforementioned Chinese cabinet, as well as antique French iron coffee tables made from erstwhile balcony railings) through personal relationships with overseas buyers, the merchandise in each store varies. Translation: When you see something you like, move fast because there's a good chance it won't be there if you take much time to mull it over.
Nor are you likely to find it in other Random Harvest locations. Aberg notes that each store tailors its wares to fit the specific needs of its neighborhood clientele. "Here, scale is a major focus," she says, observing that Arlington homes are unlikely to have oversized spaces that require heavy, bulky furniture. It's one of the reasons the Lee Heights store stocks many vintage upholstered items that have been refurbished, from frame to cushions.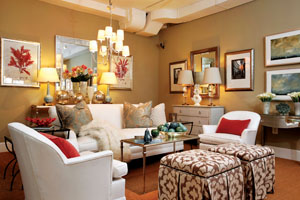 Not sure how a piece will look in your house? Take it home and live with it for 24 hours. You can bring it back if it doesn't play out in your living room as well as it did in your imagination.
When it's time to redecorate, Aberg suggests taking an honest inventory of what you already own and ditching anything you don't love. "Throwing away is the biggest stumbling block," she says. "People become paralyzed because they can't bear to get rid of something they hate."
To ease separation guilt, she recommends donating to causes such as Arlington's 100 Homes campaign and A Wider Circle, both of which will come to pick up your unwanted items and put them to better use.
If you've outgrown your current décor but aren't ready for the full commitment of a total makeover, you can always punch up a room with lamps, prints, mirrors and pillows. "But you have to be careful of pieces 'laughing' at each other," she warns. "A fabulous pair of lamps is going to look ridiculous on a chipped side table that doesn't work in the room."
To this end, the boutique retailer also offers private consultations. For $300, design director Judi Petti, who's been helping cultivate the Random Harvest look for 20 years, will come to your home, assess one or two rooms and get a feel for the way you live. Taking into account your family's lifestyle, habits and design goals, she'll devise a master plan, with the option of overhauling the entire space all at once, or redoing it little by little.
Each store also keeps a request book that allows customers to submit descriptions of specific items they're hunting
for; you get a call as soon as a piece is tracked down.
For chronic second-guessers like me, Aberg advises: "Trust your instincts, and buy what you love. For some people,
decorating just doesn't matter. But chances are that if you're walking through these doors, it matters to you."
Random Harvest, 4522 Lee Highway, Arlington, 703-527-9690, www.randomharvesthome.com
Style columnist Adrienne Wichard-Edds dreams of the day when she can remove all the child-safety cushions from the corners of her furniture. Know of a great shop that you'd like to see covered in this column? Email her at lawichard@yahoo.com.