How to Raise a Reader
Want your kids to become avid readers? Here's how to share the love.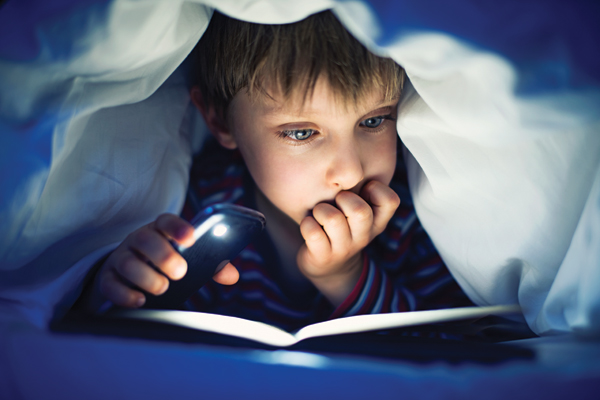 istockphoto
On a recent road trip to visit colleges, my 17-year-old daughter and I listened raptly to Jake Gyllenhaal's powerful rendition of The Great Gatsby as we drove down I-95. For her it was a class assignment, but for me it was heaven having an excuse to once again share a story with my child. It resurrected memories of snuggling with picture books and listening to Charlottesville-based storyteller Jim Weiss, whose expressive voice we so often invited into our home or car (via audiotapes) when my kids were younger. As an avid book lover, I desperately wanted my children—now 23, 21 and 17—to discover the joys and benefits of reading.
Countless studies have underscored the advantages of becoming a lifelong reader. Reading can improve a child's cognition skills and empathy (Emory University, 2013), and reading for a mere six minutes can reduce stress levels (University of Sussex, 2009). Research also suggests that voracious readers tend to have higher salaries, vote more often and volunteer more than their non-literary counterparts.
Plus, there's no better way to prepare your child for the onslaught of standardized testing. Students with fine-tuned reading skills can process written passages and instructions faster, which tends to boost their performance on timed tests, says Landon Zee of Zee Tutoring in McLean.
"Reading is a fundamental skill that underlies virtually every aspect of every major test," says Ben Paris, a former Kaplan Test Prep curriculum director with more than 20 years of experience as a private SAT/ACT tutor. "Reading gets measured in every part of the SAT and ACT. The science section on the ACT is basically reading comprehension with graphs."
In the end, though, life is bigger than test scores, and so are the joys associated with the written word. Reading fuels empowerment, curiosity and imagination. In Scholastic's most recent annual "Kids and Family Reading Report," 75 percent of parents with kids between the ages of 6 and 17 said they wished their kids read more for fun. Here's how you can encourage that habit, dear reader.
1. Start Young
Experts agree that it's never too early to start reading aloud to your kids, and doing so daily is good practice. This kind of interaction helps foster a love for books and promotes a lasting bond between parent and child.
"If you're reading to [young children], they're hearing all those great words you might not be saying to them otherwise," says Rachael Walker, a consultant for WETA's Reading Rockets, a national multimedia reading initiative. "It's a wonderful way to stimulate their language skills and to get to know your baby."
Michelle Picard, a K-12 English language arts supervisor for Arlington Public Schools (APS), recommends books that "play with language and the alphabet through songs and rhymes," such as How Do Dinosaurs Say Good Night? by Jane Yolen and Llama Llama Red Pajama by Anna Dewdney. "The books and songs develop phonological awareness," she explains. Reading about the world also vicariously expands kids' experiences, which, in turn, helps develop their comprehension skills.
Whatever you choose to read for story time, have fun with it. "Kids are more engaged when you are silly or dramatic, changing your voice for different characters and reading with expression and enthusiasm," says Courtney Kissell, executive director of The Reading Connection, an Arlington-based nonprofit that promotes literacy in kids 12 and under. (The group's 250 volunteers work with more than 1,000 D.C.-area kids each year.) "You might even make a mistake on purpose or skip their favorite page to see if they catch you. Interacting with kids around books invites them to ask questions. It also prompts predictions and encourages them to think out loud about the story structure."
If the idyllic vision of a child sitting entranced in your lap is not your reality, no worries, says Jenny Carroll, youth services supervisor at the Mary Riley Styles Public Library in Falls Church. "Expect toddlers to get up and move around while you're reading. Even though they look like they're not paying attention, they are. Not being able to sit still for a whole book is fine."
2. Avoid Criticism
Once kids begin to decode books themselves, it's important for parents to resist the temptation to jump in and correct their children too quickly. "Try not to interrupt when they're early readers. Let them make mistakes," Carroll urges. "Give them that safe space where they can take risks and see if they can figure it out."
Also, don't assume that picture books are a crutch. Kate Graham, APS coordinator of early childhood programs, says parents sometimes view looking at pictures as "cheating" when in fact it's the opposite. Doing a "picture walk" through a book before reading can empower a child, she says, by giving him or her a better sense of the story's topic and direction. In children's books, words and pictures are complementary, and strong readers learn to interpret both.
Criticism is also implied when well-meaning parents worry that their children are "behind" and subsequently overload their kids with skill and practice books. "Reading with a parent should be joyful," says Picard of APS. "Discussing a book should be a natural and authentic exchange, not a quiz."
Another option? Bring in the dogs. Library programs that allow young readers to read aloud to dogs have proliferated across the country, primarily because dogs are friendly, nonjudgmental listeners. One such program, Paws to Read, has been available in Arlington public libraries for the past five years.
Having dogs as an audience can give struggling or reluctant readers "the freedom to try and to feel like they're being successful without being corrected every moment," says Rachel Harlan, youth services supervisor for the Arlington Public Library. In a 2010 University of California, Davis, study, third-graders who read out loud to dogs once a week for 15 minutes were able to increase their fluency by 12 to 30 percent over a 10-week period. Roughly 75 percent of parents whose children participated in the study reported that their kids felt more relaxed and confident about reading as a result, and were more inclined to pick up a book for fun.
Parents can also instill confidence in their kids by giving praise for all kinds of reading, not just books. "Whether it's a newspaper, magazine, recipe, Pokémon cartoon or road sign, all of those things are reading," Kissell points out.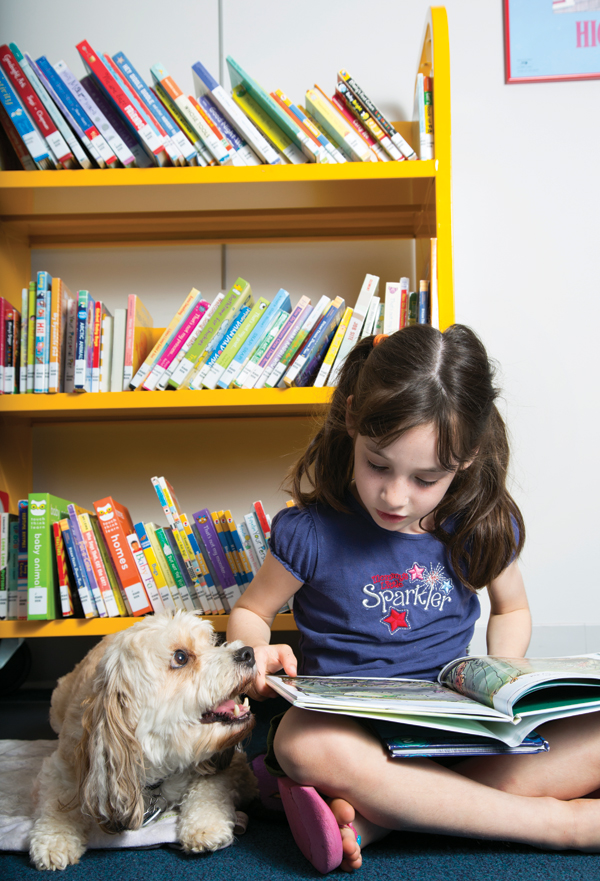 Sophie, 6, reads to Humphrey at an Arlington Central Library Paws to Read workshop. Photo by Stacy Zarin-Goldberg
3. Don't Abandon Story Time
Parents often stop reading out loud once their kids start reading on their own. While more than half of children 5 and under (54 percent) are read to at home nearly every day, that number drops to only 17 percent of kids between the ages of 9 and 11, according to Scholastic's latest "Kids and Family Reading Report." That's a missed opportunity. The same study found 40 percent of 6- to 11-year-olds saying they missed the quality time and 83 percent of all kids surveyed saying they either loved or liked being read to "a lot."
Not only does reading aloud reinforce literary time as a family ritual, it can also expose kids to books and ideas that may be above their reading level, but not above their comprehension level.
Finding it hard to schedule such time in between work, carpool, meal prep and other obligations? Similar benefits can be derived from audiobooks, which you can listen to while multitasking.
Gulf Branch resident Sharon Witiw recalls the time her four children (now 13, 18, 19 and 21) listened intently to an exciting fantasy adventure about a flying boat during an eight-hour family road trip. When they arrived at their vacation destination, they sat in the car and listened for an extra 15 minutes, she says, "because we were all so engrossed."
"When you hear a story being told, there's an expression that comes with it and the intonation that makes the story more vivid," Witiw says. "Then [the kids] turn and are able to use those tools to bring the story to life in their own reading."
4. Make Books Accessible
It goes without saying that kids are more likely to read when they have books within reach. "Both my sister-in-law and my mom gave my children libraries as baby gifts," says Theresa Wells Stifel, a resident of Westwood Park in Falls Church. Though her kids are now 18 and 20, Wells Stifel remembers also using books as rewards in lieu of sweets when they were small. If the family hit a yard sale, the kids were allowed one toy each, but they could buy as many books as they wanted.
Simply having books on hand can lead to impromptu reading, notes Donalyn Miller, an award-winning elementary school teacher in Texas and author of The Book Whisperer. As an educator, Miller encouraged her students to carry books with them in school and read during the "wasted" moments when they were standing in line or waiting for an assembly. Those minutes eventually added up to entire books.
Parents can adopt a similar mantra by keeping reading materials in the car (which can come in handy during road trips, commutes or traffic jams) or in a goodie bag for the doctor's office waiting room. Some parents allow their kids to stay up a little later at night if they are using the extra time to read. If you can manage it, try creating a home library or a special reading nook.
Riverwood resident Mary Thomasson—whose three children are now 23, 20 and 13—was always a fan of the "accidental" discovery. Though she never forced books on her kids, she made a point of putting relevant titles in their paths (say, sitting on the coffee table) so that they might stumble upon them. "They all started out loving to read, but it was tough to keep them interested as they became preteens and other things competed for their time," she says. "So whenever they gravitated to certain topics, I would buy a few books on those subjects and leave them lying around in conspicuous places."
For example, when her oldest began asking questions about wilderness survival, she left Gary Paulsen novels such as Hatchet and Woodsong out for him to discover. That son now has a career he loves in wilderness conservation.
Books (and magazines and websites) are also a great tool for involving the entire family in vacation planning. If you're going to Spain, check out a few art books on Picasso or Gaudi to deepen your kids' appreciation for the paintings and architecture they are likely to see firsthand. Heading to Hawaii? Try downloading an e-book about volcanoes, Pearl Harbor or aviator Charles Lindbergh (whose grave is on Maui) to read on the plane.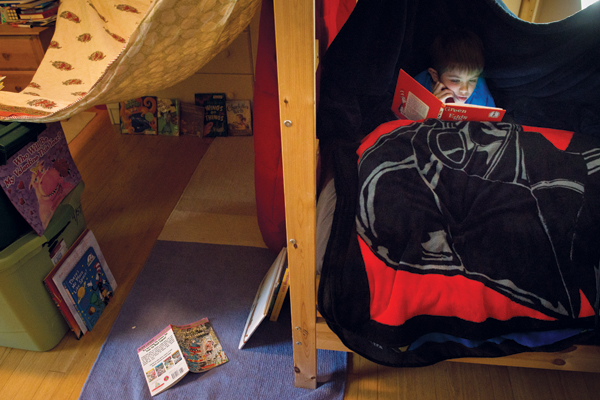 Arlington 8-year-old Sam Mulchandani has a special reading fort in his bedroom.
5. Let Kids Choose
Experts stress that what a child reads is far less important than the fact that he or she is reading—whether the chosen subject is a comic strip or a Dostoyevsky novel. Nothing will drive a child away from reading faster than a derogatory comment about rereading a book too often or reading one that's "too easy."
Graham, the early childhood program coordinator for APS, urges parents to let their kids read a book as many times as they want. "Reading a book over and over again is building fluency," she says. "Children love repetition and they love to feel in control of what they're reading."
Even tweens and teens may follow this pattern. "Kids in middle school and high school often return to the same books over and over again," observes Miller, who is now a Reading Ambassador for Scholastic. "Something there is comforting for them and they need that. They shouldn't be criticized because they feel comfort and enjoyment."
The same rule extends to graphic novels, which many parents deride as not "real" reading. "Some parents might think that certain choices, like graphic novels, are too lowbrow," says The Reading Connection's Kissell, "but a lot of language happens regardless. The complex thoughts and vocabulary are there. The passion for reading starts with reading what interests you. Our summer reading program was focused on superheroes because Marvel Comics are so hot right now." (As Pulitzer Prize-winning comic book artist Art Spiegelman, creator of Maus, once said, "Comics are a gateway drug to literacy.")
Kids who self-select books that match their personal interests will often try to read at a higher level, adds Carroll, the youth services supervisor at Mary Riley Styles Public Library.
Stephen Krashen, a professor emeritus at UCLA and author of The Power of Reading, offers a similar perspective on the importance of choice. "Free voluntary reading, in my opinion, is the source of most of our vocabulary, our ability to write well, to spell and much of our knowledge of the world," he said during a 2012 talk at the University of Georgia. "If you read a lot, your knowledge of the conventions of writing—your knowledge of vocabulary and grammar—is subconsciously absorbed."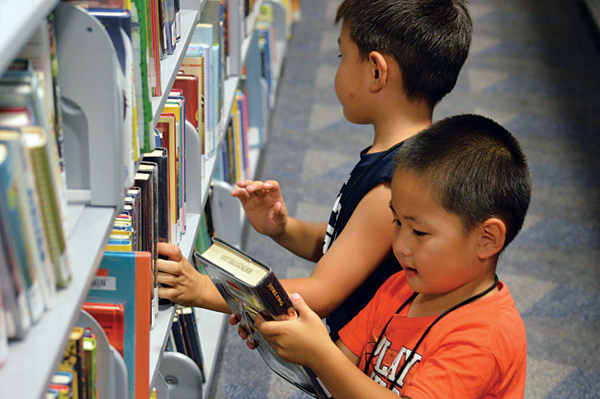 Kids who are allowed to choose books based on their interests are more likely to get hooked. Courtesy of APS
6. Cultivate Conversations
Children learn by imitation, particularly by watching those they admire most—their parents, teachers and friends. And that includes developing literary habits.
"Kids read more when they see other people reading," says Miller. So talk about books and newspaper stories at the dinner table. Explain how reading is important in your job. Encourage your kids to connect with their peers by asking for (and offering) book suggestions.
Locally, the Arlington Public Library's Teen Advisory Board (TAB) runs teen book groups in various library branches (see sidebar on page 62 for more resources). Online, teens can gravitate to the teen section of Goodreads, readergirlz, or Guys Read to find author interviews, book recommendations and like-minded readers. And when it comes to fostering a love for the written word, Twitter is your friend. Many authors answer tweets, which can be exciting for fans.
Book clubs can also fuel that interest and expand a young reader's horizons. When my daughter was in fourth grade, we formed a mother-daughter book group with a few friends and tackled titles ranging from Little Women to The Hunger Games series. To broaden our appreciation of some of the subjects we read about, we planned outings—such as a theater production of Madeleine L'Engle's A Wrinkle in Time and a trip into D.C. to see the Vermeer painting "A Lady Writing" at the National Gallery of Art. Through these field trips, our girls were able to draw literary connections to other art forms.
"[The moms] tried not to say too much and to let the girls drive the discussions," says Arlington Forest resident Diane Corina, who joined our group with her older daughter (now 17) and then created another group for her younger daughter (now 15). "We tried to make it a fun event and not another job or chore. People around here don't need another task with a lot of pressure."
In retrospect, Corina believes that the book-club experience had "a fairly strong impact" on both of her girls academically, even though that wasn't their reason for participating. "When you become a good reader, it definitely builds your self-confidence through middle school," she says. "My girls learned how to read books they may not find compelling—which is a skill you have to have in school. They weren't intimidated by big books or by subject matter."
To quote the late Jacqueline Kennedy Onassis, who later in life became an editor for Viking Press and Doubleday: "There are many little ways to enlarge your child's world. Love of books is the best of all."

Reading Resources
Arlington Public Schools' Traveling Trolley transforms a trolley into a roving summer lending library serving students at Ashlawn, Barcroft, Carlin Springs, Drew and Hoffman-Boston elementary schools during the month of July.  Abingdon Elementary serves its students' summer reading needs in a similar fashion with its Read & Roll Book Bus. www.apsva.us/early-childhood-prek/the-travelling-trolley; abingdon.apsva.us/post/abingdon-summer-book-bus/
The Arlington Public Library system offers Paws to Read programs (which require preregistration) at most branch locations, as well as a summer reading program and story time events. Parents can sign up for weekly Beanstack emails to receive age-appropriate reading suggestions from librarians. Teens can find everything from book recommendations to opportunities to serve as reading buddies for younger students. library.arlingtonva.us
Dolley Madison Library in McLean offers a summer reading program (with a coupon book that includes free treats and activities like putt-putt golf) and story time for kids 5 and younger during the school year. www.fairfaxcounty.gov/library/branches/dm
Mary Riley Styles Public Library in Falls Church offers seasonal reading programs for all ages, including both teen and middle school book groups that meet at least six times a year. It also offers toddler story time, Paws to Read, and a Mother Goose rhyme time (the latter requires preregistration). www.fallschurchva.gov/424/Library
One More Page Books in Arlington hosts frequent young-adult author panels and organizes the annual NoVa Teen Book Festival, which features local and national YA authors. The bookstore's mother-daughter book club (geared toward girls 11-14 and their moms) meets six to eight times a year on Sunday afternoons. The store also stages occasional "midnight" release parties for popular books. www.onemorepagebooks.com
The Reading Connection blog highlights book recommendations, research on reading and the brain, fun reading activities, author interviews and more. trctraininghub.blogspot.com
Barnes & Noble Clarendon offers a children's story time, plus genre-specific special events (such as manga or comic books groups) twice a week. stores.barnesandnoble.com/store/2068
Scholastic Reading Ambassador Donalyn Miller reviews books and writes about reading on her blog. Her site also includes links to online book groups. www.thebookwhisperer.com
Storyteller Jim Weiss retells stories that span all cultures and beliefs, from Ancient Egypt to American Tall Tales. Some of his recordings are available for checkout at local libraries. www.jim
weiss.com
Pass It On
Want to share your love of reading with kids who may not have easy access to books? Donate the titles you've outgrown or no longer need. "Kids who grow up in poverty and have access to books are the ones who make it," says Stephen Krashen, a professor emeritus at UCLA and author of The Power of Reading.
=Many local organizations welcome used-book donations, including Arlington Public Schools' (APS) Welcome Center, the APS Child Find Office, Arlington Pediatric Center and The Reading Connection.
Nationally, you can support pediatricians who "prescribe" reading aloud as a family activity by donating to the nonprofit Reach Out and Read, which promotes early literacy by giving disadvantaged families the opportunity to borrow books. This effort serves 4.5 million children every year.
A former high school English teacher, mom of three and now college essay coach, Amy Brecount White snuggles up with a good book each night.