Jose's Way – Jose Andres Foods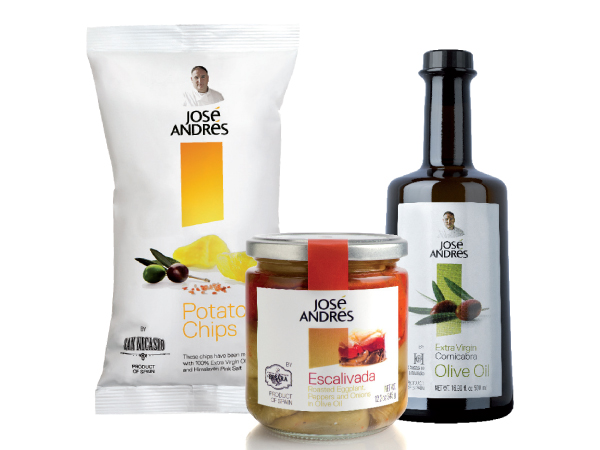 José Andrés wants you to put potato chips in your omelet, just as he does at home. And not just any chips will do. The internationally known chef, co-owner of Jaleo and the soon-to-open (by March) America Eats Tavern in McLean (as well as a dozen other ThinkFoodGroup restaurants), prefers that you buy the bag with his picture on it.
It's all part of his new line of imported Spanish foods. Of the products I recently sampled with an informal tasting group of friends, I'll give top marks to the spicy and fresh Arbequina extra virgin olive oil, which pairs beautifully with the chef's rich and sweet "al Pedro Ximénez" sherry vinegar. We also enjoyed creating our own tapas by pairing plump "Galician Style" mussels, with an escalivada salad (grilled and marinated eggplant, onions and red bell peppers) on "Pa de Pagès" rustic Catalan toast rounds. And we loved the delicate potato chips, made with extra virgin olive oil and pink salt.
José Andrés Foods are available in the wine shop at Jaleo Crystal City (2250-A Crystal Drive, Arlington, 703-413-8181, www.jaleo.com/crystal-city); Whole Foods Markets; and online at: www.joseandresfoods.com