Restaurant Review: Kapnos Taverna
Take a tasting tour of the Greek Isles at Mike Isabella's newest restaurant.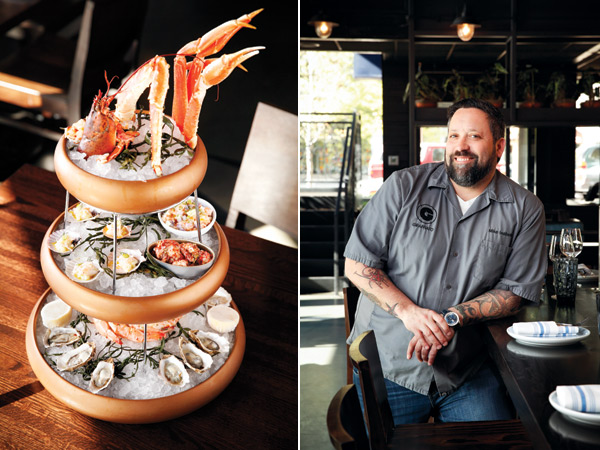 Left: The shellfish tower: a bonanza of oysters, shrimp, octopus, mussels, salmon tartare, bay scallops, lobster and king crab legs. Right: Mike Isabella. Photos by Jonathan Timmes.
As I make my way to a table at Kapnos Taverna on a busy weekday night, the intoxicating aroma of whole spit-roasting lamb shoulders emanates from the bustling open kitchen and plants a subliminal message in my brain: "Order me! Order me!"
Located in Ballston's Liberty Center and helmed by chef de cuisine Greg Basalla, this 165-seat, bi-level restaurant is the first outpost in what will be a succession of eateries based on Kapnos, the wildly successful restaurant that Top Chef alum Mike Isabella opened in Washington, D.C.'s thriving 14th Street corridor two years ago. Next up will be Kapnos Kouzina, slated for a fall debut in Bethesda. Executive chef George Pagonis and his brother, Nick, partner with Isabella in the Kapnos ventures.
The word taverna connotes the sun-filled, breezy, muslin-draped beach bistros on Greek islands where you down local Domestica wine and snack on oil-and-feta-rich horiatiki (tomato and cucumber) salads and watermelon. With its dark brown and gray-blue interiors, accented with steel beams, warehouse lighting and cast-iron piping, Kapnos Taverna feels more winter than summer and too subdued, given the vibrancy of the region it seeks to captivate—although leafy green plants and cascades of eucalyptus and dried lavender suspended from the two-story-high ceiling help to brighten up the space. So do neatly folded white-and-Mediterranean-blue striped cotton napkins at each place setting (think Mother Teresa's headpiece), servers sporting navy-and-white striped mariner shirts, and an open kitchen clad in radiant stainless steel and white subway tiles.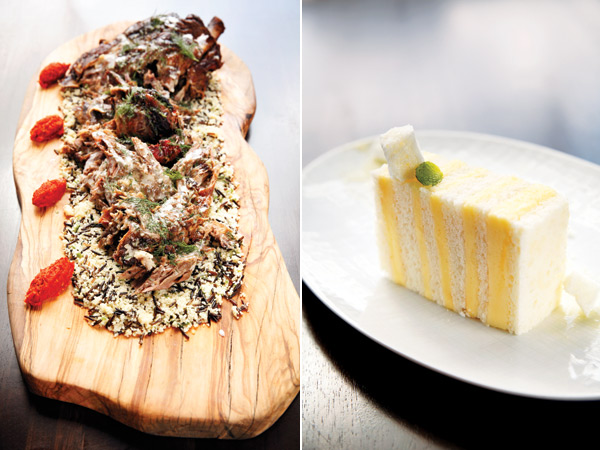 Left: Whole lamb shoulder. Right: Lemon cake with thyme meringue. Photos by Jonathan Timmes.
Whereas the food at Kapnos downtown focuses on the meat-centric and rustic vegetable dishes of inland Greece, its Ballston spin-off highlights Greek island and coastal Aegean cuisine. Seafood is front and center in a raw-bar display whose output is offered à la carte, on a share platter or in a larger—and rightly ballyhooed—three-tier seafood tower that includes: East and West Coast oysters; plump, chive-specked poached shrimp tossed with lemon and honey vinaigrette and Aleppo pepper; marinated octopus with grilled eggplant, serrano chilies and green olives; marinated mussels with preserved lemon and pomegranate; salmon tartare; bay scallops with apples and grapefruit; and a crown of chilled lobster and king crab legs. Four sauces accompany the exquisite (except for the soggy, wan crab legs) excess, among them ouzo-spiked cocktail sauce and lemony yogurt sauce.
Also on the raw-bar menu is an exhilarating matzo-like flatbread topped with sliced, ceviche-style lobster, capers, pickled Fresno chilies and dill.
The remainder of Taverna's menu is divided into spreads, small plates (mezze) and protein meant for sharing, such as half a spit-roasted chicken and whole branzino.
There are few missteps on Kapnos Taverna's menu, so a wise strategy is to order with abandon, starting with an assortment of spreads (pikilia) served on a cunning wooden tray with three wells carved into it. All of the greatest hits (tzatziki, melitzanosalata, taramasalata and hummus) are here, and they are more flavorful and emboldened than renditions generally found elsewhere. But the real standouts are the favasalata—yellow lentil purée with a hint of saffron, a tang of black-garlic vinaigrette and a kick of spice at the end—and tyrokaftari, a smoked manouri-and-feta spread.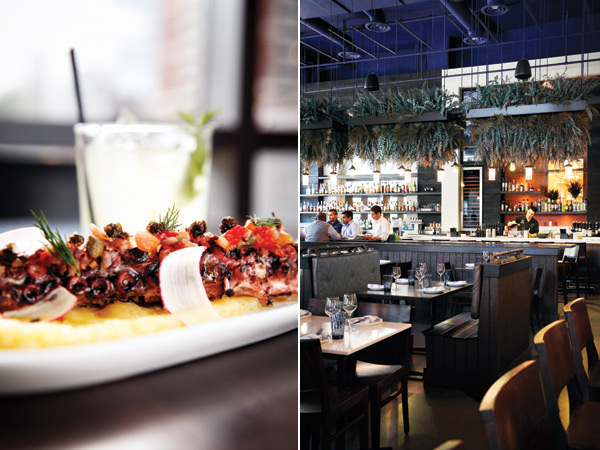 Left: Charred octopus with skordalia, radish, capers and red pepper. Photos by Jonathan Timmes.
Among the mezze, fried patties of finely shredded zucchini, loaded with dill, taste like a summer garden, their herbaceousness complemented by a peppercorn yogurt sauce. Falafel and spanakopita also get a thumbs-up, but de rigueur is the skillet of sizzling, melty, gooey kefalograviera cheese (saganaki) adorned with lemon, honey and dill. (Dill-phobes might have an issue at Kapnos Taverna.)
Those weary of ubiquitous deep-fried Brussels sprouts will have their enthusiasm restored by Isabella's version, which tosses the sprouts in lemon yogurt dressing, bursting with sweetness and tang from pomegranate seeds. Thick slices of fried eggplant—crispy crunchy on the outside, pillowy on the inside—are wonderful, though I'd prefer them with a sesame dressing rather than this dish's oversweet orange sauce and mass of caramelized zest.
I have issues with what we know as the traditional Greek cucumber and tomato salad. Kapnos Taverna's horiatiki needs some TLC in the way of big crumbles of feta rather than grainy bits; more herb and red onion punch; and lots of silken olive oil drizzled on top. I do love the slivers of cured black olives interspersed throughout, though.
For protein mezze, the swordfish, onion and pepper kebab is perfection, simply marinated with lemon, olive oil and parsley, placed over parsley purée and dotted with dill, preserved lemon and cured olives. The Piraeus shrimp, coated in a sumptuous sauce made from shellfish stock, Worcestershire, cream and Metaxa brandy, is elegant and sophisticated (eat every bite of the toasted country bread that sops up all the elixir).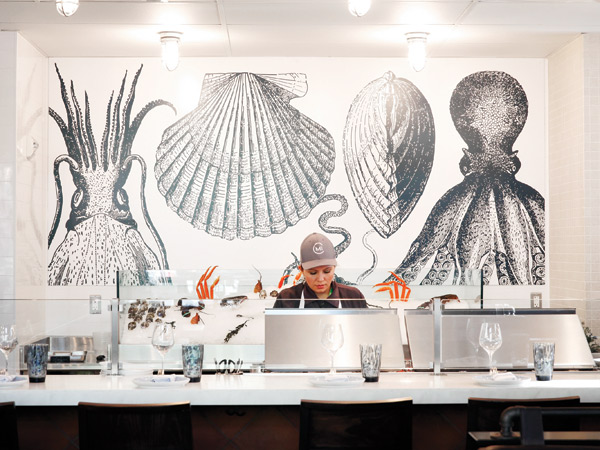 Seating at the raw bar. Photo by Jonathan Timmes.
The only offering that disappoints here is the roasted oysters, which were lukewarm instead of bubbling hot and oddly flavorless, despite the promises of smoke, ras-el-hanout (a North African spice blend) and pastirma (dried cured beef).
Now that you've been tempted with alluring diversions, I return to the whole lamb shoulder. Get some friends together and partake, perhaps beginning with a seafood platter and martinis. Then, behold a wooden plank the width of your table, loaded with crusty, juicy chunks of melt-in-your-mouth lamb, resting atop a bed of couscous and wild rice. Tear off some garlicky flatbread, fill it with meat, top it with the accompanying tzatziki and house-made harissa and repeat. Over and over. There's plenty for six, but invite three and take the leftovers home for breakfast. (I can vouch for this plan.)
That leaves room for dessert. The baklava is quite good because its delicate phyllo layers and Marcona almond, pistachio and walnut filling are not over-drenched with syrup, as is so often the case. A quenelle of tart Mandarin orange sorbet balances the pastry's sweetness. The showstopper, however, is the multi-layered lemon cake, filled with lemon curd and garnished with thyme-laced meringue and labneh ice cream.
Isabella's empire is expanding at breakneck speed. Sharing the same building with Kapnos Taverna you'll find Pepita, a Mexican cantina slated to open this summer; and Yona, a noodle bar for which Isabella teams with chef Jonah Kim, is not far behind. Add to that a stadium concession already at Nats Park and three airport restaurants in the works, including a Kapnos Taverna at Reagan National. At the rate he's going, Isabella will have more restaurants than Greece has islands.