Le Village Marché Offers Home Goods With a French Twist
A visit to the Shirlington boutique feels like a stroll through a Parisian flea market.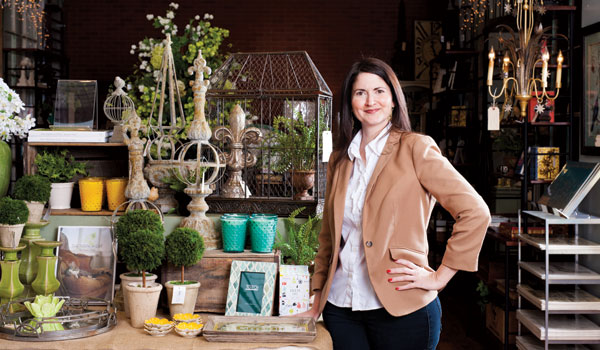 Proprietor Angela Phelps Photo by Stacy Zarin-Goldberg
Angela Phelps doesn't seem like a gambler, but when she left her position as the director of publicity at a book publishing company to open a little French mercantile in Shirlington, she boldly laid her future on the line.
"I was having an early midlife crisis," Phelps says of the decision that she wrestled with in her early 30s. "I kept thinking that my job didn't fit me, but you're not supposed to leave a high-paying career in media to go into retail."
After spending time in France, Phelps had fallen in love with not only the Parisian aesthetic but also the European way of life. "People there would work to live, not live to work, like we do here," she observes. "I thought,
Wouldn't it be great to have a little neighborhood shop, to get to know your customers by name?"
So in 2007, she set about finding a spot near her Parkfairfax home to open a shop of her own. She stocked it with the kinds of delights that reminded her of Paris: bistro-style glassware and ceramic fleur-de-sel boxes; luxe soaps and frame-worthy wrapping paper; Laguiole utensils and old-fashioned butter bells.

Left: Handcrafted bone-and-wood frames, $44-$48; hobnail glass candles, $30 each. Right: Framed vintage poster, $499; mercury-glass apothecary jars, $44-$54; weathered pillar candlesticks, $68-$72; marble-top accent tables, $275 each. Photos by Stacy Zarin-Goldberg
"I was done climbing the corporate ladder. I wanted to feel fulfilled," she says. "I figured if it worked out the way I envisioned it, it would be the best decision I'd ever made."
The bet seems to have paid off. Phelps opened Le Village Marché eight years ago and has since moved to a larger neighboring storefront, nearly doubling both her square footage and merchandise selection, all while maintaining a charming, boutique-y vibe. This spring, she plans to open a second location in the Cathedral Commons shopping district in Washington, D.C.
Though her stores are located in upscale spots, Phelps says she's conscientious about pricing: "It doesn't matter if you want to spend $20 or $200. I want anyone who loves the store to be able to afford to take a piece home with them."
A visit to the shop finds vintage typewriters, cameras, old telephones and trunks tucked between newer furniture and giftable items. I spy a century-old cabinet salvaged from a Pennsylvania hardware store that could anchor a large room. A full-length mirror with an arched wood frame looks charmingly antique, but I'm told it is new.
Most of the furnishings are right-sized for smaller Arlington homes, including mirrored cocktail tables, narrow dressers and petite chandeliers that are dripping with crystals. "I love to mix the rustic with the refined—it's more comfortable when not everything you own is squeaky-clean and brand-new," Phelps says. "That's not how we live. I like to have a sense of depth of history in a home."
In addition to housewares, the shop offers a gallery of beautiful cards and stationery, several shelves stocked with bath products from brands like Tocca and TokyoMilk, cuddly baby gifts and jewelry by local designer Ruth Barzel.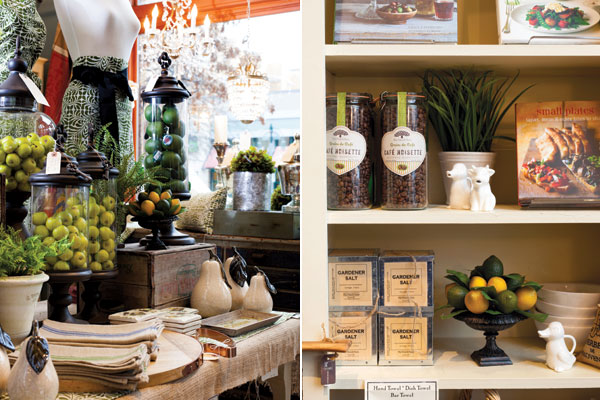 Left: Graphic-print aprons, $28-$34; apothecary jars, $68-$72; French linen dish towels, $17 each; ceramic pears, $14-$24. Right: Gardener Salt (a French sea salt with herbs), $25; cow and duck creamers, $14 each. Photos by Stacy Zarin-Goldberg
I admire some preserved tabletop topiaries and decorative trays with decoupaged maps of Paris, a stack of delicate gold-lacquer lined bowls and lotus-flower votives. A line of candles and home fragrances from Nest are among the store's best-selling items.
When I ask Phelps if her own home looks like her shop, she laughs. (Apparently she gets that question a lot.) "It does," she says, explaining that both are reflections of what she loves: old mixed with new; rustic texture mixed with shine; and a variety of height, heft and softness.
But what you won't find in either place is clutter. Though her style evokes the effortless and seemingly random sophistication of a Parisian flea market, she's purposeful in her selections and is mindful about accumulating too much stuff. The art of decorating, she explains, is in the editing.
"Things are only as valuable as the importance we put into them," she says. "The pieces we value are a reflection of a deeper happiness or a fond memory." n
Adrienne Wichard-Edds is Arlington Magazine's style columnist.