Little Viet Garden Resurrected at Eden Center
The owners of the original Clarendon restaurant are giving it a second run.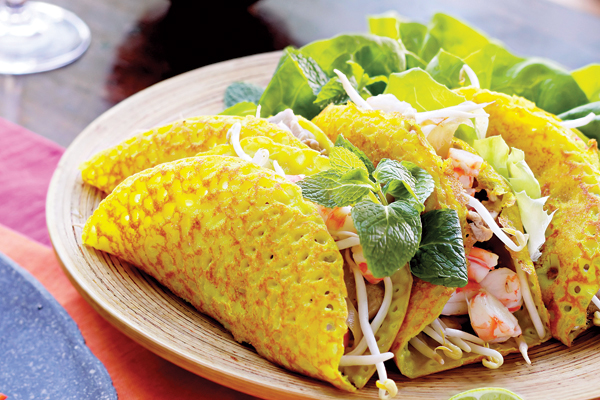 Banh Xeo.
If you're already a fan of the banh mi sandwiches and pork-belly steam buns at tiny Banh Ta Deli at the Eden Center, have I got good news for you. The owners have taken over an adjacent space and are turning their diminutive takeout into Little Viet Garden, a 60-seat, full-service restaurant due to open in September.
The venture marks a reunion of sorts for Falls Church residents Anh Hong, her husband, Michael Phan, and Hong's sister Lily Benalja. Their first foray into restaurant co-ownership was a Clarendon eatery by the same name, which was open from 1992 to 1998. Hong and Phan then had a 12-year run with Green Papaya in Bethesda, while Benalja opened (and still runs) Miss Saigon in Georgetown.
Specialties on Little Viet Garden's resurrected menu will include favorites such as banh xeo (golden pancake, a crispy rice flour crepe stuffed with pork belly, shrimp and vegetables); bo la nho (grilled grape leaves stuffed with marinated beef and served over vermicelli); mi thom thit (dry egg noodles with shrimp, roasted pork, crispy shallots and chicken broth on the side); and grilled lemongrass lamb chops.
Don't worry, banh mi fans. The deli will continue to operate in a corner of the restaurant, featuring six sandwiches (pork belly, pulled chicken, meatball, cold cut, grilled pork, tofu); daily specials; and mango, avocado and jackfruit smoothies.
Little Viet Garden (and Banh Ta Deli), 6783 Wilson Blvd., Falls Church, 703-532-1069