Master Foodies Offer Tips, Recipe
Better known for work in rural areas, the Virginia Cooperative Extension reaches into Arlington with food and gardening experts and events.
Which one needs a good washing before consuming?
A) pre-washed greens B) cantaloupe C) turkey
The answer? Cantaloupe. Cutting into the melon without a wash could distribute pathogens from its rind into the center of the fruit. Who knew?
The food safety tidbit was among several I picked up during a recent breakfast hosted by the Virginia Cooperative Extension designed to celebrate the work of the food and agriculture organization, which operates 107 offices across Virginia, including in Arlington.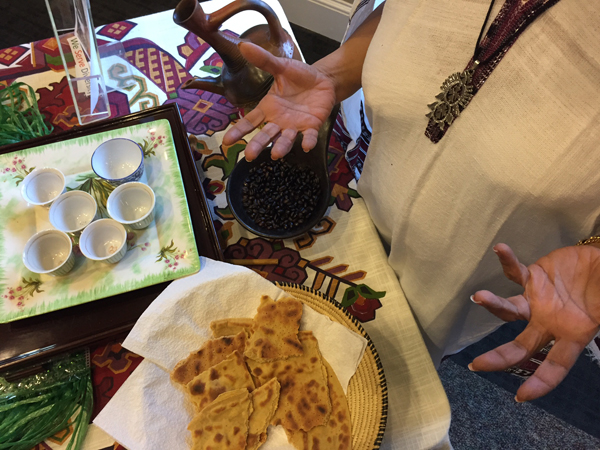 VCE program assistant Hareg Tecklu demonstrated an Eritrian coffee roasting ceremony and offered samples of bread made with healthier chickpeas at the event.
As a writer focused on food and agriculture, I've long known about the work of Extension offices in rural parts of the state, where they provide the latest university research to farmers and host educational workshops. The Virginia Cooperative Extension is a joint program of Virginia Tech, Virginia State University, the USDA and state and local governments. But I didn't know the Extension extended into Arlington, or that it deploys a large fleet of "Masters" to help us grow, buy and eat in the urban landscape.
The Extension's well-known Master Gardeners Program deploys the gardening know-how of some 200 trained masters in the Arlington-Alexandria area alone. Need food-growing help? You can often find these volunteers at local farmers markets. Ask them how to grow better lettuce or to fight this year's pest du jour.
But did you know there are also Master Naturalists, Master Financial Educators and Master Food Volunteers?
The Master Food Volunteers and their support staff offer classes on canning, fairs on healthy living and food demonstrations with local produce. (Those demos, however, are only offered at City of Alexandria markets.) Volunteers go through a 30-hour training course before lending their expertise to the broader community.
They also make a mean beet frittata.
After having the Arlington-based Extension's annual breakfast catered for several years, the Master Food Volunteers decided it was their duty to prepare a homemade breakfast for the crowd at the Fairlington Community Center where Extension is based.
Granola, cranberry chutney, fruit preserves and frittatas were on display, along with the recipes to replicate them at home. To my surprise, the beet, leek and feta frittata was a favorite. Streaked a beet-stained pink, the dish was delicious as it was visually intriguing. See the recipe below, and learn more about the Extension's many programs here.
Frittata with Beets, Leeks and Feta
Adapted from Finding Time For Cooking
Serves 6
Prep Time: 20 minutes
Cook Time: 10-20 minutes
Ingredients
2 medium beets
1 teaspoon canola oil
1 leek
1 cup spinach
6 large eggs
¼ cup low-fat (1%) milk
4 ounces of crumbled feta cheese
Salt and pepper (1/8 tsp each)
Optional: sprinkle of shredded Parmesan cheese
Directions
Preheat oven to 400 degrees F
Peel, then dice beets into small pieces. Be careful—beet juice stains everything (including your cutting board)!
Add oil to oven-safe skillet and place over medium or medium-high heat. Add beets to pan and sauté for 8-10 minutes, until beets soften.
Wash leeks well. Slice white and pale green parts of leeks, and chop them semi-fine.
Add leeks to beets and sauté for another few minutes, stirring.
Add spinach and cook, covered, until spinach is wilted.
In a large bowl, blend eggs, milk, half the feta cheese, salt and pepper. Pour into the skillet, making sure egg spreads evenly.
Sprinkle the remaining feta on top (and the Parmesan, if using).
Turn reduce heat to low. Let frittata cook until edges begin to set. Transfer pan to oven and cook 10-20 minutes, until center is no longer runny.
Remove from oven and let cool before serving.
Note: Frittata can be made ahead and refrigerated overnight. Rewarm in a 300 degree F oven for about 15 minutes.