Holiday Gifts for Kids
Find something for every kid on your list at Doodlehopper 4 Kids toy store in Falls Church.
Most grown women would be unwise to max out their credit cards on Beanie Babies, but for Terry Tucker Young, it was a stroke of genius.
The year was 1995 and Young, whose retail background includes stints as a buyer for Woodward & Lothrop and Bloomingdale's, was struggling to pay the rent at Doodlehopper 4 Kids, a store specializing in children's discount clothing that she had opened three years earlier in Springfield.
"We noticed that the Beanie Babies we had in stock kept disappearing," she recalls. "My husband and I leveraged our credit cards and brought in $30,000 worth. The day the shipment came in, we had the police outside and a line around the store."
On that day, Young made enough money to pay all her debts—and then some. "The neighborhood mothers would buy [the Beanie Babies] for $5 from us and sell them for $10 at card tables they'd set up in their yards," she laughs. "We got to the point where we'd let only kids in the store for the first hour of business each day; then we had to limit our traffic to 12 people at a time."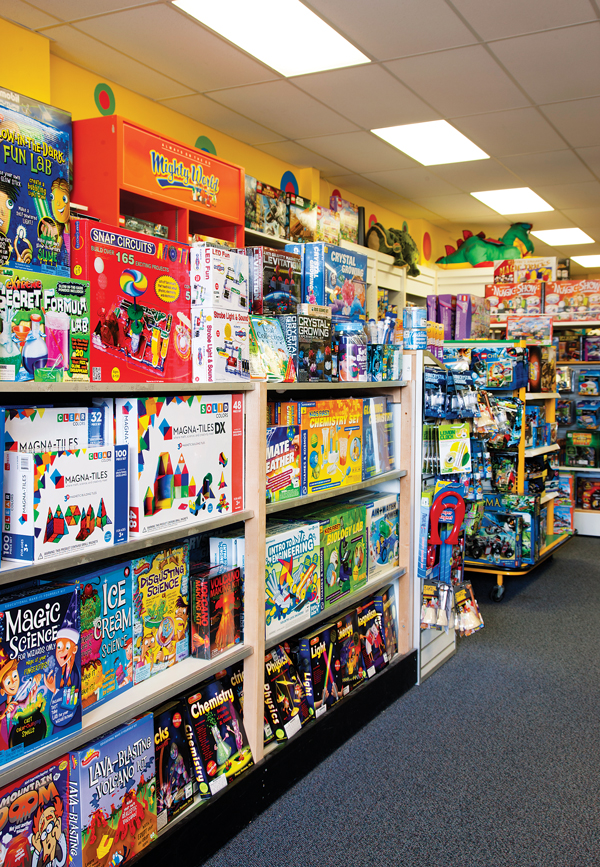 Young took this as a sign that it was time to shift her store's focus from clothing to toys, and it wasn't long before her instincts were rewarded. In 2002, she opened a second Doodlehopper location in Falls Church on the corner of Broad Street and Maple Avenue. Seven years later she expanded again, annexing a storefront two doors down and doubling her square footage in Falls Church. The shop's inventory is now divided between the two spaces according to age. The original corner location caters mainly to younger kids (babies through preschoolers), while the newer space carries toys, games and crafts for elementary-schoolers through teens and on up.
Doodlehopper stocks the requisite Thomas the Tank Engine, LEGO and PLAYMOBIL favorites, as well as an impressive selection of crafts ("my favorite part of the store," gushes Young), art supplies, puzzles, games, books, outdoor toys and dollhouses.
Wandering among the baby gifts, I notice a handful of chunky, chewable necklaces by the Maryland-based company Teething Bling. Is this jewelry for new moms or a toy for their teething tots? In fact, it's both. Brilliant.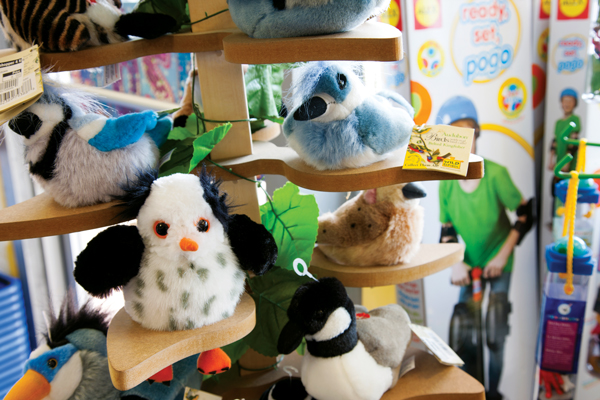 In addition, I spot a dozen different kinds of Stomp Rockets—one of our family's favorite gifts of all time—and a rack of dress-up clothes for tiny ballerinas and budding astronauts. There's a sophisticated stash of fashion-focused craft kits for young designers, plus oodles of games that expose kids to everything from number sense to spatial relationships to economics (I'm looking at you, Settlers of Catan).
For my 9- and 11-year-old sons, I pick up a card game called Swish! that promises to help develop executive functioning—those precious frontal- lobe skills that help kids break down tasks, organize and plan ahead.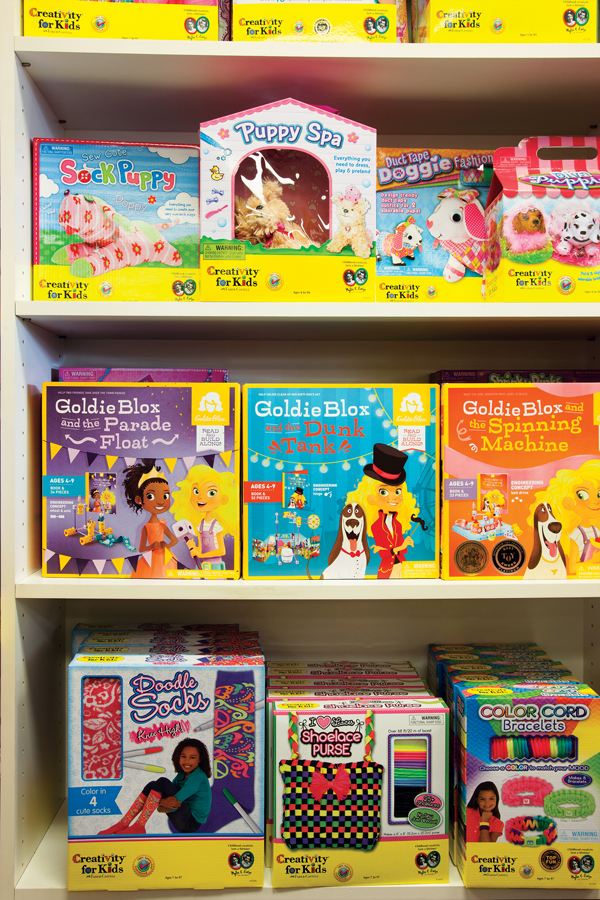 Every Wednesday, the store hosts free craft events "where kids can get together to make and learn," Young explains. She also orchestrates seasonal crafting opportunities, which, for the holidays, means activities like making your own cookie plate or participating in a Frozen princess craft party.
Doodlehopper is also home to the occasional standing-room-only entertainment gig, such as visits from The Great Zucchini, silhouette artist Lena Bengtson, a concert with bilingual singer ¡Uno, Dos, Tres con Andrés! and an American Girl event where kids can win one (very expensive!) doll.
"We try to have things that the big-box stores don't have," says Young, with a smile. "I want the people to know us as a happy place to go. I want to be part of the community that's known as the place for fun."
Adrienne Wichard-Edds is Arlington Magazine's shopping and style columnist.
Doodlehopper 4 Kids, 228 West Broad St., Falls Church; 703-241-2262, www.doodlehopper.com