Restaurant Review: Peter Chang Arlington
The former Chinese Embassy chef is known for hot and numbing Sichuan dishes like you've never had before.
ENTER PETER CHANG'S Arlington restaurant and your eyes are sure to fixate on one of the soccer ball-sized orbs of air-filled, scallion-flecked pancake making its way through the dining room. Your gaze will follow that delicate bubble—so mesmerizing and enchanting that you half expect Glinda the Good Witch to pop out of it—until it alights on its intended table. Suddenly you'll know that everything you've heard about the chef's culinary mastery is true.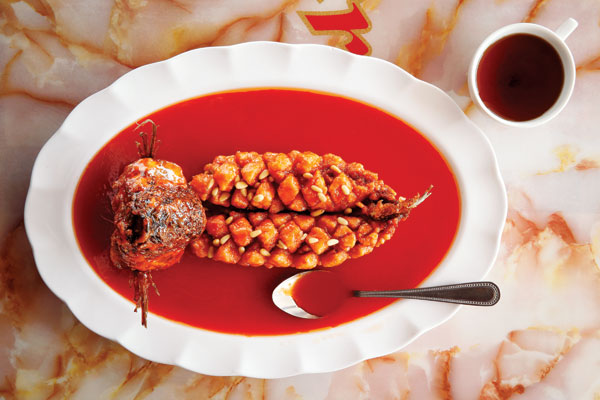 Boneless, deep-fried whole tilapia with pine nuts and special red sauce. Photo by Jonathan Timmes.
When Chang opened the doors to his eponymous eatery in March, diners quickly lined up to fill the 120 seats and over-order from his lengthy menu of dazzling Sichuan temptations. Longtime fans knew that this was not his first foray into Northern Virginia; the 52-year-old chef's cult following began more than a decade ago.
It started not long after Chang came to Washington in 2000 for a two-year stint as chef of the Chinese Embassy. As the completion of his assignment neared, he and his family stole away from the embassy, choosing not to return to China. Chang took jobs where he could find them, eventually winding up at a place called China Star in Fairfax in 2005.
As word of his talent spread among food groupies and writers, Chang—likely fearing reprisal by the Chinese government or being discovered as an undocumented worker by the U.S. government—continued to move from place to place, showing up in spots ranging from Knoxville, Tennessee, to Marietta, Georgia. (Calvin Trillin famously mused about his Where's Waldo?-like wanderings in a 2010 New Yorker piece.)
Things changed in 2011 when Chang acquired a business partner, Gen Lee, and the two embarked on building an empire that now includes eateries in Charlottesville (where they met), Fredericksburg, Virginia Beach, Williamsburg and Rockville, Maryland. (Chang can now work legally in the United States.)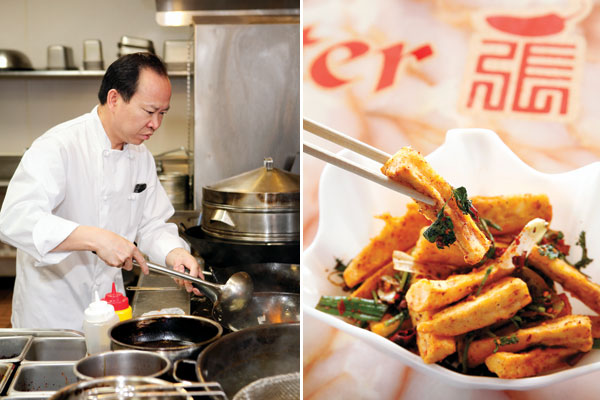 Peter Chang (left). Dry-fried eggplant (right). Photos by Jonathan Timmes.
Which brings us back to Arlington. Diners aren't flocking here for the décor, which is serviceable and sufficiently pleasant. The restaurant, in the space formerly occupied by Oriental Gourmet in the Lee Harrison Shopping Center, is a big room with a drop ceiling, salmon-pink walls adorned with prints of Chinese silkscreen motifs, and restaurant supply-issue lighting and booths. Lacquered tables with faux-marbling and Chang's name and logo emblazoned on top add a personal touch.
The bar, which stores a limited selection of beer and wine, has no seating. It mainly functions as a holding area for bags and bags of takeout food awaiting pickup.
This makes sense, given that it really is all about the food. The flavor profile most associated with Sichuan cooking is ma la, the "hot and numbing" combination of dried chili peppers (used whole, chopped or in powder form) and Sichuan peppercorns. The latter produce a distinctive sensation in the mouth, similar to what you feel when you drink water after eating peppermint, but with pinprick tingling and a saliva rush thrown in. It can be shocking to the uninitiated, but it is a period of mala-djustment worth working through.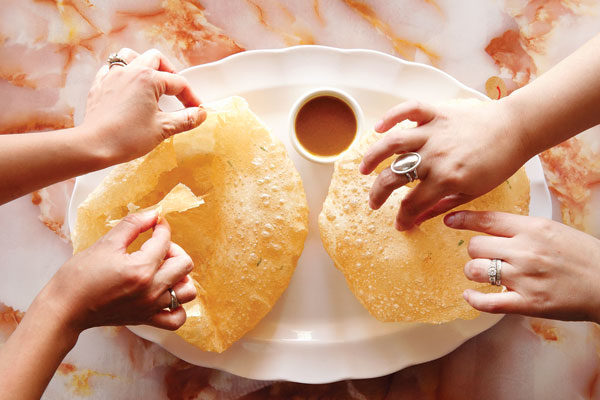 Scallion bubble pancake. Photo by Jonathan Timmes.
Though many of Chang's dishes emphasize ma la, other trademark profiles of Chinese cooking—such as sweetness, saltiness and bitterness—keep everything in balance. Soy sauce, chili oil, sesame oil, rice vinegar, Chinese cooking wine, fermented bean paste and ginger all figure prominently, and fresh garlic is used in nearly every dish. But what comes through more than anything else is that Chang's style is all his own.
For example, he buys hot oils and flavorings from the same suppliers as other Chinese restaurants, but fashions proprietary blends from them. As a result, dishes like the fiery mapo tofu—cubes of silken tofu—have a complex flavor that's rounded, rather than just assaulting. His creativity also shines through in the lamb rib chops (an atypical choice of protein for a Chinese restaurant), which are coated in cumin and then stir-fried with onions, jalapeños and dried chilies for a taste that blends authentic preparation with flavor innovation.
To start things off gently, try Peter's Big Bun (or bao). The server lifts the lid off of a dim sum steamer to reveal a bao (wow!) the size of a fast-food hamburger filled with gingery ground pork and a rich broth. The liquid might be best sucked out with a drinking straw, lest you lose a drop of it and make a mess trying to eat the bun with chopsticks. (Tip: Put it on your plate and use a spoon.)
The asparagus soup, whose base is a triple (chicken, pork, beef) stock, abounds with al dente slivers of that vegetable, plus small cubes of white Chinese yam, crab mushrooms and white pepper. Don't overlook it.
Grandma's pork riblets are steamed to ultra-tenderness with crushed rice grains that resemble quinoa and turn into a slightly sweet porridge. The combination seems strange, yet you can't stop eating it. The same can't be said of the hot-and-sour soup, which was bland and shrill at the same time.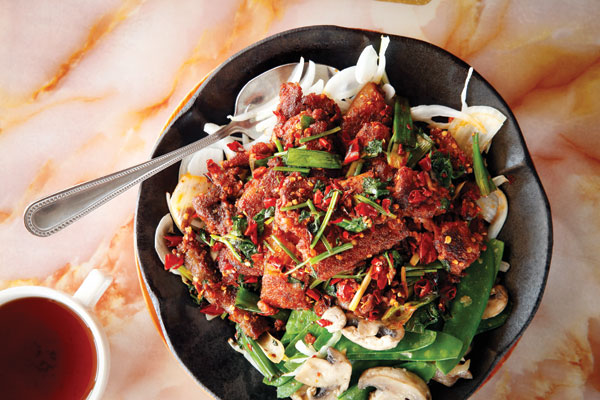 Hot-and-numbing pork belly with Sichuan chilis, scallions, cilantro, mushrooms and snow peas. Photo by Jonathan Timmes.
As you head into spicier territory, you'll find that Grandma also has a way with noodles. The ones that are served room temperature and dressed with soy, hot oil, chili powder, scallions and cilantro have the texture of very thin rice tagliatelle. Flour-based, they are actually the same noodles that form the fried-dough strips typically served in little wax baggies with hot-and-sour soup—only boiled.
And then there's the "dry-fried" eggplant, for which small, skinless batons of the vegetable are dredged in cornstarch, deep-fried, stir-fried with seasonings and then topped with chilies, garlic and cilantro. They are as crunchy on the outside and fluffy on the inside as the most perfect french fries, but with more wallop and depth of flavor than spuds could ever hope to have.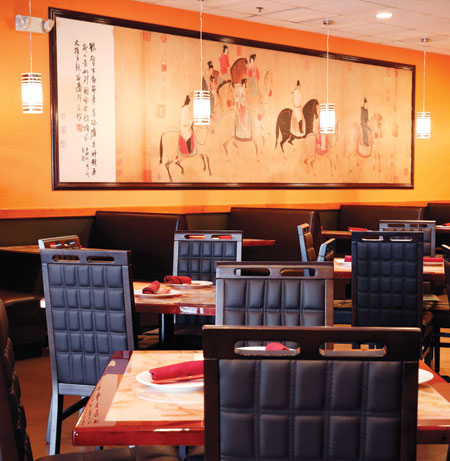 I am still a sucker for every dish that follows the ma la path. Among those sampled: the beef-brisket-and-leek hot pot with razor-thin strips of tofu skin (like pappardelle) and loads of jalapeño; pork belly marinated in bean and chili paste, then stir-fried with snow peas and mushrooms; and another hot-and-numbing combination of flounder, shrimp, chicken, beef and wood ear mushrooms (No. 38 on the menu, it's listed under Chef's Specialties).
After that kind of heat, it's not a bad idea to round out the meal with some milder dishes. The boneless whole fish, which is cross-hatched, deep-fried, studded with pine nuts and served atop a vivid red sweet-and-sour sauce, is a worthy option. So are the tender slices of stir-fried marinated beef, surrounded by blanched baby bok choy.
Chang will even renew your faith in the quintessential and usually deplorable Sichuan dish, kung pao chicken. In his rendition, the cubes of chicken have a deeply caramelized, slightly vinegary flavor that melds with the accompanying asparagus and red peppers. Neither the hot chilies nor the peanut garnish overwhelm. It is balance restored.
There are so many leftovers after a meal at Peter Chang Arlington that dessert is out of the question. Good thing, too, because the restaurant doesn't serve any. That man really is a genius.
WHAT TO DRINK
As of this date, Peter Chang only serves beer and wine and the list is very limited. Of the three beers, Tsingtao and Sapporo don't come as a surprise at a Chinese restaurant, but New Belgium Fat Tire Amber Ale ($4.50) somehow does. (Not that it stands a chance against Sichuan peppercorns.) Of the four white wines, all priced in the mid-$20s, Brotherhood Riesling from New York State proves a worthy complement to Chang's ma la heat. It wouldn't even occur to me to drink red wine with Sichuan food, but the Joseph Swan Zinfandel ($50), a spicy, peppery, elegant wine, intrigues because, like Chang's cooking, it is so unexpected. A wise nonalcoholic beverage option is organic tea from Tea Forté. Try the gunpowder or jasmine green tea for soothing sips to tame numbed palates.
Peter Chang Arlington
2503-E North Harrison St., Arlington; 703-538-6688; peterchangarlington.com
OPEN
Monday-Thursday: 11 a.m. to 3 p.m. and 5 to 9:30 p.m.
Friday: 11 a.m. to 3 p.m. and 5 to 10 p.m.
Saturday: 11:30 a.m. to 10 p.m.
Sunday: 11:30 a.m. to 9 p.m.
Closed holidays
PRICES: Appetizers: $3-$9; Entrées: $15-$22
PARKING
Ample parking is available in the Lee Harrison Shopping Center parking lot.