Philly Me Up: A Philadelphia Food Tour
The City of Brotherly Love is on fire with destination-worthy restaurants and bars.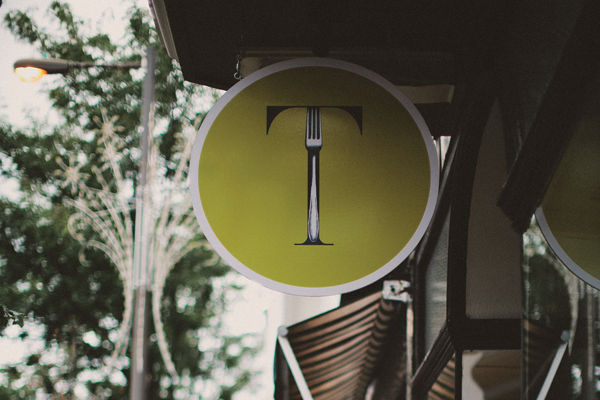 Townsend at street level. Photo by Neal Santos
To paraphrase a joke often attributed to W.C. Fields, I spent two weeks in Philadelphia for a couple of days in September, packing a fortnight's worth of eating and drinking into a 48-hour span. And I'm here to tell you that the food and cocktail scene there, contrary to the late comedian's opinion, is anything but boring.
Fields, a Philadelphia native, took every opportunity to call his hometown "dullsville," but this visitor found it exciting, intriguing and totally current. After hitting more than 20 places for breakfast, lunch, dinner, booze and loads of noshes between meals, I affirmed the sense I came away with after a similar binge two years before: That town is on fire.
Philadelphia is between Washington and New York, but it's closer to the latter more than just geographically. Both cities were major ports of entry for immigrants who brought heterogeneity, a no-nonsense work ethic and deeply rooted food traditions with them.
Like New York, Philly is a city of neighborhoods. "That really can't be overstated," says one local foodie pal I consulted during my visit. "I'm from Northeast Philly, so South Philly doesn't have anything to do with me." That's changing, however—along with her tune—now that East Passyunk (pronounced pa-SHUNK) Avenue in South Philly is blowing up with amazing food options. She wants to be in on the action by eating and drinking all over town.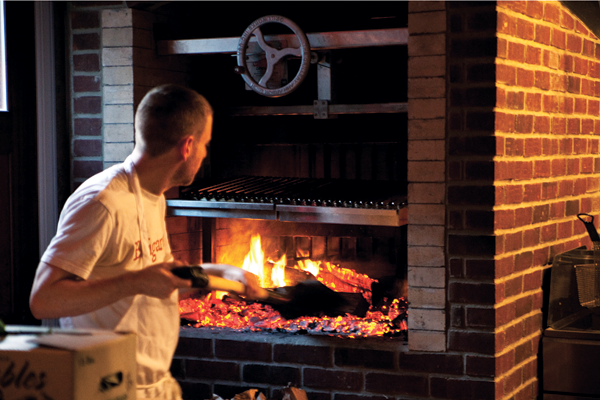 Wood-fired cooking at Brigantessa
She should check out the two restaurants that executive chef Joe Cicala oversees in East Passyunk. At Brigantessa (brigantessaphila.com)—a casual, bi-level trattoria-meets-pizzeria—a sunset-orange Americano di Camillo (gin, Carpano Antica, Cappelletti Aperitivo) primes the palate nicely, while Maryland-born Cicala displays his Sicilian roots. Rosy slices of 24-month prosciutto di Parma with fresh figs, whipped ricotta pipings and mosto cotto meld in blissful harmony. Wood-grilled cardoncelli mushrooms dressed with olive oil are an exercise in restraint. The Regina pizza of buffalo mozzarella, mineral-rich Piennolo tomatoes and fresh basil has the blistered crust and soupy center that great Neapolitan pizza should. And the briganti (pasta bugles), rendered green with the addition of beet greens, arrive in a bold ragù of dry-aged beef. The dish is rustic yet refined.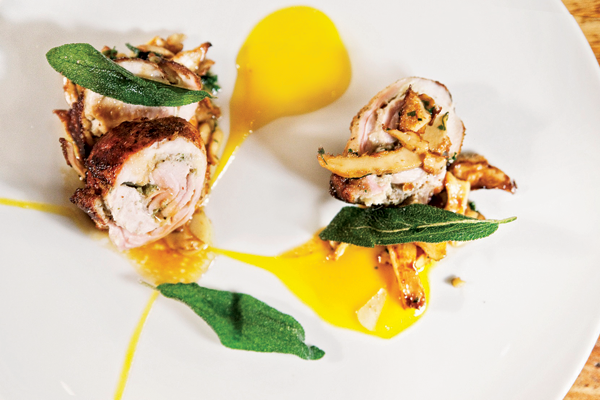 Roasted rabbit at Le Virtu.
Cicala spotlights Abruzzese cooking at Le Virtu (levirtu.com). There the highlights include delicate crepes (scrippelle 'mbusse) filled with aged pecorino cheese and awash in rich chicken brodo; pasta "handkerchiefs" (taccozzelle) with sausage, porcini mushrooms, black truffle and Abruzzo's Navelli saffron; and an ethereal brined rabbit, roasted porchetta-style and served with eggplant caponata and pine nuts.
At Townsend (www.townsendrestaurant.com) in East Passyunk, chef-owner Tod Wentz offers a sublime rabbit roulade, braised "pot-au-feu" style with carrots and potatoes. His charming white-tablecloth restaurant (upstairs) with a cozy bar (downstairs) features refined French cooking with interpretations, such as broiled oysters with spinach, bacon and fennel; or Hamachi cubes and cucumber dressed with sesame oil and seeds, lime juice, and furikake (a Japanese seasoning). The escargots and fava beans in rich crème fraîche sauce with bacon and sherry are irresistible.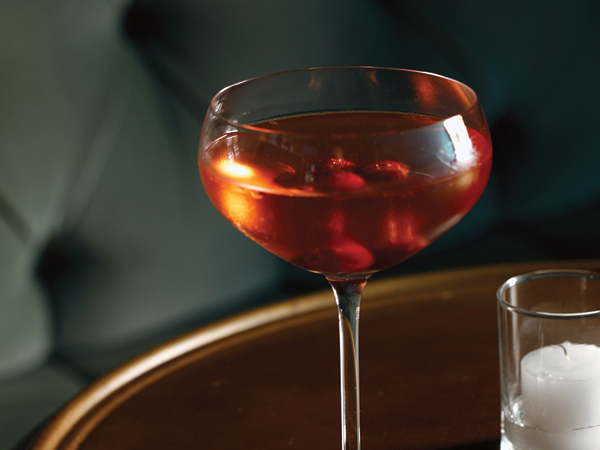 Charlie Was a Sinner's Hasty Tasty cocktail. Photo by Jason Varney
Center City, including Rittenhouse Square, also is a trove of interesting eats and drinks. One area where Philadelphia is miles ahead of Washington is on the vegan and vegetarian front. Take Charlie Was a Sinner (charliewasasinner.com), a sexy, narrow space with slate-blue walls, low lighting, terrific cocktails by J. Christine Lamb and vegan small plates by chef Ted Manko. The Going Down Easy (lemongrass-infused gin, yellow Chartreuse, lemon) is true to its name. Avocado toast with shredded radish and habañero aioli is splendid, as are the fried artichokes with saffron aioli.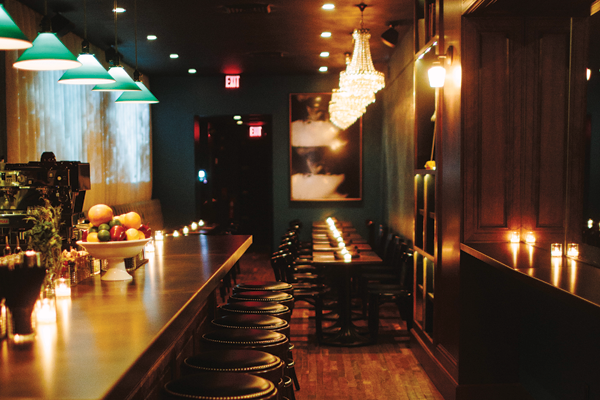 Charlie Was a Sinner's moody interior. Photo by Pat Fuey.
In October 2014, Kate Jacoby and James Beard Award nominee Rich Landau opened V Street (vstreetfood.com) near Rittenhouse Square as a casual sister restaurant to Vedge, their acclaimed and elegant vegan restaurant. V Street offers a small menu of flavor- and texture-packed street foods. Peruvian fries (potato wedges slathered with yellow-pepper aioli and sprinkled with chopped peanuts and Kalamata olives) are life-altering. So are tacos filled with spicy fried cauliflower florets, zesty red-pepper purée, crisp pappadum, tomato chutney and raita. Mustard in a cocktail, not so much.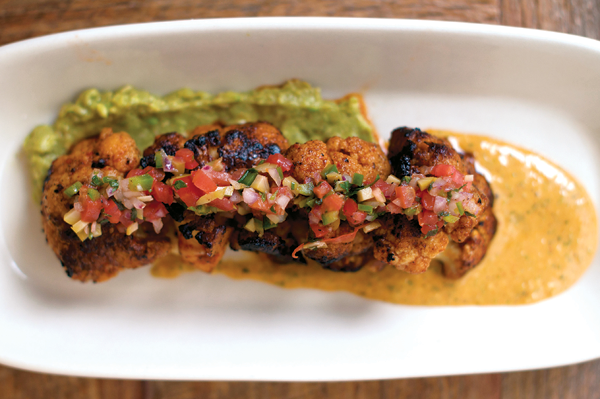 Cauliflower tacos at V Street
Dinner at Vernick Food and Drink (vernickphilly.com), also near Rittenhouse Square, is de rigueur. The hushed second-floor dining room, with its light-wood tables and floors, wall shelf of votive candles and centerpiece of stunning flowers, is a perfect setting for a romantic evening. Our stellar meal started with striped jack crudo with avocado dollops and smoked jalapeño oil, followed by heavenly tiny curds of scrambled egg, topped with whipped butter and uni. We then moved on to tuna poke with candied tamarind, macadamia nuts, black sesame seeds and yogurt foam; a salad of toasted couscous, corn, steamed mussels and tarragon
aioli; duck ragù tagliatelle; and corn and coconut crème caramel.
Excellent cocktail programs abound in Philly, from noodle bars to the finest restaurants, but two places that specialize in them are standouts. The Franklin Bar in Rittenhouse Square (thefranklinbar.com) is a downstairs, speakeasy-type bar with an unmarked entrance and a bouncer outside. Inside, it's all tufted oxblood banquettes, marble-topped tables and exposed brick. Head bartender Sara Justice's menu is well curated. A three-course cocktail tasting menu for $35 affords the chance to sample three stellar libations in one fell swoop. When I was there, a tiki trio included Surf Avenue (multiple rums, Blue Curaçao, green tea, pineapple juice, cream, bitters); Under the Boardwalk (a drink laced with passion fruit, coconut and ginger); and Laughy Taffy, which featured cognac, brown butter and banana.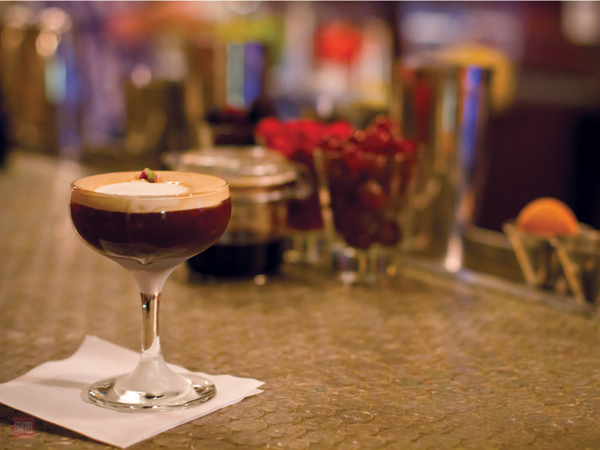 The Nevermore at Hop Sing Laundromat. Photo by Revtar Photography
If you can only go to one bar, make sure it's Hop Sing Laundromat (hopsinglaundromat.com) in Chinatown. The place has no sign or phone number, takes no reservations and has a few rules: no tennis shoes/flip-flops/sandals, no shorts, no hats, no phones, no cameras and cash only. Other standards: top-shelf liquor only (The Glenlivet 15 is in the well) and reasonable prices.
I intended to stop by Hop Sing for one drink on the way to a 5:30 dinner reservation. Ten cocktails and two-and-a-half hours later, my companion and I were woozy from the charm and talent of the bar's quirky owner, Lê, the man who built the dark, inviting boîte himself and filled it with artwork and finishes that deserve a story of their own. (The bar is made of perfectly aligned inlaid nickels.) Legendary cocktails include the Nevermore, a grown-up's cappuccino in a coupe made with gin, cold Vietnamese coffee, Patrón Citrónge and a float of cream; and the Henry "Box" Brown, made with 15-year-old rum and freshly pressed red grape juice.
My only regret on this trip to Philly was that I didn't have a chance to hit any BYOB restaurants. Wine and spirits can only be bought in Pennsylvania from state-owned outlets, where the cost and subsequent markup are high. Liquor licenses are also expensive. So, many restaurateurs find a small space with decent rent, make sure the food is great, accept cash only and let people bring their own liquor. Two tried-and-trues are Modo Mio for Italian (modomiorestaurants.com) in Northern Liberties and Pumpkin (pumpkinphilly.com) for solid seasonal American cooking in Graduate Hospital, aka "G-Ho." (That is the name of the neighborhood, by the way.)
On the way out of town, I did stop at a few food emporiums in Center City for car snacks to keep me company on the two-and-a-half-hour drive home. Among them were hummus piled with crispy chicken skins, buttermilk-ranch-coated fried chicken and an overstuffed Italian hoagie. The next time someone asks me where the best place to eat in Washington is, I just may tell him Philadelphia.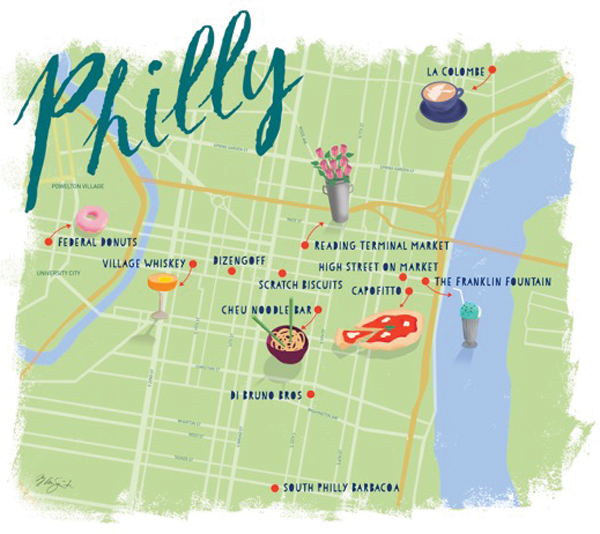 Map by Mary Ann Smith
Nosh Worthy
Still hungry? Graze your way through these local treasures.
High Street on Market
This sister restaurant to Fork (whose chef, Eli Kulp, was paralyzed in the Amtrak crash of May 2015) is known for baker Alex Bois' bread, so make a point of breakfasting here. The black squid ink bialy, encrusted with sesame seeds and filled with whitefish, will make you a believer. The same goes for the coffee-almond-date cake, and the red-eye Danish with ham and coffee cream. Breakfast: 7:30 a.m.-11:30 a.m. Monday-Friday; 8 a.m.-3:30 p.m. Saturday and Sunday. (Also open for lunch and dinner.) 308 Market St., 215-625-0988; highstreetonmarket.com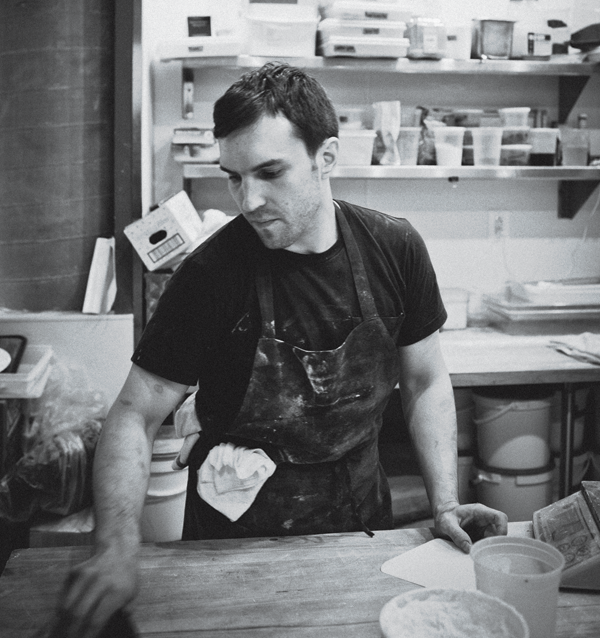 Baker Alex Bois at High Street on Market. Photo by Neal Santos
Reading Terminal Market
More than 100 stalls—flowers, cheeses, baked goods, Peking duck, you name it—fill this vast Philadelphia landmark, but remarkably much of the food here is average. Tommy DiNic's is a notable exception. Two sandwiches in particular—the brisket with gravy, and the thinly sliced pork shoulder dipped in jus (get them both with sharp provolone, broccoli rabe and roasted hot peppers)—are pure gold. Open 9 a.m.-6 p.m. Tuesday-Saturday; 9 a.m.-4 p.m. Sunday and Monday. 51 N. 12th St., 215-922-2317; readingterminalmarket.org
Cheu Noodle Bar
At this 28-seat Center City noodle bar, chef Ben Puchowitz does his own thing with Asian food. Picture ramen with tender smoked brisket, a giant but delicate matzo ball, kimchi and red chili broth. Other delights: broccoli with Vietnamese sausage and peanuts; crispy black-garlic chicken wings; and juicy pork-and-pickle dumplings. Open noon-3 p.m. and 5-10 p.m. Monday-Thursday; noon-11 p.m. Friday and Saturday; noon-10 p.m. Sunday. 255 S. 10th St., 267-639-4136; cheunoodlebar.com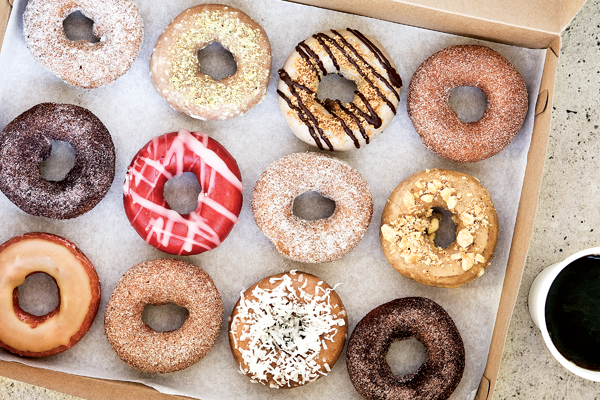 Federal Donuts. Photo by Michael Persico.
Federal Donuts
Each order of succulent, crispy fried chicken, served naked or tossed with a choice of seasonings (coconut-curry, za'atar, buttermilk-ranch) and a glaze (chili-garlic, soy-garlic, honey-ginger) comes with a honey-cake doughnut. But you may find yourself leaving with strawberry-shortcake, chocolate-éclair and lemon-ricotta doughnuts, too. Open 7 a.m.-7 p.m. (or until sold out); chicken starts at 11 a.m. 1632 Sansom St., 215-665-1101; federaldonuts.com
The Franklin Fountain
This old-fashioned soda shop in Old City makes the best ice cream in town. Its house fudge, composed mainly of Wilbur's chocolate, is gooey and chewy as it should be. Try it on top of Whirly Berley ice cream (chocolate with nougat and salted caramel) with whipped cream and a Bordeaux cherry for a transcendent experience. Open 11 a.m.-midnight daily. Cash only. 116 Market St., 215-627-1899; franklinfountain.com
South Philly Barbacoa
Chef/owners Cristina Martinez and Ben Miller traded in their cult-following food truck for this small brick-and-mortar eatery, which is known for its lamb barbacoa tacos. The tortillas are made in-house and the meat is slow-cooked, chopped to order, ultra-juicy and all-around delectable. Dress it up with onions, cilantro, roasted peppers, nopales and salsa verde from the toppings bar. Open 5 a.m. to sellout, Friday-Sunday. Cash only. 1703 S. 11th St., 215-694-3797.
Capofitto
Stephanie and John Reitano, owners of Capogiro Gelato, crank out terrific Neapolitan pies at this Old City pizzeria. You'll find top-notch ingredients such as Rotondo Dolce prosciutto di Parma, San Marzano tomatoes and fior di latte mozzarella crowning a nicely charred, thin-crust pizza, along with a pile of arugula and a slathering of superb Sicilian olive oil. The San Lorenzo (smoked provola, house-made sausage, mushroom ragù and pecorino) is divine, as is the pistachio gelato. Open 7:30 a.m.-10:30 p.m. Sunday-Thursday; 7:30 a.m. -11:30 p.m. Friday and Saturday. 233 Chestnut St., 215-897-9999; capofittoforno.com
La Colombe
Local craft coffee roaster La Colombe opened an 11,000-square-foot café in funky Fishtown last year. The space contains a tasting room, a bakery, a full-fledged café menu and its own rum distillery. The menu includes tartines, salads, skillets (like shrimp and grits), sammys and charcuterie boards. Savvy baristas can make whatever you throw their way. Open 7 a.m.-7 p.m. Sunday-Thursday;7 a.m.-9 p.m. Friday and Saturday. 1335 Frankford Ave., 215-563-0860 or 267-479-1600; lacolombe.com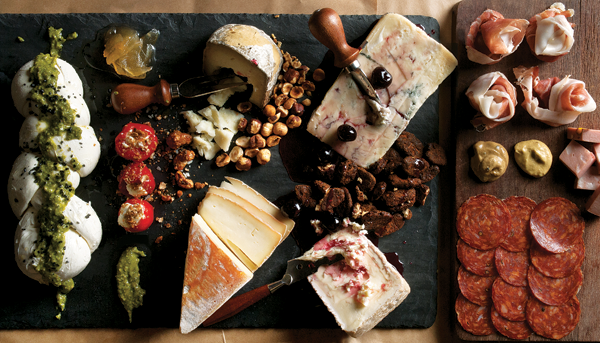 Cheese and charcuterie at Di Bruno Bros. Photo by David Macneill.
Di Bruno Bros.
Forget the Rittenhouse Square outpost of this Italian market. The real gem is its tiny flagship cheese store, which opened 75 years ago among the stalls of Ninth Street's famed Italian market in South Philly. Here's a tip: Go there with up to 16 folks for a private, after-hours tasting, complete with antipasti, salumi, cheeses, oil and vinegar samplings and stories. Such events are BYO friendly, and participants will enjoy a 10 percent discount on purchases. Call for hours and pricing (ballpark is $55 per person, plus tax and gratuity). 930 S. Ninth St., 215-922-2876; dibruno.com
Dizengoff
When you walk in the door of chef Michael Solomonov's hummusiya, your eye is drawn to the baker pulling puffed pitas from a wood-burning oven. But the star of the place is the silky hummus, whether topped with a pile of crispy chicken skins, or with braised onions, pistachios, sumac, za'atar and dill. On the side, try a cucumber, tomato and onion salad with cornichons. Open 10:30 a.m.-7 p.m. daily. 1625 Sansom St., 215-867-8181; dizengoffphilly.com.
David Hagedorn is an overstuffed and underpaid food, travel and design writer in Washington, D.C.