Restaurant Review: Gypsy Soul
Critic David Hagedorn's take on R.J. Cooper's new restaurant in Merrifield's Mosaic District
R.J. Cooper is a bad boy chef who never met a cussword he didn't like. While the food community trades stories of his latest Facebook rant against recalcitrant Yelpers, his chef buddies are apt to roll their eyes and say, "That's R.J. Gotta love him!"
And there is much to love, because, wow, this man can cook. During his star turn at Southern-themed Vidalia in Washington, D.C., he co-won the James Beard award for Best Chef Mid-Atlantic (with Frank Ruta) in 2007. Next, he focused on multi-course modernism at his groundbreaking Rogue 24. At Gypsy Soul, which opened in July in the Mosaic District, the Detroit native returns to his Southern cooking bona fides, with a tantalizing, intriguing menu that brilliantly marries uptown cooking skill with down-home sensibility. (The name, Gypsy Soul, speaks to Cooper's errant journeys on his beloved Harley, where, he says, open-air freedom fuels his creativity.)
Designed by the D.C.-based architecture firm HapstakDemetriou, the 135-seat restaurant greets diners with entrance doors as massive as Oz's castle. They open to reveal a large, two-floor-high cube with floor-to-ceiling windows that flood the space with light. It's a modern, elegant room with cream finishes, solid wooden tables, glass étagères, slate-gray banquettes, gauzy flax curtains and distressed rusted sheet metal.
An eye to detail is apparent in everything from daily menus printed on pricey card stock to the stainless steel sip-straw stirring paddles in your cocktail, the thin, black rubber coasters and placemats that keep plates and glasses from clunking on bare tables, and La Colombe coffee to end a meal.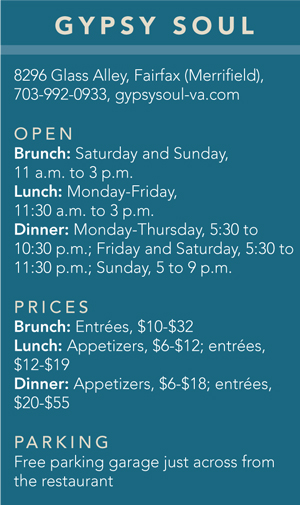 In the sprawling open kitchen, Cooper rules beneath a batterie of gleaming copper and stainless steel saucepans hanging overhead, turning out sophisticated redneck revival food. For starters, that means giant bowls of wispy potato chips with onion dip, dreamy deviled eggs with country ham strips, and a heap of chicken skins as addictive as Popeyes fried chicken (minus the superfluous flesh).
The Southern ham assortment rivals the best charcuterie boards around. It includes Benton's dry-cured country ham from Tennessee, sugar-cured country ham from Kite's in Virginia, and Mangalitsa prosciutto from Johnston County Hams in Smithfield, N.C.
What really comes through in Cooper's cooking is that, hallelujah, he knows how to season food. The she-crab soup shines, from its rich stock base to its tiny, buttery Old Bay croutons. Barcat oyster stew pops with just the right touch of acidity from lemony chunks of artichoke bottom. A walnut-oil-enhanced salad (slaw, really) of shredded grilled radicchio, Brussels sprouts, cauliflower, pistachios and pomegranate seeds brings a new discovery with each bite.
Among the entrées, Cooper's chicken-fried bobwhite quail is a tour de force. Two moist birds, coated with frizzled crunchiness—and complemented with a sop-worthy pool of gizzard gravy—perch atop creamy, butter-laden Anson Mills grits and a mound of vinegar-touched, bacon-y, slap-yo'-momma greens.
Another stunner: medallions of juicy rabbit loin and rabbit sausage, emboldened by a vivid orange butternut-squash purée, roasted baby carrots and delightful ricotta dumplings.
Cooper also honors seafood. The Carolina shrimp and grits, dotted with pearl onions, is awash in a lush, adobe-colored sauce founded in shrimp stock and butter. Crab cakes are equally top-notch: thick, filled with lumps of unfettered Maryland blue crab and nicely seared. At dinner they come with slaw, chips and lemon aioli. At brunch, they soar under sunny-side-up eggs, with a maque choux of corn, crayfish and tasso ham, mingling with Old Bay hollandaise.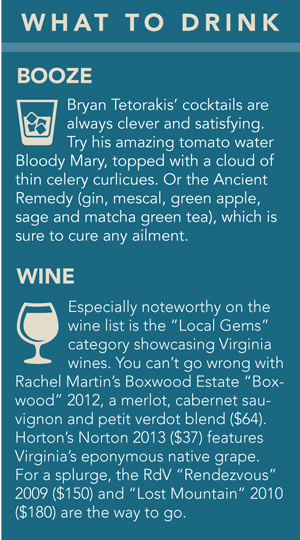 Side dishes are usually an afterthought, but most of the ones at Gypsy Soul could stand on their own as a main course. The crunchy, nutty farro with a touch of cream and hunks of butternut squash is a must, as are the multiple Ritz-cracker-topped macaroni-and-cheese selections. All come piping hot in rectangular baking pans, with plenty for sharing.
There are missteps. On one visit, an enormous Old Spot hog rib (that's menu-speak for pork chop) had a lovely blackened caramel crust, but was dry and oddly flavorless. Similarly, a perfectly cooked potato-wrapped flounder with braised red cabbage had no zip.
For dessert, the chocolate pudding with caramelized bananas had the look, texture and dubious appeal of baby food. But the coconut pound cake with pineapple compote and rum butter was as welcome as a Caribbean vacation in February. Peanut-butter mousse, enrobed in a chocolate shell, also gets a thumbs-up, as does an exquisite tart of daintily thin apple slices, paired with satiny goat cheese ice cream and bourbon caramel sauce.
I long to return to Gypsy Soul, but must address an issue. Just as readily as diners rush to chef-driven restaurants, they can be driven away. And nothing achieves that outcome more effectively than being successively stung by the word no.
On our first fall visit, my husband and I heard that word twice before we even received a drink: No Hendrick's Gin, no cranberry juice. ("We only make juices in season." Huh? It was October.) During our second visit: "We don't carry Maker's Mark."
And then there was the Saturday afternoon when I witnessed a rebuffed customer who had made a special trip to try the "amazing" hamburger he had seen at Gypsy Soul earlier that week.
"It is amazing," the bartender concurred, "but we don't serve it at brunch." The crestfallen soul literally begged, but the answer remained no—the bartender deadpanning to me as the (never-to-return) guest left, "Like whining's going to get you what you want."
R.J. Cooper is a prodigious talent, to be sure. He offers a beautifully appointed space and boldly flavored enticements that scream "Yes!"
With a little less "No!," Gypsy Soul could be perfect.