Restaurant Review: Live Oak
Chef Justus Frank brings Charleston-inspired cooking to Del Ray.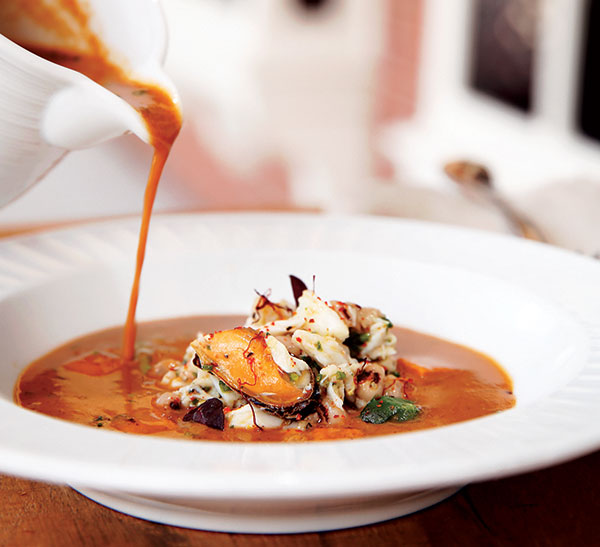 Charleston she-crab soup
Whiffs of sherry and saffron dance in the air as our server pours a ring of rich, rust-colored she-crab bisque around a mound of poached mussels, tiny Sea Island red beans and thick lumps of snow-white Maryland crabmeat. House-made oyster crackers float to the top as I dip my spoon for a first taste, hopeful that the soup's flavor will deliver on the promise of its alluring aroma and appearance.
It does. Hints of roe, brandy and Espelette pepper accentuate, in perfect measure, the pure crab boldness of this low-country classic.
This dish exemplifies just how fine the food can be—but not always is—at Live Oak, the Charleston-inspired Del Ray restaurant that 35-year-old chef Justus Frank opened in August with partners (and relatives by marriage) Jeremy Barber and Tim Irwin. Frank, a 2007 graduate of culinary arts at Johnston & Wales University in Charlotte, was chef de cuisine at Clarendon's Eventide restaurant before he went on to work under James Beard Award-winning chef Fabio Trabocchi at Fiola in Washington, D.C., from 2011 to 2014. His most recent stint was at Shirlington's Copperwood Tavern.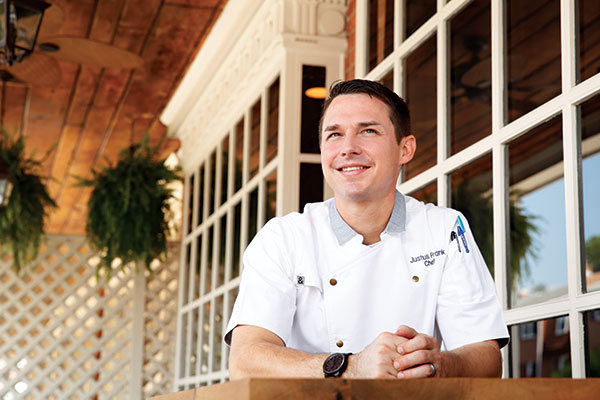 Chef Justus Frank
Live Oak replaces Monroe's, a Del Ray institution since 1996. The revamped 80-seat space, designed by D.C.-based GrizForm, is a large square room with accents meant to evoke low-country style: wainscoting; a high, coffered, blue-green ceiling with oversize lampshade pendant lights; and a plank floor that's distressed to make it look weathered. White wooden booths for two line two walls, one of which is exposed brick. A decorative glass-and-wrought-iron half-partition separates a 15-seat bar (with two televisions) from the main dining area.
I begin my first visit at said bar with a Bee's Knees, one of head bartender William Witherow's well-crafted cocktails. Made with lemon juice, hibiscus-infused honey and gin, the mélange strikes a perfect balance of sweet, tart and herbal notes. Perusing the extensive bar menu, I tear up with nostalgia (I'm from Alabama) at the sight of deviled eggs, as well as a dish that tops Yukon-Gold potato chips with braised brisket, crème fraîche and pimento cheese.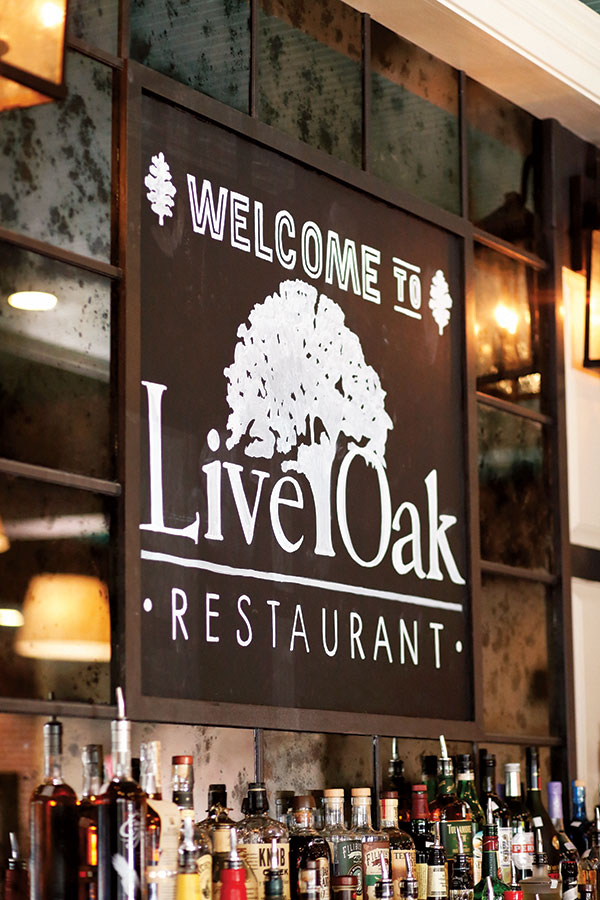 Once seated in the dining room, I'm happy to learn that the bar menu is available there, too. So I order from it—and the dinner menu—with abandon during each of my visits.
The deviled eggs immediately pass muster with my Southern heritage. Their yolk filling is creamy, with just the right amount of tang from mustard and pickle, and an extra jolt of smoky salt, thanks to a topping of Benton's ham.
The chips, however, disappoint. I was expecting something akin to Southern nachos, but the potatoes are too thin, small and flimsy to use as scoopers. Eating the dish requires a fork and knife, and its decadent components add up to overkill.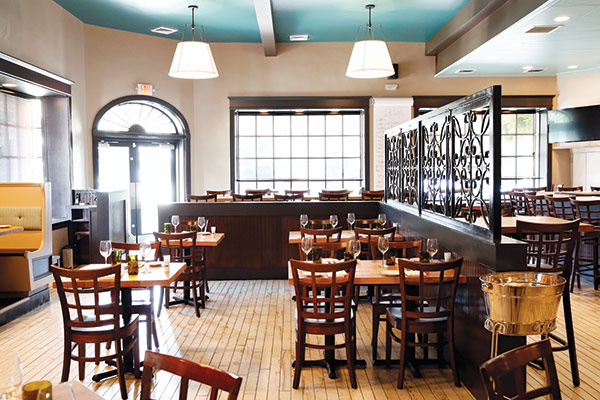 Dragon Creek oysters, hay-smoked in their shells for 90 seconds until they hover between raw and cooked, are delicate and sublime. Also good: a crudo dish that uses lime juice and discreet dabs of lobster aioli to bring out the sweetness of ultra-fresh, thin-sliced fluke and lumps of Maryland crabmeat.
Pork cheeks, cooked sous-vide (under vacuum) to tenderness, get the Buffalo treatment with hot sauce and blue cheese, but their breading is too thick. The dish is intended to mix high-brow and down-home cooking—swapping the usual chicken wings for a more esoteric protein—but it only proves that not everything should be Buffalo-ized.
Fried green tomatoes, served on a bed of creamy grits and topped with Benton's ham, are an adequate version of that Southern mainstay, but their cornmeal crust is similarly armor-like.
Frank says his menu is all about Charleston, but what comes through more in his cooking are his Fiola roots. That's clear with the first slurp of a Pernod-laced fish broth underneath a chunk of pan-roasted rockfish. And with one bite of the cast-iron fried pork chop or the country-fried steak, both of which are cooked Milanese-style in the Trabocchi way, yielding a buttery, crispy breading on the outside and juicy, flavorful meat inside. (Frank uses flat iron steak and cooks it sous-vide before breading it—hardly a Southern modus operandi.)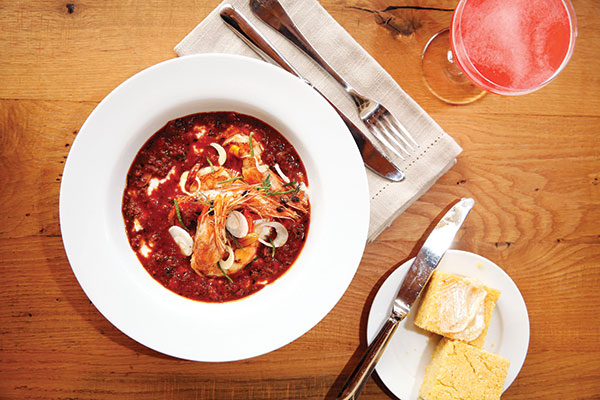 Shrimp and grits with lobster bisque
The chef's riff on succulent shrimp and grits reveals elegance in its sauce—a chorizo-sausage and clove-spiked lobster bisque—and in its garnishes, which include fresh hearts of palm shavings and crunchy sea beans.
Barbecued "airline chicken breast" (why chefs think the airline designation is a selling point is beyond me) is a letdown. It's cooked sous-vide to a flabby texture, its skin limp under a coating of vinegary sauce.
Also not up to par: the tortellini stuffed with collard greens. The pasta is so thick it takes effort to get a fork through it.
For dessert, I'm partial to the chocolate icebox cake swathed with grapefruit buttercream, although the buttermilk chess pie with lemon curd and blackberries will also satisfy anyone with a sweet tooth. The same is true of the sweet-potato pie with buttermilk sorbet and chocolate sauce.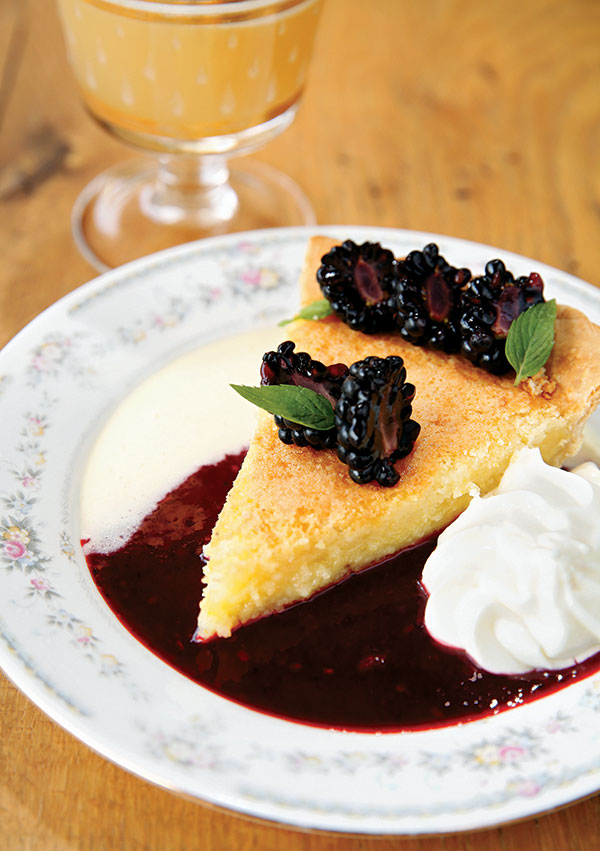 Buttermilk chess pie with lemon curd and blackberries
The absence of soundproofing is a problem in the dining room, where the noise level can hit 92 decibels, which is unpleasant to the point of distraction. But Live Oak scores high points for service: The staff is polished, well informed and goes the extra mile to please.
Frank is a tremendously talented chef who seems to be at a crossroads. He needs to decide whether Live Oak wants to be a neighborhood hangout serving burgers, po'boys and Reubens, or a chef-driven restaurant with lamb loin and foie gras. If he pares down the offerings and concentrates on making every dish as stunning as his she-crab soup, he may be able to pull off both.
LIVE OAK:
1603 Commonwealth Ave., Alexandria (Del Ray); 571-312-0402
www.liveoakdelray.com
OPEN:
Dinner:
Sunday-Thursday, 5:30-10 p.m.; Friday and Saturday, 5:30-11 p.m.
Brunch:
Saturday and Sunday, 10 a.m.-3 p.m.
PRICES:
Starters: $8-$14
Entrées: $17-$29
Desserts: $6-$8
PARKING:
Limited street parking
WHAT TO DRINK
Head bartender William Witherow offers six seasonal cocktails ($10) that are well balanced and tasty, letting the spirits shine through rather than mucking them up with a lot of frivolous additions. In summer I enjoyed Witherow's interpretation of a Hemingway Daiquiri, made with grapefruit and lime juices, maraschino liqueur and honey-habañero moonshine. Also stellar: a mule made with house-made ginger beer, lime juice and vodka. I have to anticipate that his autumn collection will be equally enticing.
Other libation offerings are brief, including five draft beers (Allagash White, $8; Fair Winds IPA, $7), 10 bottled or canned beers (Brooklyn Lager, $6; "King of Beers" Tall Boy, $5) and 14 wines (one sparkling, one rosé, six red, six white) all offered by the glass and bottle.