Restaurant Review: Requin
Chef Jennifer Carroll's French-Mediterranean dishes shine in the Mosaic District.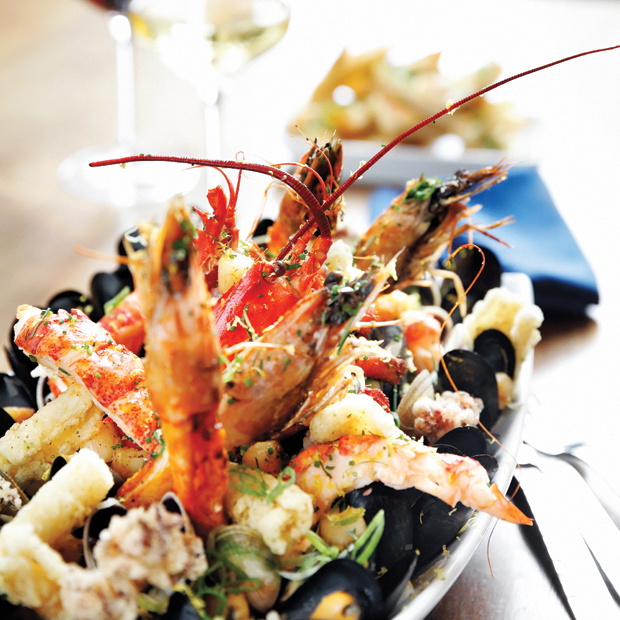 Bouillabaisse featuring prawns, lobster, mussels, clams, calamari, scallops and leeks in a saffron-fennel broth.
When chef RJ Cooper opened Gypsy Soul in the Mosaic District in July 2015, it was clear from the sumptuous open kitchen and chic, modern dining room that he had spared no expense. Unfortunately, he didn't pay some of them—notably the rent—and was evicted a year later.
Enter Mike Isabella, who swiftly took over the turnkey space and installed chef/partner Jennifer Carroll there to create a pop-up version of Requin (that's French for shark), the vast waterfront restaurant that the two are planning to open in The Wharf development in D.C. in late 2017. The Mosaic pop-up proved so popular that Isabella decided to make it permanent rather than turning the space into a fourth iteration of his Greek-themed Kapnos brand.
Carroll met Isabella when she was a fellow contestant on season six of the Top Chef reality-TV show, where she gained a reputation for being a no-nonsense competitor.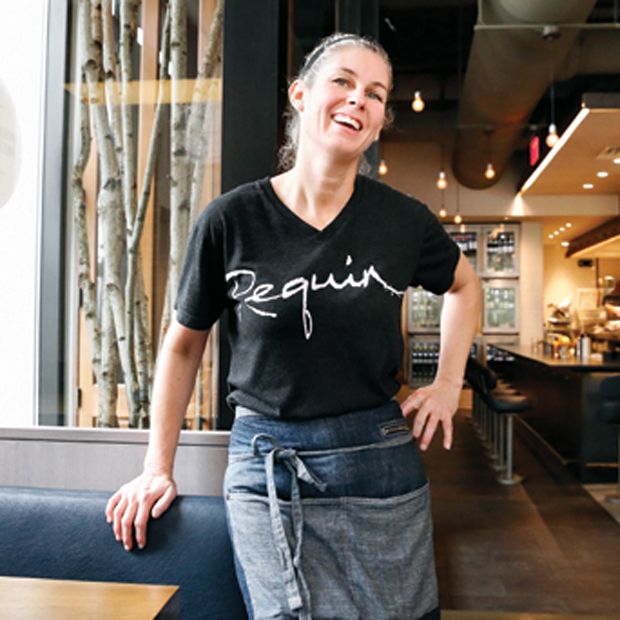 Chef Jen Carroll
Her résumé includes stints in New York City as sous chef for famed toque Eric Ripert at his fish-centric, Michelin-three-star fine-dining restaurant Le Bernardin, and as chef de cuisine at Ripert's 10 Arts Bistro & Lounge at the Ritz-Carlton Hotel in her native Philadelphia.
Her attempts to open her own restaurant didn't gel, but Carroll and Isabella had kicked around the idea of working together. When The Wharf project came up, she saw its waterfront location as a perfect fit for her French-Mediterranean style of cooking. Requin—which she pronounces as reh-KWIN—aptly connotes that fish and seafood emphasis, and the steady crowds buoying the Mosaic location suggests it's a winning concept.
Save for a few cosmetic changes, the design of Requin's now-permanent, 110-seat space in Merrifield remains as it was when it was Gypsy Soul: a modern, elegant room with two-story, floor-to-ceiling windows, solid wooden tables, glass étagères, slate-gray banquettes and gauzy flax curtains.
By late summer, a 3,000-square-foot rooftop lounge, accessible by a staircase and elevator behind the main floor host stand, will add 100 more seats. "I wanted to have another dining room upstairs, where people could have the same experience in an outdoor setting or just have a few drinks," says Carroll.
The chef divides her menu into three sections: Tastes (which come with thin, oven-dried French-bread crostini), Small Plates and For the Table.
In the first category, "rillettes" of smoked blue catfish and tiny bits of smoked salmon are bound with crème fraîche, brightened with lemon zest and chives and formed into a giant quenelle. Though the term rillettes traditionally refers to a potted meat spread (similar to pâté) made with pork, Carroll's seafood rendition brings to mind the happiest of Sunday-brunch bagel schmears. A line of ground Sichuan peppercorn on the side of the plate allows diners to add zest as preferred.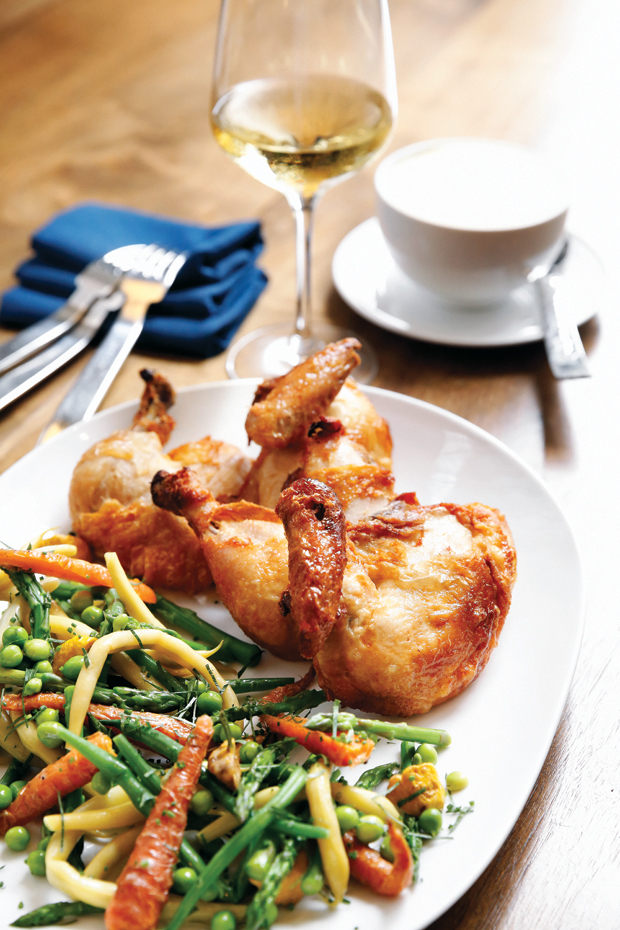 Roasted chicken with pommes purée and roasted vegetables.
Another spread features braised artichoke bottoms, white beans, verdant spinach purée and a cream cheese-y white sauce, whirred into a loose but chunky dip. It's rich, flavorful and satisfying, thanks to preserved lemon, pecorino cheese and chili flakes, but calling it rillettes is a stretch. (Playing fast and loose with cooking terms is a rampant problem in restaurants nowadays, I'm afraid.)
The celery root "pastrami" is actually a salad made from thick, cured-then-smoked rounds of the peeled root, which are coated with pastrami spices (in this case caraway, cumin, garlic, ginger, and peppercorns), cut into batons and then tossed with celery leaves, olive oil and Asian pear. An extra dose of spice mix would make this salad sing rather than hum.
In another starter, luscious cubes of king salmon—prized for its fattiness—are suffused with lemon and lime juice to produce a bright ceviche, spiked with shaved fennel, radish slices, chopped tomato and jalapeño, but so much liquid leaches from the fish that it drowns.
Carroll's kitchen turns out a perfectly respectable fritto misto, in which bay scallops, head-on prawns, squares of calamari, fennel strips and lemon slices take on a light dusting of potato starch before hitting the fryer. The ensemble is accompanied by red-pepper aioli.
Don't miss the quail drumettes, which are double-fried for crispiness, like Korean fried chicken, and coated with orange glaze. Finger licking (and perhaps double ordering) is required.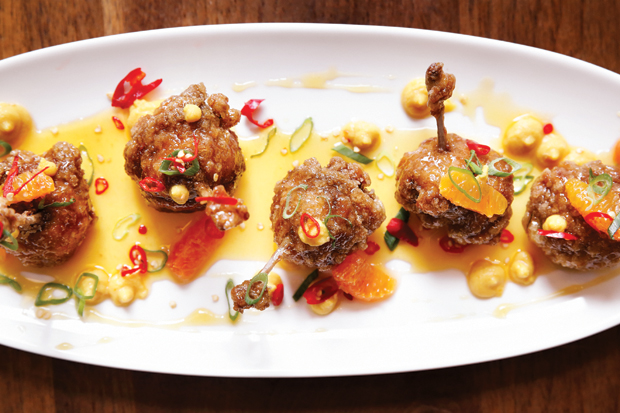 Quail drumettes l'orange with Thai chilies and scallions
Two savory dishes employ barquettes of puff pastry as a base. One is topped with roasted-garlic béchamel sauce, Parmesan and tender escargots that have been poached in red wine. The other features Peekytoe and Maryland lump crab atop a fresh pea purée with garnishes of English and sugar-snap peas. Both options are nicely balanced, flavor-wise, but the pre-baked pastry could use a bit more oven time.
Carroll's deft touch is most evident in the menu's quintessentially French offerings. Veal and chicken stock conspire with caramelized onions, red and port wine, sherry vinegar and butter to produce a superlative onion soup crowned with gooey Gruyere. Roasted chicken is crisp-skinned and juicy comme il faut, and the accompanying pommes purée (mashed potatoes) are decadently infused with butter and cream.
The shining star, though, is Carroll's bouillabaisse, which is available in two sizes (the smaller one serves two or three). One finds perfectly cooked prawns, lobster, mussels, clams, bay scallops, fried calamari, leeks and potatoes teeming in a full-flavored tomato, fennel, garlic and saffron broth, to be sopped up with grilled garlic bread.
For dessert, Carroll, a self-proclaimed lover of doughnuts, eclairs and profiteroles, interprets the latter cleverly. Soft, eggy choux puffs sponge up brown-butter ice cream melting into a drizzle of warm, Scotch-laced caramel sauce. Candied kumquats add citrus, and ground pistachios impart texture and nuttiness. If ever there were a sweet designed to send you home with a smile, this is it.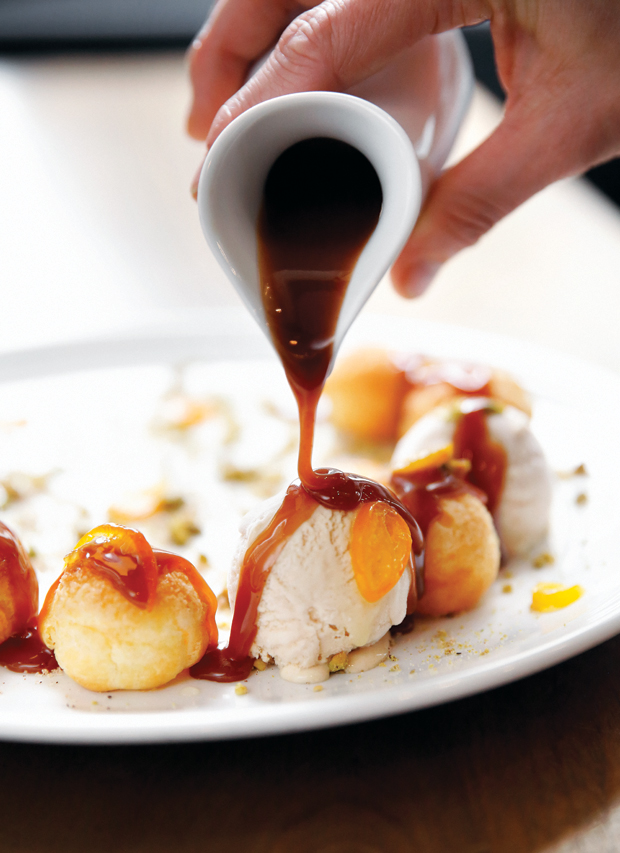 Profiteroles with brown-butter ice cream and caramel
It's worth pointing out that Carroll—unlike the chef who preceded her in this space—is yes-oriented. The bouillabaisse, for instance, doesn't come with traditional rouille (red-pepper-and-saffron aioli), but Carroll is happy to whip one up at the asking. Have a dinner hankering for the stupendous double cheeseburger that's normally offered only at lunch and at the bar during happy hour? No problem.
"If the guest wants something I can make, I'm more than happy to do it if I have the ingredients and the time," she says. With an attitude like that, I predict smooth sailing at Requin.
WHAT TO DRINK
You can always count on Taha Ismail, the beverage director (and a partner) at Mike Isabella Concepts, to deliver a strong cocktail list. The one at Requin is particularly well appointed. The Saboteur, a highball yielding a magenta elixir of tequila, cassis, agave and lime juice, is delightfully refreshing. (To make it a Bramble, ask to sub gin for the tequila, and lemon juice in lieu of lime juice.) Fraise that Pays (black rum, Pimm's No. 1, sage and strawberry shrub) makes as satisfying a cocktail as it does a pun. The Clean Slate (pink grapefruit sorbet, sherry, cava) does double duty as a libation and a palate cleanser.
As befits a menu devoted to French-Mediterranean cuisine, the 40-bottle wine list favors French varietals. Côté Mas brut rosé sparkling wine ($10 per glass/$40 per bottle) and Mas de la Dame rosé ($11/$44) are superlative aperitif quaffs. The bottle list has many interesting offerings in the $30-$60 price range, such as Domaine Francis Blanchet Pouilly Fumé ($48) and Domaine Santa Duc Côtes du Rhône ($48). Non-French choices include such notables as Patricia Green Reserve Pinot Noir (Willamette Valley) for $57 and La Spinetta Chianti Classico Reserva ($60).
Other beverage options include two ciders, house-made sodas and mostly Belgian bottle-only beers.
REQUIN:
8296 Glass Alley (Mosaic District), Merrifield; 703-462-8662
www.requinbymic.com
OPEN:
Closed Monday
Lunch: Tuesday-Friday, 11 a.m.-3 p.m.
Brunch: Saturday and Sunday,
11 a.m.-3 p.m.
Dinner: Tuesday-Thursday, 5-9 p.m.; Friday and Saturday, 5-10 p.m.
PRICES:
Tastes: $6-$10
Small Plates: $12-$23
For the Table (entrées designed for sharing): $24-$96
PARKING:
Free parking garage just across from the restaurant