Restaurant Review: SER
Superb Spanish cooking, impeccable service and personal touches spell success in Ballston.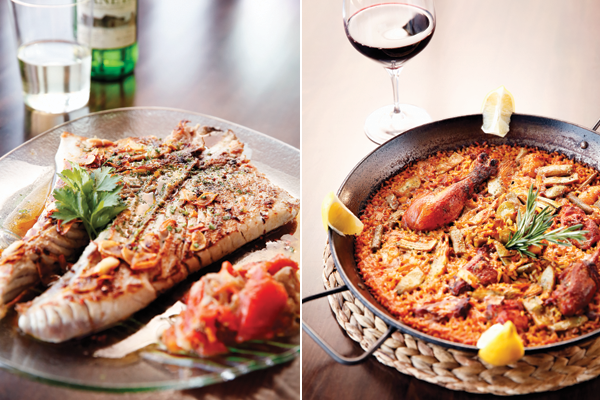 Left:Tuna belly with garlic and herbs. Right: Paella with rabbit and duck. Photos by Jonathan Timmes
It's a busy Friday night at SER as co-owner Javier Candon, sartorially outfitted in a tailored blazer, white oxford shirt, jeans and Chuck Taylors, maneuvers a cart among the tables. On it, anchored horizontally, is a lithe leg of 5J Sanchez Romero Carvajal Iberico de Bellota pata negra—a richly marbled, melt-in-your-mouth ham that began its journey as a pampered, acorn-fed pig.
Arriving at a four-top, Candon produces a thin blade and carves neat slices of the delicacy to order—to the delight of his eager guests.
This is one of many tableside presentations at the Arlington restaurant, which highlights specialties from various regions of Spain. SER stands for "simple, easy and real" and also means "to be" in Spanish. I wouldn't say that all the dishes here are simple or easy, but they sure are the real deal.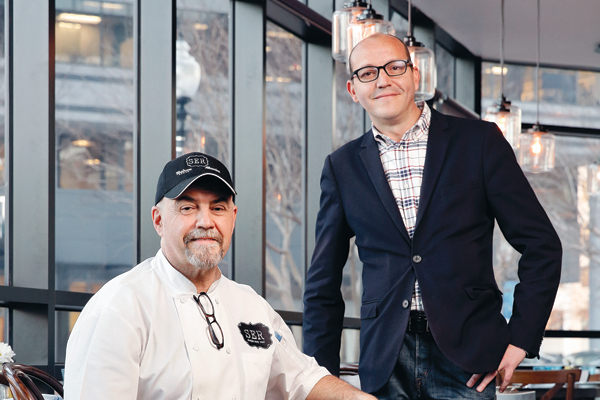 Proprietors Josu Zubikarai (seated) and Javier Candon. Photo by Jonathan Timmes
Candon co-owns the restaurant with chef Josu Zubikarai, who put Taberna del Alabardero on the map during his tenure there from its 1989 opening until 2003. The two worked at that acclaimed Washington, D.C., landmark together. They opened SER a year ago after winning the Ballston Business Improvement District's 2014 Restaurant Challenge, a competition designed to find a solid tenant for an off-the-beaten-path location on North Glebe Road owned by Brookfield Office Properties.
Given the packed house, superlative fare and standout service I encountered on several visits, I'd say the landlord's wish has come true.
Though SER occupies the first floor of an office building, its 140-seat dining room feels both homey and trendy. Photographs of the owners' families and Kickstarter donors (so 2016) are on display amid hanging legs of Spanish jamón. The restaurant's acronym, spelled out in marquee lightbulbs, presides above a window into the kitchen. A large television loops a travelogue of Spain. And the vivid color palette—hues of butterscotch, coral and turquoise—evokes the vibrancy of Spanish seaside towns. Come spring, the 100-seat patio will be the place to be.
I don't often mention servers by name, but two at SER deserve the recognition; they are that good. Ganna Cuevas, a Ukrainian native, and Santiago Riestra Ramos, from Galicia, are knowledgeable, helpful and friendly but not smarmy. Both caution me against over-ordering.
When I choose a starter of octopus á la Gallega, per Ramos' recommendation, he regales me with a story. "This is called pulpo à feira," he says. "Old women used to beat the octopus with a stick to tenderize it. My father used to tell me if I didn't behave, that's what would happen to me."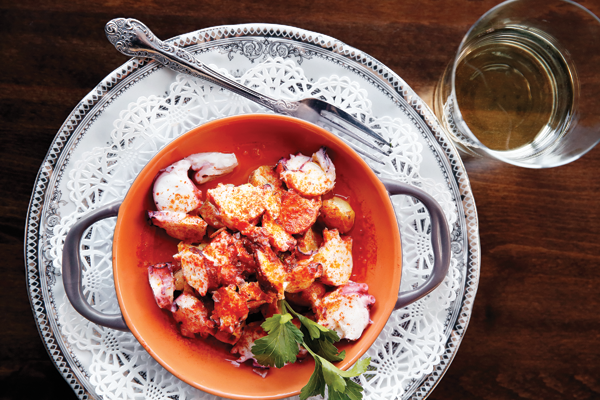 Octopus á la Gallega. Photo by Jonathan Timmes
The stick works, apparently. Thinly sliced, ultra-tender coins of tentacle are served with tiny, skin-on boiled potatoes, excellent Spanish olive oil and smoked paprika, which packs a nice kick.
In another seafood appetizer, large, tender mussels are steamed in a hearty tomato sauce made with capers, onions, Albariño wine, sliced garlic and olive oil. The sauce just begs to be sopped up with the country or olive bread that's brought to our table upon arrival.
Percebes (gooseneck barnacles) are a delicacy in chef Zubikarai's native Basque region. Freshly steamed and wrapped in a cloth, they look like prehistoric bird claws crossed with tarantulas. But there's a reward for those brave enough to press on. Pull the claws off to reveal small tubes of flesh enclosed in casings—to be removed and discarded as you would with steamer clams—and you'll find that no dipping sauce is necessary (nor is any offered). The briny, salty crustaceans taste utterly and wonderfully of the sea, though their yield is meager considering the $22 price tag.
Other Spanish standards round out the appetizer choices, including shrimp sautéed with red chili flakes, olive oil and sliced garlic; and fried croquettes of ham, spinach or chicken with béchamel sauce (though the croquette filling should be molten rather than lukewarm). A clear and delectable winner is SER's tortilla, a custardy, barely set omelet rife with cubes of tender potato.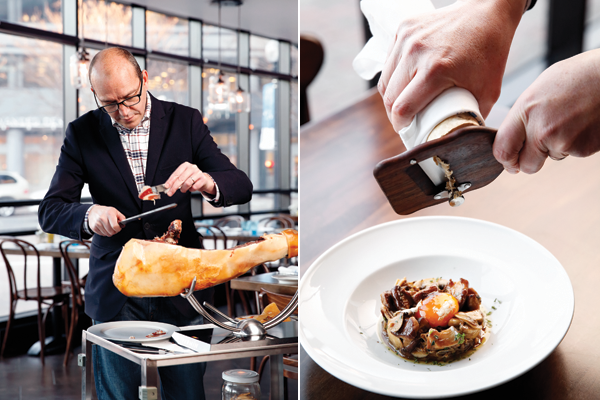 Left: Tableside carving. Right: Revuelto with shaved foie gras. Photos by Jonathan Timmes
In Zubikarai's interpretation of revuelto (scrambled eggs), sautéed enoki and shiitake mushrooms are topped with a cured egg yolk, then further embellished tableside with shavings of duck foie gras.
Once tossed together, the yolk and the melting foie emulsify to create a luxuriant, super rich and irresistible sauce.
For a main course, take a "when in Valencia" approach and order the meat paella for two. Ramos can't contain his enthusiasm when he presents the dish, adding that it, too, has a back story. Last October, Candon and Zubikarai brought master rice chef Daniel Garcia Rodriguez from Spain for a weeklong tutorial on how to make the 200-year-old mainstay. In the traditional preparation, artichoke bottoms, lima-like beans (garrofo) and broad string beans (ferraura) keep company with braised rabbit and duck that are slowly cooked with saffron-infused levante and bomba rice.
"My grandmother says that when the paella is done, it has to take a siesta first," Ramos imparts, meaning it has to rest. "Then it has to be woken up." The unmistakable smell of duck fat rises from the wide pan as he mixes everything together, scraping up the crusty, crunchy bits of rice from the bottom and topping our two servings with lemon wedges. Their acid slices through the paella's richness to enliven every bite.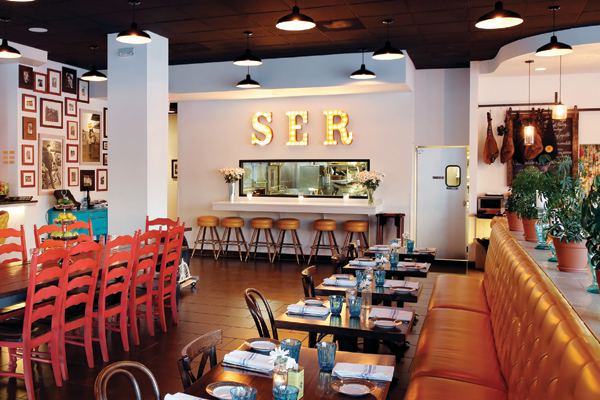 Photo by Jonathan Timmes
A credible seafood entrée is the perfectly al dente tagliatelle, mingled with shrimp, clams, mussels and (sadly chewy) squares of squid in a rosemary-flecked tomato and garlic sauce. But an even better choice comes by accident. Though I order the cochinillo (roasted suckling pig, which is served tableside and cut into portions with the side of a plate to showcase its tenderness), what arrives is the tuna belly special.
This turns out to be a fortunate miscommunication. The long slices of fat-imbued fish belly, enhanced only with roasted garlic slices, olive oil and chopped fresh herbs, are grilled and seasoned just right. Each mouthful provides pure pleasure, as does the accompanying side of escalivada—a Catalan blend of roasted eggplant, bell peppers, onions, olive oil and sherry vinegar.
Liquid adornments here are just as appealing. The bar offers an excellent selection of Spanish wines by the glass (Castelo de Medina 2014 Verdejo, $9; Elias Mora 2012 Tinto de Toro, $12) and by the bottle (La Caña 2014 Albariño, $45; Gran Coronas 2010 Cabernet, $52) as well as sherries and cocktails.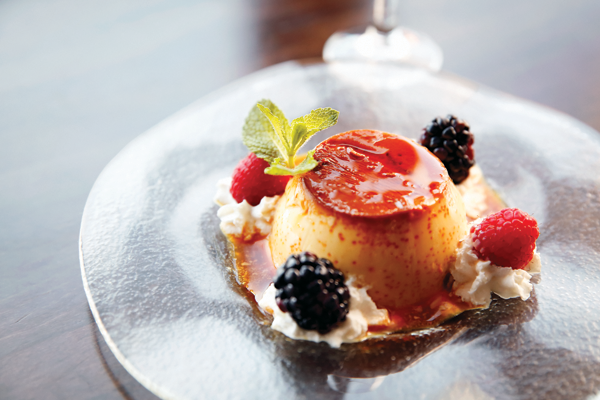 Photo by Jonathan Timmes
Desserts seem to be an afterthought. Churros (strips of fried dough) are rubbery rather than delicate, and can't be saved by the bitter chocolate sauce served on the side. Crujiente de piña, a thin slice of pineapple baked in a puff pastry shell, is flavorless, the pastry soggy. The house flan, a simple custard surrounded by caramel, is a winner.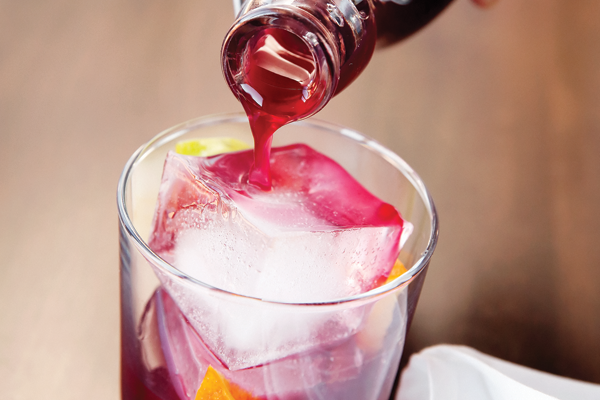 Red sangria. Photo by Jonathan Timmes
If flan isn't your thing, you can always drink your dessert. Candon is likely to stop by and offer you one of his homemade elixirs, such as Fundador brandy infused with raisins for three months, or herb-infused grappa.
Both leave a good taste in the mouth. After all, there is no sweeter ingredient to be found in a restaurant than sincere hospitality.
WHAT TO DRINK
Cocktails: The cocktails are well curated. The Wexler's Secret (Patron silver, blood orange and lime juice, Torres orange liquor, jalapeño, salt; $12) is pretty in pink and a refreshing riff on a margarita. The Campos Rose (gin, St-Germain, lime juice, rose bitters; $12) is citrusy with herbal and sweet notes, thanks to Candon's homemade infusion of rosemary and vanilla in the gin. Candon enjoys the alchemy of creating his own concoctions. One that he sometimes offers gratis to guests after dinner is orujo de hierbas, a pomace white brandy, similar to grappa, infused with rosemary, thyme, mint-like hierba buena, cinnamon, black pepper and honey. He stores it in a mason jar in the freezer and ladles it out tableside so it's nice and cool.
Sherry: Sherry, especially with cured ham, is a natural pairing in a Spanish restaurant and SER has a good selection. Among them: Very Dry (Alvear en Rama 2008, $10); Medium Dry: (Amontillado Los Arcos, $10); and Semi-Sweet (Deluxe Cream Capataz Andres, $10).
Wine: Be sure to indulge in one of the many Spanish wines available. I sampled one of the last bottles of 2009 Bodegas Vinicola Real Cueva del Monge Tempranillo from Rioja ($52) that had the currant, cherry and chocolate notes Tempranillo is known for. I'm also fond of red wines from the Ribera del Duero region, and there are plenty to choose from. Try the Epifanio 2012 Tinto Fino ($45), Astrales 2011 Tinto Fino ($90) or, when you hit the lottery, a Vega Sicilia Unico 2003 Tempranillo and Cabernet Sauvignon ($550).
SER Restaurant
1110 N. Glebe Road, Arlington 703-746-9822 , ser-restaurant.com
OPEN
Lunch/Brunch
Monday-Sunday: 11:30 a.m.-4 p.m.
Dinner
Sunday-Thursday: 5-10 p.m.
Friday & Saturday: 5 p.m.-midnight
PRICES
Appetizers: $8-$25
Entrées: $14-$28
Desserts: $7-$10
PARKING
Parking is available in the garage underneath the building for $2 (with validation) 11:30 a.m.-2:30 p.m. and 5 p.m.-close, Monday-Friday; and all day on Saturday and Sunday.