Restaurant Review: Social Oyster Bar
The secret is out. Chef Jeff Barillo is killing it in McLean.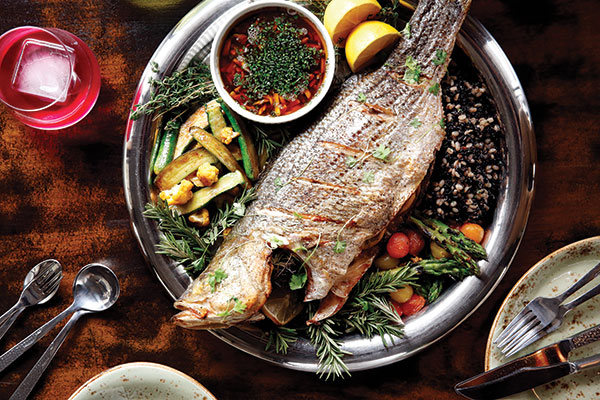 Whole fish with forbidden rice, qinoa, roasted vegetables, brown butter and soy nuts. Photo by Jonathan Timmes
When a McLean friend of mine revealed last summer how much she loves going to a restaurant near her called Social Fine Dining & Oyster Bar, I decided to check it out. Now she may never speak to me again, because the locals would just as soon keep the charming, 40-seat eatery all to themselves, and I'm about to rave about it.
Social opened in November 2015 in a small strip mall on Old Chain Bridge Road (its owners also run Pasa-Thai Restaurant just a few doors down). The culinary team brings a certain pedigree. Executive chef Jeff Barillo, chef de cuisine Gift Thongpukdee and floor manager/sommelier/host/mixologist Timothy Clune all previously worked with chef RJ Cooper at Gypsy Soul in the Mosaic District and at Rogue 24 in Washington, D.C., both of which are now closed.
Enter Social and you realize immediately that it's a mere wisp of a place. A bar with just four stools and two beer taps is flanked by a chalkboard displaying the daily oyster choices. That selection of four or five bivalves—perhaps Blue Points (New England), War Shores (Virginia), Kusshis (British Columbia) and Kumamotos (Washington state)—is on display behind a glass partition with a happy pile of bright yellow lemons.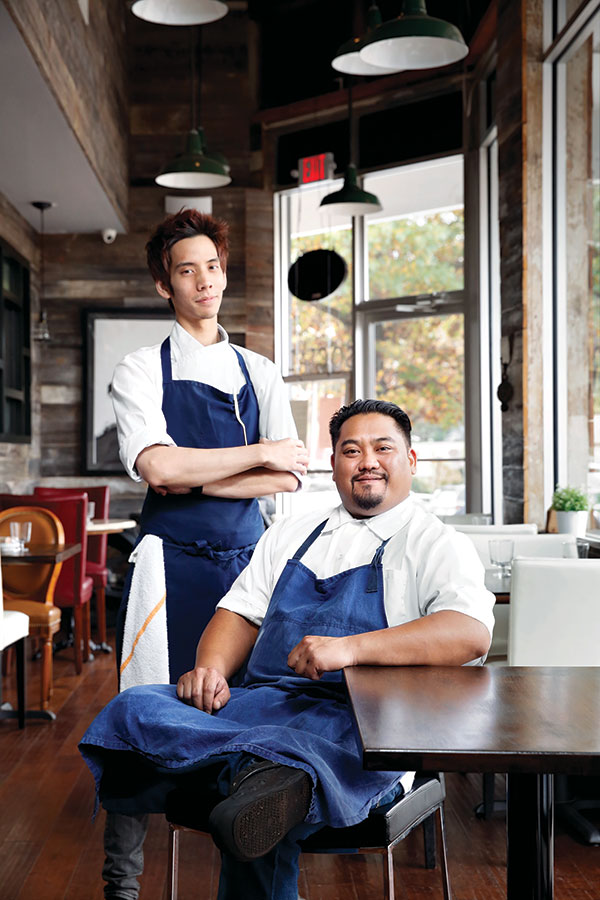 Chefs Gift Thongpukdee (standing) and Jeff Barillo. Photo by Jonathan Timmes
Though there's table seating, the space is snug, with barely enough room to combine three two-tops into a table for six. It's not a place for large parties.
Rather, it's an intimate setting with walls clad in weathered wood planks, dark-stained hardwood tables and floors, and side chairs in an eclectic mix of vintage and modern styles. A motorcycle sits randomly in a corner. (Maybe fit another table there instead?)
I love Social on a Friday night. It's a perfect spot for shedding the week's worries with your significant other over a dozen luscious oysters on the half-shell and a well-concocted cocktail. I can speak for the Hemingway daiquiri, which offers just the right balance of maraschino liqueur, grapefruit, lime and rum.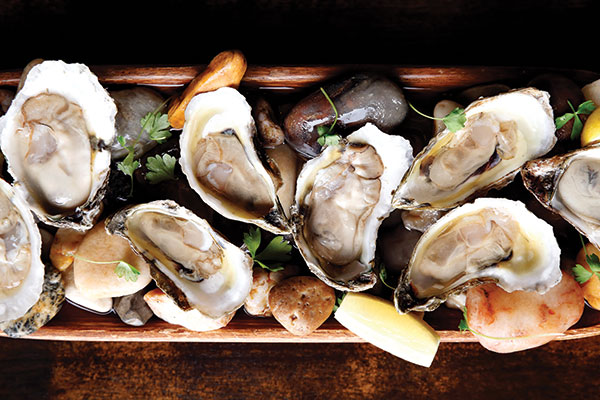 Oysters on the half-shell. Photo by Jonathan Timmes
Social is not really an oyster bar—it's a place that has oysters on its menu— but its kitchen handles the mollusks with aplomb. They arrive glistening atop a bed of ice and stones, fresh and shucked correctly, without any broken edges, grit or mangled flesh. (Inferior shucking is a rampant problem in D.C.-area restaurants.) Barillo serves his with house-made cocktail sauce and tom yum, a Thai sweet-and-sour dip-ping sauce—made with lemongrass, garlic, lime leaves, chili pepper, lime juice and fish sauce—that he gets from sister restaurant Pasa-Thai. Personally, I'm happy with a simple spritz of lemon and a dash of hot sauce.
Barillo, 33, was born in Washing-ton, D.C., but grew up in Centreville. He worked in various Japanese steak houses (Otani, Benihana), went to L'Academie de Cuisine in Gaithersburg and externed under David Deshaies at D.C.'s Central Michel Richard before graduating from culinary school in 2013. Those influences inform his cooking, as do the modernist techniques he learned while working for Cooper, and his own Filipino-American roots.
"I call it NoVa cooking," says the chef. "A real melting pot."
That pot produces some excellent food. Among the small plates and appetizers on the menu (aren't appetizers and small plates the same thing?), the octopus chips are the most cunning. Tentacles that have been confited and sliced into ultra-thin chips are dredged in fine flour and deep-fried. They're the potato chip version of clam strips and just as addictive, offered with malt-vinegar aioli and blistered sweet (and very occasionally spicy) Japanese shishito peppers. Pro tip: Order the chips with cocktails as a snack.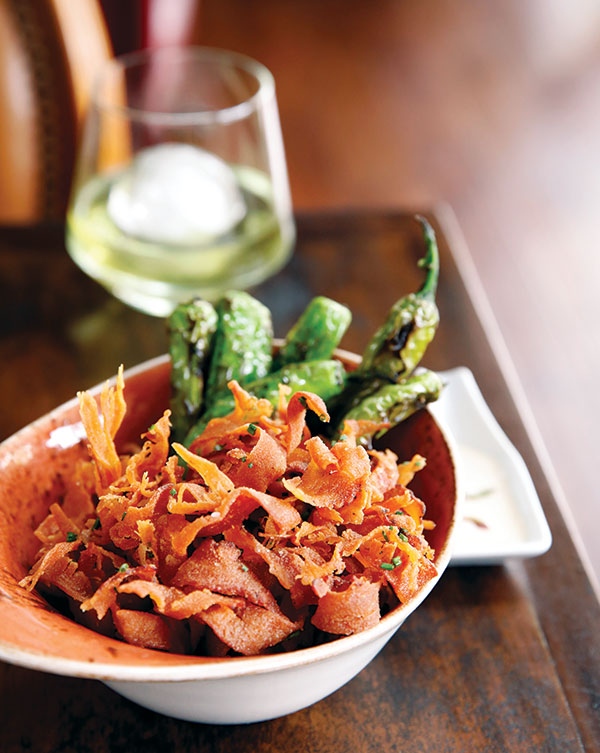 Octopus chips with blistered shishito peppers and malt-vinegar aioli. Photo by Jonathan Timmes
Shishitos also accompany Barillo's plump fried oysters, which are lightly coated with cornmeal and served piping hot with a too-stingy (more please!) side of chunky rémoulade made with capers, chopped pickle, shallots, smoked paprika and cayenne pepper.
Barillo passes the crabcake test in that he doesn't muck things up with filler, other than aioli (for binding) and chopped chives. Sweet-potato chips and dollops of wasabi mayo and lemon gel are presented as garnishes.
A little bucket containing warm, sea-salt-sprinkled brioche rolls and honey butter further signals talent in the kitchen. It's followed by an entrée of seared roasted quail, which features two tender birds stuffed with ground rabbit that's been seasoned with allspice, clove, star anise, juniper, preserved lemon and pistachio nuts. The accompaniments that come alongside—cumin-touched carrot purée, sweet-and-tangy kale with applewood bacon, and divine creamed corn with shallots and piquillo pep-pers—also hit the mark. It all adds up to pure pleasure.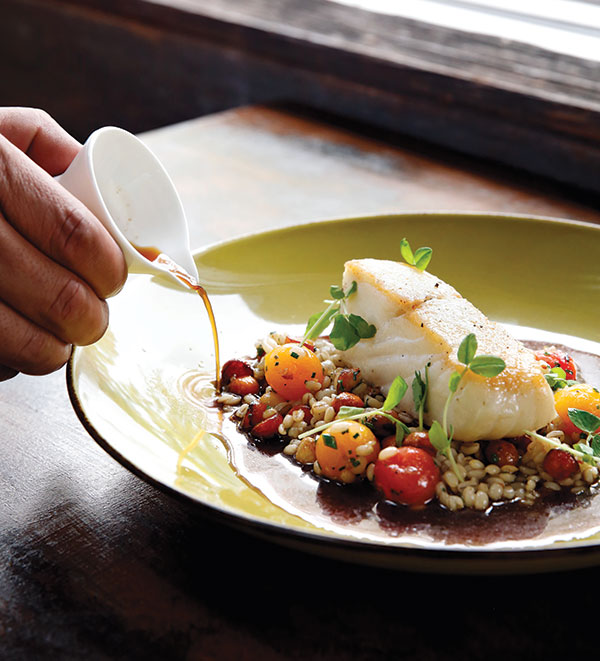 Halibut with squash, chayote, tomato and dashi broth. Photo by Jonathan Timmes
Halibut can be tricky to cook, but Barillo knows what he's doing. A chunk of it sits atop barley dotted with marble-size spheres of butternut and chayote squash (that's a lot of work). Dashi broth—a fish broth made with dried bonito flakes—is poured around the fish tableside, blending with an herb butter to create a glorious and utterly delicious emulsion.
When ordering wine, ask sommelier Clune if there are any interesting bot-tles in the back that aren't on the wine list and he will likely come up with a gem. On one visit, a 2014 Diren Karmena ($36), a Turkish red, imparted just the right amount of fruit and spice to beautifully complement our pan-roasted rockfish—the whole fish of the day, weighing in at close to three pounds.
What a stunner it was. In fact the finest whole fish I've had in a restaurant in a long while, its stuffing of fresh rosemary, thyme and lemon perfuming and permeating the perfectly cooked flesh rather than overwhelming it. A side sauce of capers, brown butter and toasted soy nuts was a clever and tasty riff on amandine, despite the discovery that the nuts were rancid. But that hiccup was quickly for-gotten as we turned our attention to the fish's soaring side dishes, among them grilled al dente asparagus, creamy fried corn, buttery wild rice and quinoa, and sautéed pattypan squash.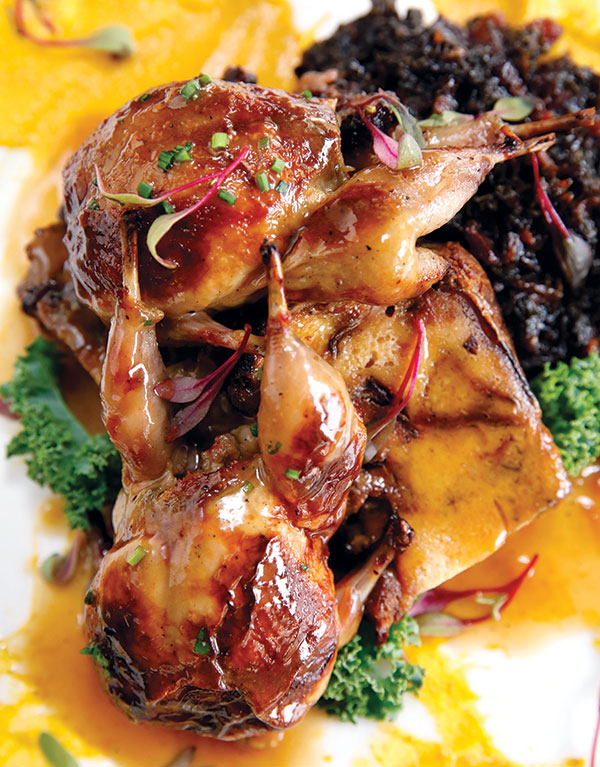 Rabbit-and-pistachio stuffed quail with kale, cumin-carrot purée and mushroom bread pudding​. Photo by Jonathan Timmes
Thongpukdee's desserts, I'm sorry to say, are the weak links at Social. The two that are offered are molecular gastronomy displays featuring sponge cake shreds, squiggles, gels, chocolate twigs, foams and powders. A simple wedge of superlative chocolate cake with whipped cream, or a well-executed fruit pie a la mode would be a more fitting, and welcome, finale to an otherwise thoroughly delightful meal.
SOCIAL FINE DINING & OYSTER BAR
1307 Old Chain Bridge Road, McLean 703-847-1379
OPEN FOR DINNER
Sunday, Tuesday, Wednesday and Thursday: 4 to 10 p.m.
Friday and Saturday: 4 to 11 p.m. Closed Monday
PRICES
Appetizers: $12-$19
Entrées: $28-$39 Desserts: $10
PARKING
The restaurant is in a small strip mall with plenty of parking.
WHAT TO DRINK
Social Oyster Bar puts just as much thought into its cocktail and wine list as its food—which is to say a great deal. The cocktails, which change seasonally, come in chic glassware, be it a delicate, long-stemmed coupe or a tumbler with a convex bottom that keeps the glass slightly atilt. A bourbon smash with fresh mint and lemon juice is a smooth way to start a meal. An Orange Julio (a smart take on Orange Julius) combines vodka, orange juice, club soda and a slight bite of habañero chili.
The wine list, though brief (about 30 bottles), has been carefully chosen and includes refreshing choices, such as McPherson Piquepoul Blanc from Lubbock, Texas ($12/$44), and Caduceus Nagual del Marzo, a Sangiovese blend from Yavapai County in Arizona ($114). Prices range from $36 to $115, with most bottles falling in the mid-$40s.