Restaurant Review: Yona
Chef Jonah Kim's cooking excites the senses at this Ballston eatery.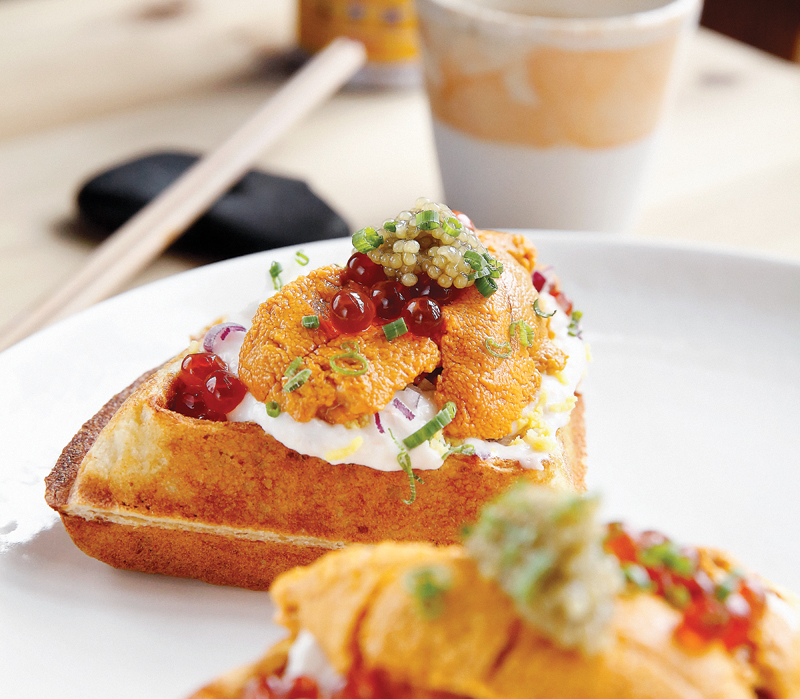 Uni waffle with salmon roe and taramasalata
Enter Yona and you're likely to spy chef and co-owner Jonah Kim in the open kitchen, sporting the grin of a person who loves his job as he puts the finishing touches on small plates and fanciful bowls of ramen. When you leave, you'll be wearing the grin of someone who is soon to return.
Kim's Korean parents—whom he describes as "very Asian"—always wanted him to become a doctor, but diners who've experienced his cooking will be grateful he didn't follow that path. Instead, he dropped out of college and started working kitchen jobs in his hometown of Austin, Texas, eventually finding his way to Uchi, an acclaimed Japanese restaurant owned by James Beard Foundation award-winning chef Tyson Cole.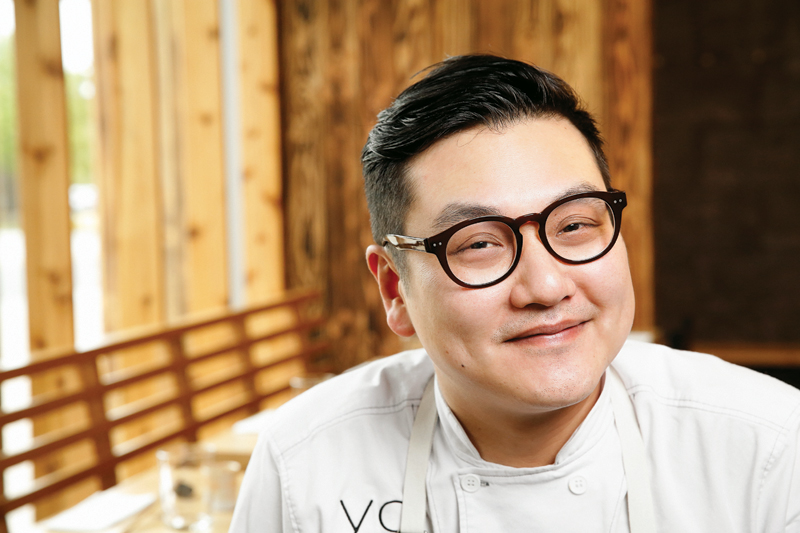 Chef Jonah Kim
From there, he knocked around restaurants in New York City and did a stint at the Trump International Hotel in Las Vegas under chef David Varley before landing the executive chef post at Pabu, Michael Mina's Japanese concept restaurant in Baltimore's Four Seasons Hotel. Despite high praise and good reviews, Pabu closed in 2014. But by then, Kim's culinary acumen was well known. He soon found himself vacationing in Virginia Beach with a handful of fellow chefs, including Mike Isabella, who knows how to spot and co-opt talent. Isabella suggested they open a restaurant together.
Yona—a phonetic expression of the way Kim's mother pronounces "Jonah"—debuted in November and shares a building with two other Isabella restaurants (Kapnos Taverna and Pepita), but is the first venture in which Isabella's role is limited to business partner. The kitchen is Kim's domain.

Hamachi with apple, fennel, white soy and ginger
The Ballston eatery's diminutive layout (it's a single room with 50 seats) only makes Kim's reverence for details more apparent. The minimalist wood interior—masterminded by D.C. designer Natalie Park, whose husband, chef Danny Lee, owns Mandu in the District—is a study in texture. Tables are set with chopsticks resting on stones and hand-hewn sake cups.
Beverage director Taha Ismail's cocktail list is only four selections deep, but all are superlative. The bright, bracing Santino, made with gin, grapefruit, yuzu and herbal tea, comes adorned with a giant wheel of grapefruit. The Stanley, with bourbon, Cocchi Rosa (a bitter aperitif), five-spice powder and Laphroaig (Scotch) mist, is a smart Manhattan upgrade.
Kim's food is, frankly, resplendent. One finds perfect cocktail accompaniments in crisp, blanched sugar snap peas with sesame-soy dressing; and in a sesame-miso spread (Japanese hummus) served with kaleidoscopic slices of watermelon, English breakfast radishes and apples.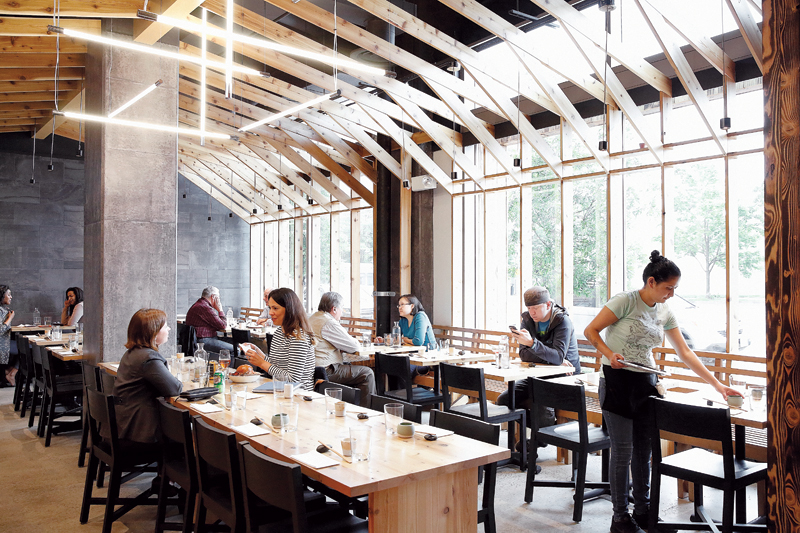 Pristine portions of Japanese hamachi come to life under small piles of grated apple, shaved fennel, white soy and ginger, with a sprinkled kick of ground Sichuan peppercorn. Sliced tuna gets the poke treatment with sesame-and-soy dressing and fermented chili paste, plus a pleasant crunch with the addition of fried-rice pearls.
Kim's steamed buns—with braised oxtail, fennel kimchi and garlic purée—present a welcome change of pace from the ubiquitous and tiresome pork-belly buns that one finds all over town. And his juicy, crunch-tastic chicken wings are habit-forming, thanks to a quick toss in gochujang (Korean fermented red-chili paste), sesame, garlic and rice-vinegar barbecue sauce.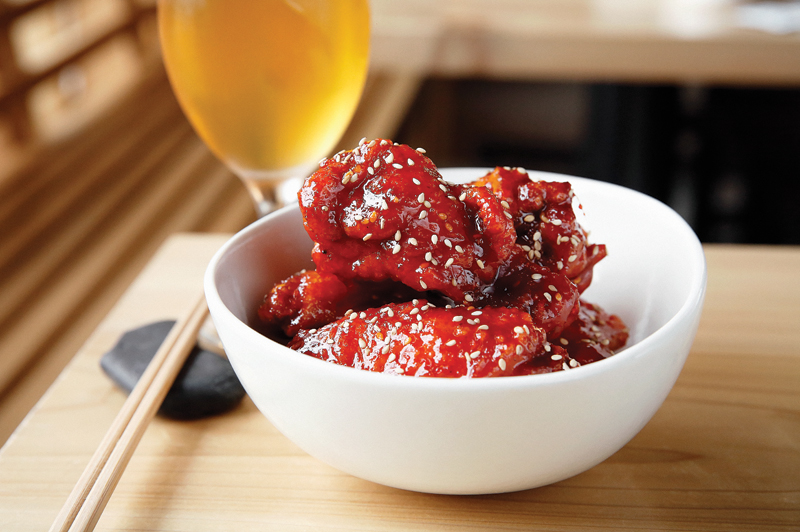 Dry-fried Korean chili wings
Yet another stunner: roasted asparagus marinated in koji (a sauce made from fermented rice), swathed in a creamy lemon emulsion and topped with King crab claw meat and smoked salmon roe. This dish is sweet, salty, grassy, rich and meaty all at once.
One plate I didn't care for was the skewers of grilled veal heart (it's worth noting that the latter word is missing from the menu). Though the spicy red-miso marinade was flavorful, the heart muscle's toughness can be hard to swallow. Especially when you're expecting something else. The server should have alerted me when I ordered it.
A crispy waffle, made dreamy with ricotta cheese, luscious uni (sea urchin), salmon roe and taramasalata (a creamy Greek fish-roe spread), suffers only a little from being too much of a good thing. (Don't let that stop you.)
That same uni richness renders Kim's ramen sublime. Playing on the surf-and-turf theme that is so beloved in Asian cooking, the chef makes a broth with roasted crab leg shells and pork stock. When you twirl the noodles in it, a composed uni butter melts and emulsifies the mixture into a silken bisque. Generous pillows of King crab make this dish even more rapturous.
Kim adds miso to that full-bodied pork stock to serve as the base for his Miso Porky ramen, a bowl of goodness topped with pork belly, wood-ear mushrooms, scallions, fermented bamboo shoots, nori and a soft-boiled egg. It's a fine rendition of a classic ramen offering.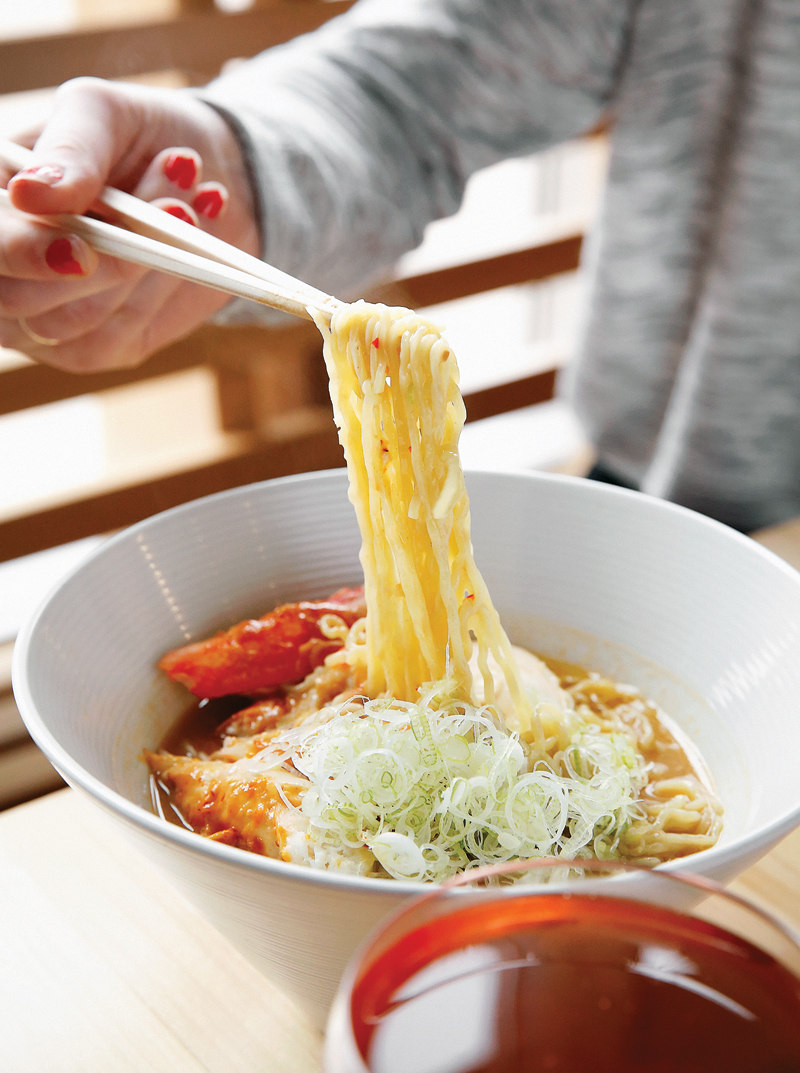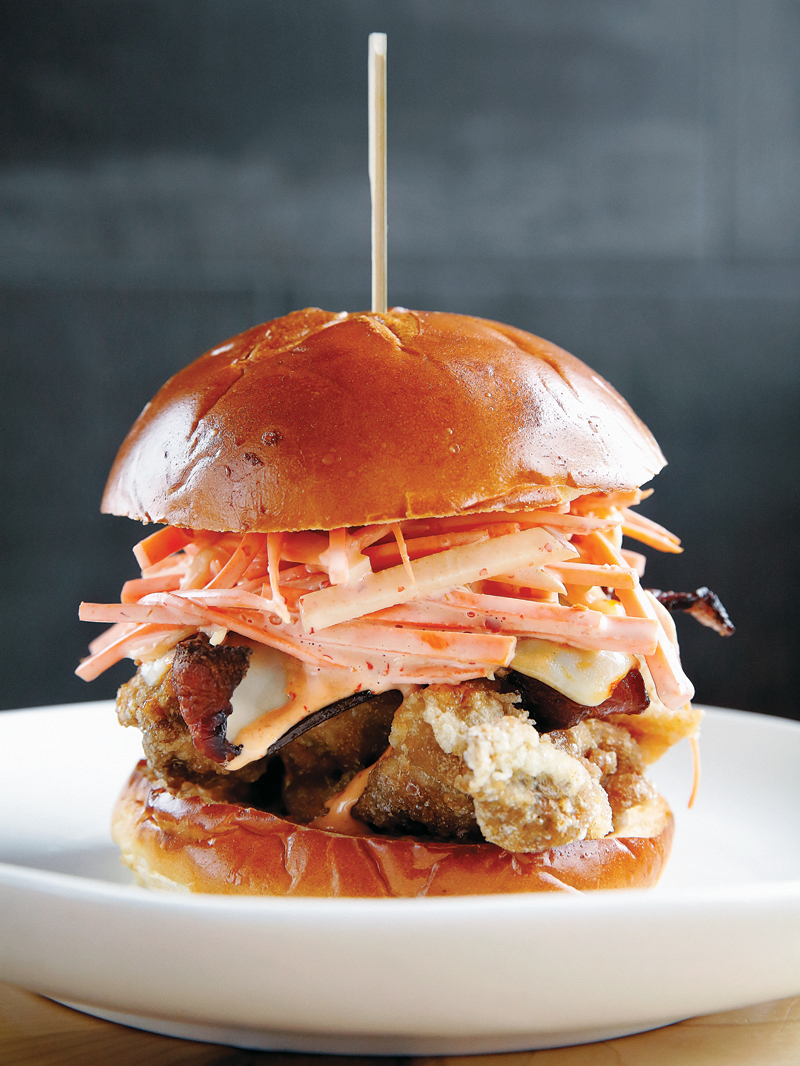 From left: King crab ramen and Kim-Fil-A sandwich
Tsukemen, a dipping-style ramen, amuses. You dunk crispy boneless fried chicken thigh and noodles into a double stock (that's a stock made from another stock instead of water) flavored with bonito flakes for smokiness. This is Kim's warm-weather ramen, in that the broth is intended for dunking (not drinking) but you'll want to slurp it all up anyway.
I can't say the same for ja-jang, a Korean-Chinese noodle dish that dresses ramen noodles in thick, fermented black-bean paste. The resultant clump of noodles was too stodgy for me and my patience. And the squid rings, sautéed zucchini and onions in the bowl seemed like random additions.
Desserts here are few, but worthy as final bites. Cream puffs with yuzu curd offer sweetness, balanced with citrus tang. An applesauce sorbet melts onto miso-caramel panna cotta to create a salty-sweet explosion of bliss, with a sesame cookie as a crunchy chaser.
The staff at Yona are eager to please, but a word of caution: Take charge of pacing your own meal. Your server may promise to bring dishes in courses, but it's more likely the items you order will come out as soon as they are ready. A smart approach is to hold on to the menu and order as you go along.
Did I mention the fried chicken? At lunchtime, try the mouth-watering Kim-Fil-A sandwich, which packs a crispy chicken thigh, Muenster cheese, bacon and fermented chili slaw into a potato roll. On Sundays, head over for a bucket of white-soy brined fried chicken with sides of chili glaze, buttermilk-dill dressing, kimchi and cheese-spiked scallion biscuits. That bird is just as crunchy and tasty if eaten cold the next day—if it makes it that far.
WHAT TO DRINK
In addition to beverage director Taha Ismail's four signature cocktails, Yona has curated an excellent selection of spirits. The bar list includes five whiskeys, two of which are Japanese (Hibiki 12-year, $18; and Yamazaki 18-year, $65); seven ryes (try the High West Double, $12; or the WhistlePig Straight, $22); five bourbons (I recommend Basil Hayden's, $12; or Jefferson's Ocean, $25); four single-malt Scotches (go for the Macallan 12-year, $15; or Lagavulin 16-year, $24); and three sherries.
There is also a nice selection of Japanese beers. Try the Orion rice lager, the Yona Yona pale ale or the Aooni IPA.
The real star here is the sake list, which includes two offerings for each of three categories—fragrant (kunshu), light (shochu) and rich (junshu)—plus two unfiltered sakes (nigori). Tozai Living Jewel from Kyoto ($5 per glass/$60 per bottle) is a medium-bodied, entry-level sake that goes well with most anything. The list also includes two other sakes that are available by the glass, as well as the bottle.
YONA: 4000 Wilson Blvd., Arlington 703-465-1100; www.yonava.com
OPEN: Monday-Saturday: 11:30 a.m.-10 p.m.Sunday: 11:30 a.m.-9 p.m.
PRICES: Small plates: $7-$16Ramen: $15, plus one with King crab for $26
PARKING: Street parking is available, plus there's a parking garage one block over on North Randolph Street.