Rustic-Style Catering Comes to The Little City
If you have a taste for worldly flavors and shabby-chic décor, Falls Church-based Heirloom Catering has your number.
When a catering company throws its own party, you know the food's got to be good. But when we arrived at last Thursday's launch party for Falls Church-based Heirloom Catering and Event Design, the food wasn't the only thing on display.
It's no accident that Heirloom owner Vicky Theodorou chose a space with exposed-brick walls, huge windows, industrial-style lighting and old plank floors (the Loft at 600 F in downtown D.C.) to show off her company's canapés and cocktails. The twinkly, shabby-chic setting provided just the right backdrop.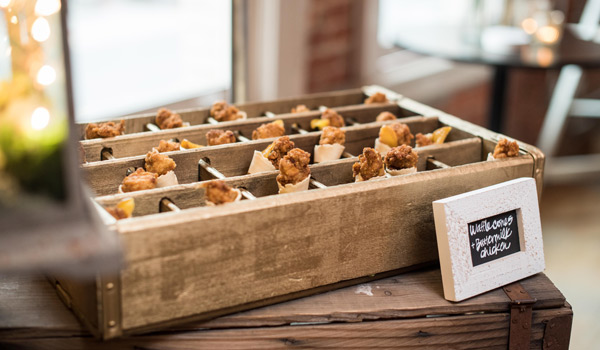 Photo by Emily Clack Photography
Not only does Heirloom whip up tiny creations such as sweet potato boats with scallop ceviche, baby waffle cones with buttermilk fried chicken and "gyritos" (lamb and beef cigars); the caterer also consults on event planning and décor. And she knows how to make things magical.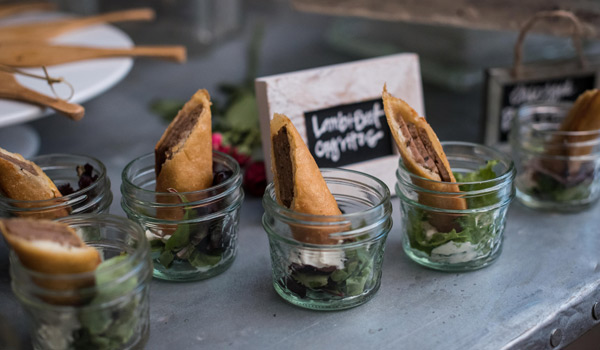 Photo by Emily Clack Photography
"[The food] is not just a work of art, it's a photography piece," Theodorou says, explaining that context is just as important as cuisine when it comes to creating a memorable experience. "It speaks to your emotions."
I loved how tiny chalkboard labels were used to identify each menu item, and how old crates served as tray pedestals on a well-used zinc-top table.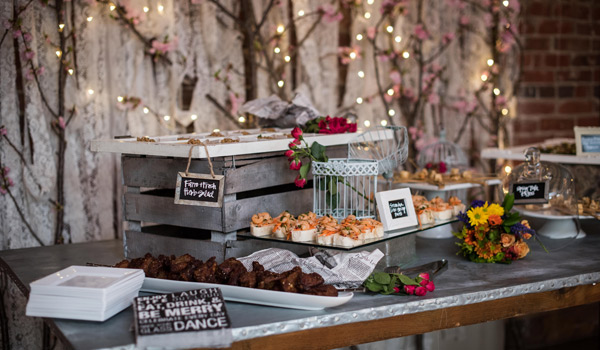 Photo by Emily Clack Photography
At one stand, vintage lanterns holding a string lights and flowers hung over spreads of lobster mac 'n' cheese, chicken tostadas and pork-belly Cuban tea sandwiches. Another table holding sriracha-lime shrimp and mini short ribs stood against a lace backdrop overlaid with cherry-blossom branches.
The road to Heirloom's launch started when Theodorou was working in marketing strategy and web development in Raleigh, N.C. "I was always hosting small businesses at home, and I would come up with various menus for clients and friends," she says. "I've always loved hosting, and really showing people love through food."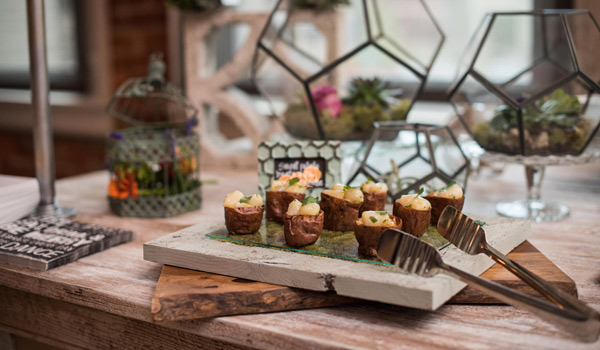 Photo by Emily Clack Photography
The tipping point came during one party, when she created a make-your-own taco bar featuring Asian, Spanish, Greek and Moroccan toppings. "Somebody said, 'Why aren't you doing this for a living?'" she recalls. "That was the moment—why aren't I doing this for a living?"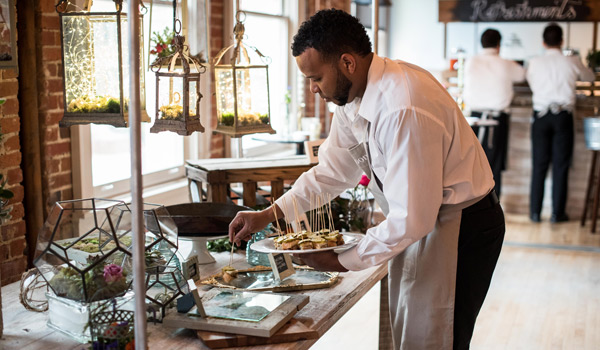 Photo by Emily Clack Photography
It helped that Theodorou's family was already in the restaurant business, managing the Delia's Restaurant chain in Springfield and Alexandria. Her brother George, who now owns Medi in Shirlington, told her she could expand the Delia's catering arm. That was in 2011.
Encouraged by her success on that front, Theodorou last year purchased Ultimate Events in Falls Church, taking over its kitchen and client list. That's when Heirloom was born as its own catering company. "There's a classic, rooted feel to the term," she says of the name, which matches her approach to entertaining in general.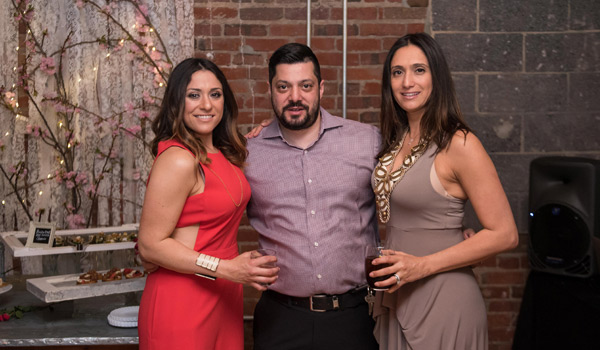 Siblings Vicky Theodorou, George Theodorou and Alki Meyer. George serves as kitchen director for Heirloom, while Alki helps with menu development and manages the business side. Photo by Emily Clack Photography.
These days, Heirloom chef Dave Lefeve shops the Falls Church Farmers Market each week to find the freshest produce. He buys meat from the Organic Butcher of McLean, and cheese at Cheesetique in Shirlington.
Other ingredients in the Heirloom kitchen are homegrown. Theodorou cultivates herbs and lettuce on a property her family owns in Orlean (Fauquier County) and hopes to expand with more crops in the future.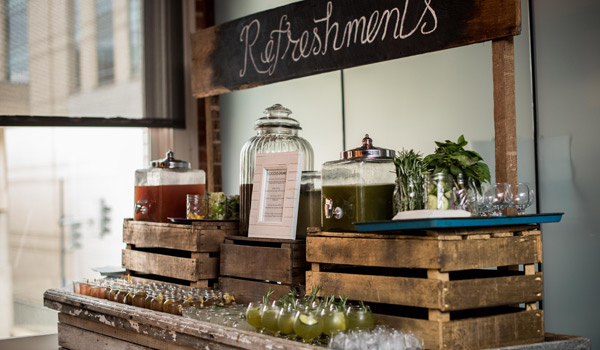 Photo by Emily Clack Photography
For all those reasons, she says, Heirloom has no pre-set catering menus. The choices all depend on what's in season.
This month, for instance, she's been adding mango salsa to all her menus, celebrating the champagne mango, "which is only in season for like, a minute," she says. Next up, she's eagerly awaiting the summer's tomato bounty from her garden in Orlean.
Heirloom is the sole caterer for Capital One Labs in Clarendon, and provides the meals for Deloitte's board of directors' meetings in Rosslyn. Theodorou is now hoping to branch out into private events and residential parties as well.