Wining and Dining in Virginia's Shenandoah Valley
Savor the scenery (and some stellar cooking) at these bucolic restaurants and inns.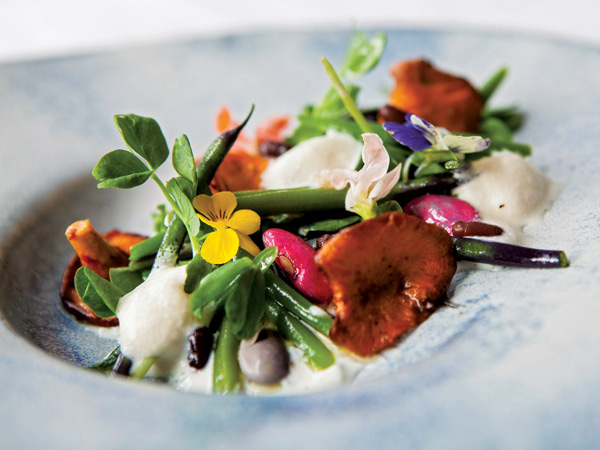 A garden salad at The Ashby Inn. Photo by Molly M. Peterson
As backyards go, the one we have roughly 70 miles west of Washington is pretty spectacular. Shenandoah National Park offers a rapturous display of mountain majesty reflecting every color of the rainbow, and the area's dining landscape is just as vibrant. The inns and restaurants alone are worthy of a journey.
Or, as in my case, a series of weekend adventures. A good strategy is to take Friday off, leave town in late morning and endure the traffic lights along Route 50 in lieu of the dull monotony of I-66. Your first reward comes near the hamlet of Aldie, where the road narrows to two lanes lined by stone fences, the city air goes country and the towns get quaint.
Turn off the road in the village of Paris and check into The Ashby Inn & Restaurant, a 10-room property that dates to 1829. In a converted schoolhouse, the cozy Adams Room features a king-size canopy bed, a porch overlooking Ashby's organic garden and Paris Mountain, a fireplace and port wine for a pre-slumber digestif.
The dining room here is actually a meandering succession of wood-paneled rooms on different levels, all creaking with history. It's in this setting that chef Patrick Robinson, formerly of Washington, D.C.'s Table restaurant, offers refined but restrained seasonal fare, such as an earthy chestnut-and-oyster mushroom soup specked with celery leaves and topped with sherry-laced whipped cream. Or a light and bright starter of chilled shrimp on persimmon slices, surrounded by dollops of Osetra caviar, sliced raw sea scallop, avocado and cauliflower purées and frisée sprigs. A lobster-and-scallop risotto is enhanced with steamed mussels and saffron beurre blanc.
Save room for breakfast the next morning (on my trip it was apricot scones and custardy brioche French toast with apple compote), then head 10 miles west to White Post, where Celeste and Alain Borel will greet you warmly at L'Auberge Provencale. After checking in (ask for Suite 11, the Romantic Suite), stroll the stunning made-for-weddings gardens and have a cheese plate and martinis at the newly installed bar.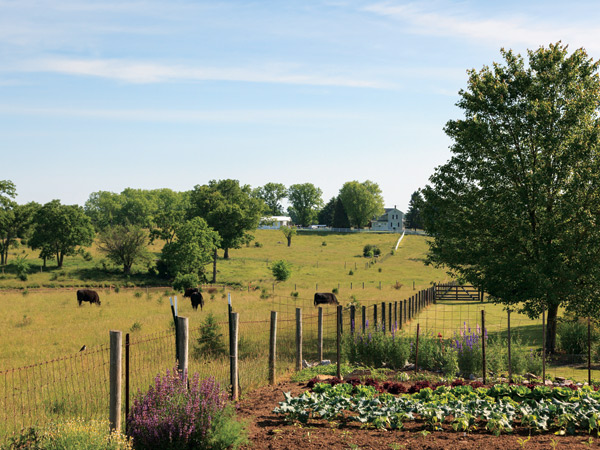 At L'Auberge Provencale, a bucolic landscape and a gracious porch (below)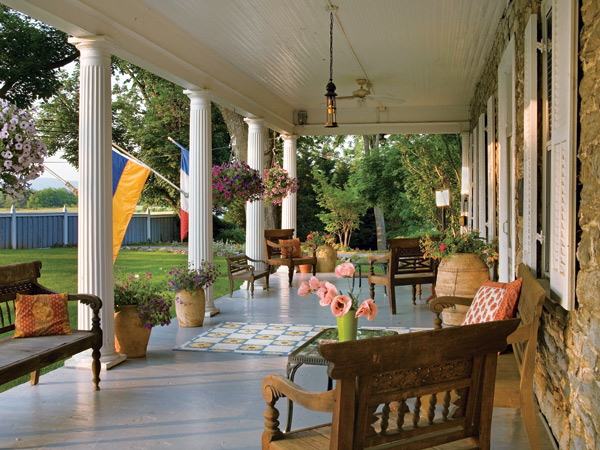 L'Auberge Provencale's recently renovated dining room features bay windows overlooking a purple-and-pink mountain sunset—a fitting backdrop for supping on chef Steve Ferrell's four- or five-course prix-fixe menu. Standout dishes include a mound of al dente homemade fettuccine interlaced with buttery red-wine braised rabbit, rosemary leaves and grated parsnip; and delicate poached red prawns with sunchokes, smoky speck ham and crunchy fried red quinoa.
Come morning, freshly baked croissants and a chicken-and-mushroom crepe with a sunny-side-up egg will fortify you.
Scenic Route 522 wends past Front Royal and Chester Gap to the tiny town of Huntly, where Glen Gordon Manor is situated on 45 lush acres overlooking the eastern side of Shenandoah National Park. Chef Dayn Smith and his wife, Nancy Moon, run the stately seven-suite manor, once owned by a cousin of Wallis Simpson. The Edward Suite is exemplary of the English country house look and features a four-poster king-size bed, a separate conservatory with a claw-foot tub (perfect for soaking up the view) and a private outdoor Jacuzzi.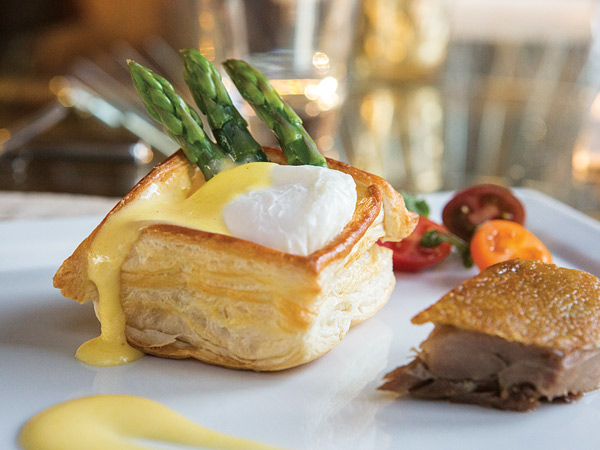 Breakfast at Glen Gordon Manor. Photo by Molly M. Peterson.
Smith is a graduate of the Culinary Institute of America, Hyde Park, and a hotel chef who also owns two fine-dining restaurants in Puerto Rico. It's therefore not surprising that the five-course, prix-fixe, chef's choice menu in his elegant Houndstooth restaurant is first-rate. On my visit, Arctic char and rockfish crudos precede, among other dishes, a cunning study in sunchokes (raw, pickled, fried, roasted, puréed) with goat cheese crema. Next up: a divine Parmesan soup topped with tiny bacon and crouton squares, followed by tender Wagyu sirloin with a ragout of chanterelle, cèpes and hen-of-the-woods mushrooms.
At a lavish breakfast the next morning, a poached egg in puff pastry with hollandaise sauce and duck confit gilds the lily. (And liver.)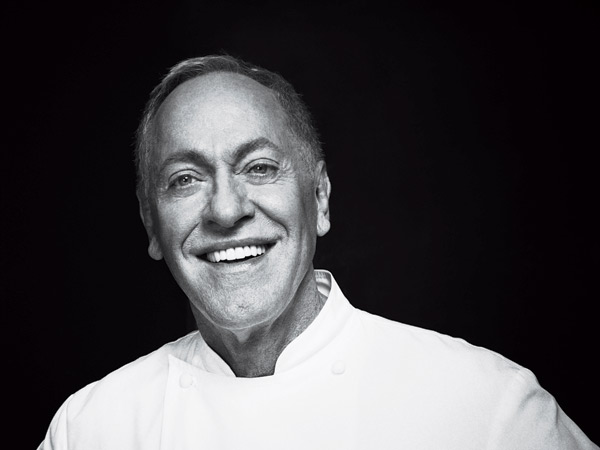 Chef Patrick O'Connell of The Inn at Little Washington
Ten miles down the road is the legendary Inn at Little Washington. Nearly 40 years ago, now world-renowned chef Patrick O'Connell put picturesque Washington, Va., on the culinary map with this Relais & Chateaux property, which remains unsurpassed in terms of luxury and quality.
Arrive at the earliest possible moment and settle into one of the inn's 24 opulent rooms and suites, designed by London designer Joyce Conwy Evans, who mixes and matches sumptuous fabrics and patterns to glorious effect. Drink champagne, indulge in a swanky afternoon tea and then take a nap before settling in for a seven-course, prix-fixe, once-in-a-lifetime dining experience with such classic dishes as a tin of sin (a Petrossian tin filled with Osetra caviar, Peekytoe crab meat and cucumber rillettes) and lamb carpaccio with Caesar salad ice cream.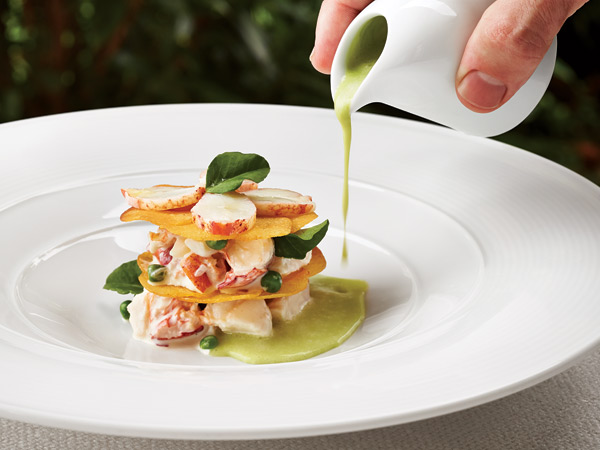 Lobster napoleon at The Inn at Little Washington.
Maybe it's just the damask napkins, the profusion of fresh flowers (grown on the Inn's grounds) or the whimsical Anna Weatherley bone china, but breakfast here will spoil you for anyone else's eggs Benedict or French toast. I recommend a two-night stay to fully enjoy the Inn's resplendent herb and flower cutting gardens, fruit and vegetable farm and Shenandoah vistas. As you pass the dwarf cherry orchard, say hello to the farm's resident llamas, Fran­c-esca and Jonah. Then hit the gift shop and stock up on the Bulgari body lotion bathroom amenity you fell in love with, or pick up a copy of O'Connell's photo-filled oeuvre, The Inn at Little Washington: A Magnificent Obsession.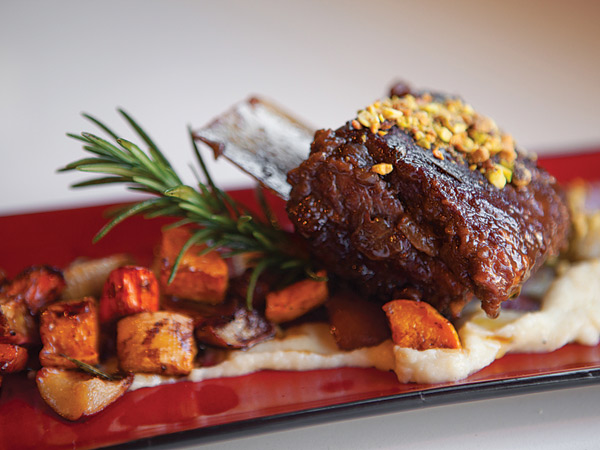 Braised short rib at Foster Harris House.
Or why not stay on in Washington and head a few blocks down Main Street to Foster Harris House, John and Diane MacPherson's charming five-room bed-and-breakfast? Ever since they bought the place in 2004, the MacPhersons have acquired a word-of-mouth reputation for John's smashing four-course breakfasts. (Mine includes flaky candied ginger scones, poached egg over puff pastry with chipotle cream and glazed bacon, and a lemony German pancake with elderflower coulis.)
Foster Harris House also serves a five-course, prix-fixe dinner in its 12-seat dining room, but there's an even better option. Ask to sit at the table in the beautifully renovated kitchen (and do your best to avoid appliance envy), where you'll enjoy a courtside view as John deftly turns out such fare as yuzu-glazed salmon with caviar-and-pea-shoot coulis; curried sweet potato soup; lighter-than-air truffled ricotta cappelletti with Parmesan cream; braised short rib with saffron polenta; and a salted-toffee gelato sundae.
The engaging couple also offers food-and-wine bicycle tours around Rappahannock County.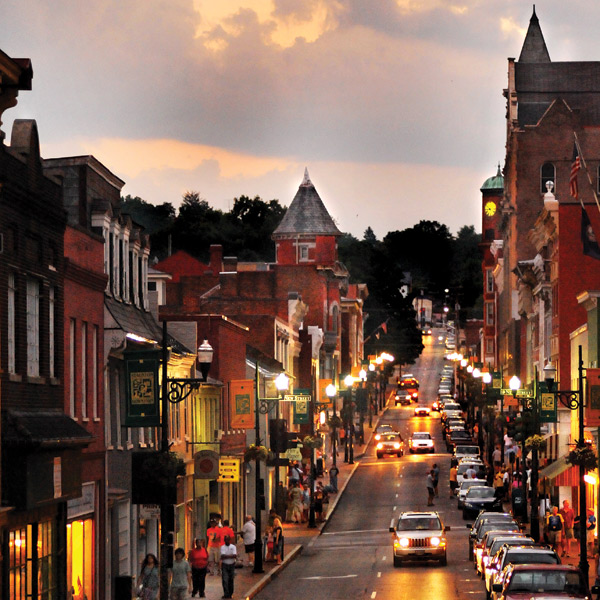 Downtown Staunton. Photo by Woods Pierce.
Leaving the town of Washington, continue on Route 211 past Luray—or stop to tour its caverns—pick up I-81 at New Market and head for Staunton (population 25,000). Settled in 1732, this town—the name is pronounced  "Stanton"—is chock-full of interesting architectural features. In the late 19th and early 20th centuries, architect T.J. Collins designed more than 200 buildings in various styles, among them Italianate, Victorian and Queen Anne. Staunton is also known for its Shakespeare theater, a renowned music school and the Woodrow Wilson Presidential Library. (Wilson was born in Staunton.)
Near that library is the main draw for foodies: The Shack, a 26-seat, aptly named eatery opened by chef Ian Boden in 2013. The décor may be short on frills—the exception being the chic (and for-sale) pottery made by Boden's wife, Leslie—but the service and food certainly aren't. Boden is a real-deal chef whose résumé includes the New England Culinary Institute; New York City's Payard Patisserie and Bistro and Judson Grill; and Charlottesville's Glass Haus Kitchen. His cooking earned him a James Beard Award nomination in 2013, and it's no wonder.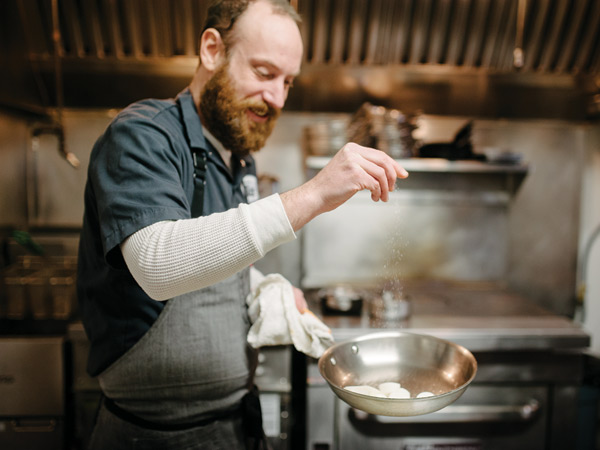 Chef Ian Boden at The Shack. Photo by Sera Petras.
On this particular trip, I feast on heavenly spaghetti with black truffles and beurre blanc, and velveteen pork-liver mousse (dishes are offered in three- or four-course prix-fixe format).
Also on the menu: roasted carrots with a Greek-yogurt beet-stem relish; a boldly seasoned lamb larb (Thai ground-meat salad) with fried Brussels sprouts and salmon roe; roasted skate with ginger-laced sweet potato and pork-belly hash; and Charleston gold rice, fried in brown butter (oh, yes!) with crab, purple watermelon radish, watercress and sliced jalapeños.
Dark chocolate crémeux with luscious vanilla custard and chestnut brown-butter cake offer a blissful end to a bacchanalian sojourn.
To head home, forget I-81 and take Route 11, which parallels the interstate and is much prettier. Pass through Harrisonburg in Rockingham County (the "Turkey Capital" of Virginia) and head to New Market, where you can hang a right onto Route 211, enter Shenandoah National Park at Thornton Gap and follow wondrous Skyline Drive all the way to Front Royal, where I-66 takes you back to the D.C. area.
For a last culinary hurrah, make a pit stop in Marshall at Red Truck Bakery, owned and operated by Arlington resident and baker extraordinaire Brian Noyes. Returning to reality is easier to handle with a double-chocolate moonshine cake.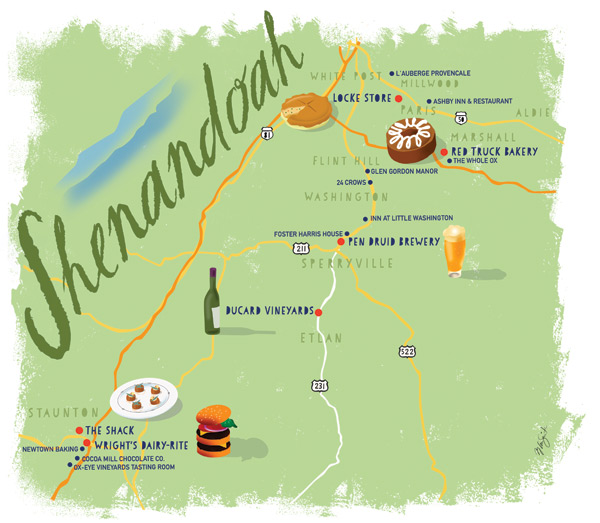 Map illustration by Mary Ann Smith.
Side Dishing
Keep yourself well fed and quaffed with these additional stops.
LOCKE STORE
Owner Juliet Mackay-Smith offers a perfect blend of house-made takeout foods (pick up a chicken pot pie to bake at home and chow down on a curried egg salad sammy there), meat, dry goods (including flour milled at the Burwell-Morgan Mill across the street) and beer and wine. The wine selection is so well curated that there is not a clunker in the whole store. Open 9 a.m.-6 p.m. Tuesday-Friday; 9 a.m.-5 p.m. Saturday and Sunday. 2049 Millwood Road, Millwood, 540-837-1275, lockestore.com
24 CROWS
For lunch, locals flock from all around Rappahannock County to grab the few seats at Heidi Morf and Vinnie Deluise's tiny Flint Hill store, where the menu is brief and ever-changing. Soups are always smashing (in winter, try the butternut squash with apple), as are sandwiches, such as the fried calamari po'boy wrap; the hot Italian salami, oozing with gooey cheeses and caponata; or the hot-pressed panini of smoked turkey, Gruyere, fig and caramelized onion. Open 8:30 a.m.-5 p.m. Wednesday-Saturday; 8:30 a.m.-4 p.m. Sunday (lunch served 11:30 a.m.-2:30 p.m.). 650 Zachary Taylor Highway, Flint Hill, 540-675-1111, 24crows.com
PEN DRUID BREWERY
Three beer-loving brothers from a Rappa-hannock farm family—Lain, Van and Jennings Carney—toured Europe for 10 years with their psych-rock band Pontiak before they decided to start a brewery in Sperryville. The result is this biergarten-like brewery built in an old apple-packing warehouse. Quaff on the likes of The Spiritual Nurse (a wild farmhouse ale fermented in red wine barrels) and Orson (a mixed-culture, dry-hopped double IPA). Open 3-7 p.m. Thursday; noon to 7 p.m. Friday-Sunday. 7 River Lane, Sperryville, 540-987-5064, pendruid.com
DUCARD VINEYARDS
Located in Madison County just south of Sperryville and near Shenandoah National Park's Old Rag Mountain, DuCard is a tiny (7-acre) winery in a spectacular setting. It highlights grapes Virginia is known for: Viognier, Cabernet Franc, Petit Verdot and Norton. Production is very limited, so snatch up what you can. C'est Trop, its port-style dessert wine (Norton fortified with brandy), makes a great gift. Open 11 a.m.-6 p.m. Friday-Sunday and Monday holidays; 11 a.m.-6 p.m. every day of the week during harvest: September, October, November. 40 Gibson Hollow Lane, Etlan, 540-923-4206, ducardvineyards.com
WRIGHT'S DAIRY-RITE
You'd be crazy not to drop by this old-fashioned drive-in restaurant, family-owned since it opened in 1952. On the menu since Day One: the Superburger, which features two beef patties, American cheese, shredded lettuce, special sauce and a triple-decker bun. Let the server bring it to your car, along with a mound of onion rings and a chocolate malted. Or pop a Wright's Wheelie: a warm glazed doughnut topped with vanilla ice cream and hot fudge. Open 11 a.m.-9 p.m. Monday-Thursday; 10 a.m.-10 p.m. Friday and Saturday; 11 a.m.-9 p.m. Sunday. 346 Greenville Ave., Staunton, 540-886-0435, dairy-rite.com
COCOA MILL CHOCOLATE CO.
Chocolatier Mike Mayo offers irresistible confections at this downtown Staunton shop (he also has a location in Lexington). The super-friendly staff will delightfully feed your addiction with gorgeous dipped fruits (try the apricots); chocolate-covered pretzels, toffee, Oreos and graham crackers; snappers (their version of caramel-nut turtles); and truffles (Jack Daniel's or Baileys are recommended). Don't miss the bonbons filled with Limoncello cream! Open 10 a.m.-5 p.m. Monday-Saturday. 114 East Beverley St., Staunton, 540-460-1555, cocoamill.com
NEWTOWN BAKING
On the up-and-coming west side of Staunton, this bakery is the place you want in your own neighborhood. The breads are stellar, including a crunchy but airy baguette and a Paris-worthy croissant. The staff are equally adept at lox-and-bagels breakfast, chicken salad lunch and lamb gyro sandwiches and wood-fired pizzas for dinner. P.S.: Take some Danish for the drive back home. Open 10 a.m.-3 p.m. Tuesday-Friday; 8 a.m.-2 p.m. Saturday; 5-9 p.m. Thursday-Saturday. 960 West Beverley St., Staunton, 540-885-3799, newtownbaking.com
OX-EYE VINEYARDS TASTING ROOM
Ox-Eye Vineyards is a boutique winery 8 miles south of Staunton, but the owners smartly put their tasting room in Staunton's Wharf Area Historic District, in a restored turn-of-the-century office building that once housed a cola and lumber business. Sample wines that take advantage of the Shenandoah's cool growing conditions: Riesling, Chardonnay, Traminette, Shy Ox Rosé and Pinot Noir. Open noon-6 p.m. Monday-Thursday; noon-7 p.m. Friday; 10 a.m.-7 p.m. Saturday; noon-5 p.m. Sunday. 44 Middlebrook Ave., Staunton, 540-849-7926, www.oxeyevineyards.com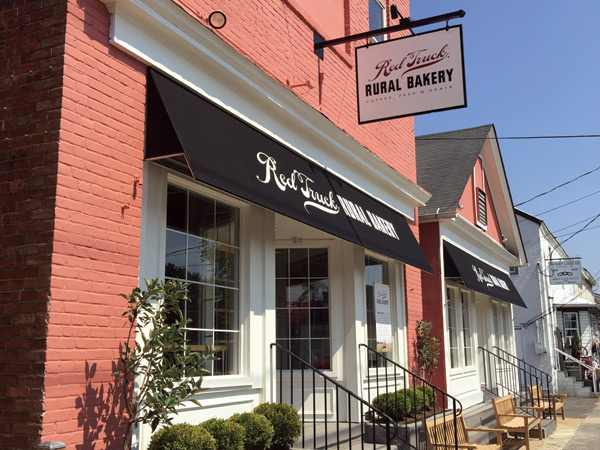 Red Truck Bakery in Marshall.
RED TRUCK BAKERY
Arlington baker Brian Noyes opened this space in Marshall in early 2015 (it's three times the size of his Warrenton location), and packs them in. Get there early before the kitchen runs out of sandwiches (the chicken Caesar wrap is stellar) or enjoy a leek and Parmesan croissant. Take home a strawberry-rhubarb pie, a double-crust apple pie, a Kentucky-bourbon-chocolate-pecan pie or a lemon-and-blueberry moonshine cake. Open 6 a.m. -7 p.m. Monday through Friday; 7 a.m.-4 p.m. Saturday and Sunday. 8366 W. Main St., Marshall, 540-364-2253, redtruckbakery.com
THE WHOLE OX
Amanda and Derek Luhowiak own this pristine butcher shop in Marshall that also sells cheese, prepared foods, pot and shepherd pies, meatballs, stocks, soups, produce and beer and wine. Drop in for a turkey-and-avocado sandwich and load up on house-made sausages, charcuterie and local (and humanely raised) meat from Roseda Farm, Elysian Fields Farm and Saddle Ridge Farm. Open 10 a.m.-6 p.m. Tuesday-Friday; 10 a.m.-5 p.m. Saturday and Sunday. 8357 W. Main St., Marshall, 540-724-1650, thewholeox.com
David Hagedorn is the restaurant critic for Arlington Magazine and Bethesda Magazine.