Secret Garden – Vietnamese Herbs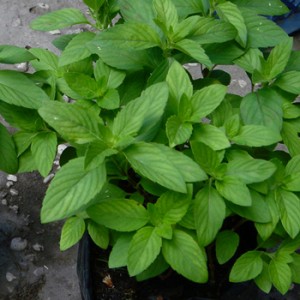 Venture up the driveway of this Vietnamese family-owned farm and you'll quickly forget you're in Falls Church. Women in conical straw hats tend rows of exotic crops, while a trellised section supports a maze of tropical vines, including bitter melon and luffa, a gourd in the cucumber family.
No malaria drugs are needed for this culinary trip to rural Southeast Asia, but you'll be hard-pressed to find a grocery or farmers market in the region that offers the same variety of fresh-picked Asian vegetables and herbs. Take it from this dedicated fan. For nearly 20 years, the intensely cultivated, 2.2-acre garden (which has no official name) has been my go-to for pesticide-free squash blossoms, Thai basil, lemongrass, mint-like shiso, delicate water spinach, garlic chives and Chinese varietals of cucumber, eggplant and pumpkin.
Ready to shop? Step inside the sales hut, lift the damp cloths covering the boxes of produce and start asking questions. Just keep in mind two unspoken rules of etiquette that are followed by regular customers: Don't paw the produce (instead, ask for the amount you would like to purchase) and restrict your visits to midday on Saturdays. Here are some of the vegetables and herbs I've tried, listed under the names used at the farm.
Amaranth. The attractive young red-and-white leaves are slightly sweet and nice in salads. Cook older leaves and stems like spinach.
Asian celery. Offering a light celery flavor without the stringy stalk, this veggie makes a nice garnish for gazpacho or a Bloody Mary. Or brine it to make a quick pickle for crudités.
Chrysanthemum greens. Mix the raw leaves with salad greens, or serve them with sliced tomatoes. Or, blanch the greens and add them to a stir-fry.
Fish mint. The "mint" is a bit of a misnomer for this herb's ocean flavor. Viet cooks use the pointy leaves in seafood soups and "pancake," a vegetable seafood omelet.
Jute leaf. These nutty-tasting greens are often cooked in soups and stews.
Lemon balm. The fragrant, citrusy leaves are wonderful in chicken broth. They can also perk up iced tea, or a gin and tonic.
Mustard greens. The young, raw leaves are mild, with a peppery tang. Stir-fry older leaves to reduce their heat.
Mustard spinach. The large green leaves and long white stems taste like mild cabbage. Chop the works and add to stir-fry or noodle dishes.
Oregano. Unlike Mediterranean oregano, this cultivar has a hint of cilantro and mint flavors. Try it in a soup or stew.
Red basil. Better known as shiso, this member of the mint family has fuzzy, ruffled leaves and a distinct spicy flavor. Japanese cooks use it in maki rolls and as a garnish for sashimi.
Sweet potato leaf. Chop the mild and mellow greens, quickly stir-fry with garlic, and serve with noodles.
Water spinach. The delicate, slender leaves are mild and sweet, without the bitterness of regular spinach. Great raw in salads and summer rolls.
The asian produce farm is located on Annandale Road in Falls Church, between Rose Lane and Slade Run Drive.