Cooking With Garam Masala
Tips and tricks for cooking with the Indian spice staple garam masala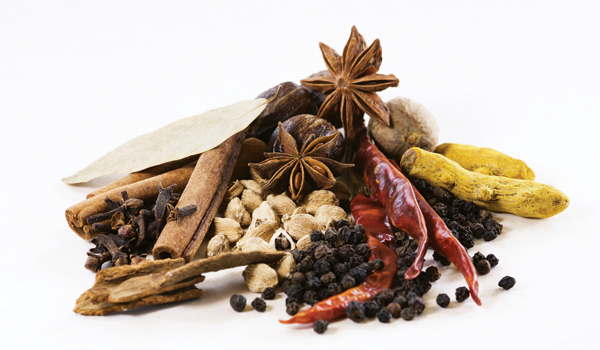 Captivating wafts of toasted spices emanate from the bustling open kitchen at American Tandoor, the 4,000-square-foot eatery that recently opened in Tysons Corner Center. The allure is seductive, thanks to chef Ramin Coles, formerly of Black Restaurant Group, who worked diligently to perfect the spice blends that serve as crucial underpinning to the restaurant's Americanized versions of Indian dishes.
Take garam masala, "one of the foundational spice blends of Indian cooking," says Coles (who, incidentally, is not Indian). "It adds delicious flavor and aroma to everything it's cooked with—a complex mix that is slightly spicy and slightly sweet." Garam means heat in Hindu; masala refers to a blending of spices. Pretty much every household cook in India has developed his or her own proprietary blend. And the amount that's used in a dish really depends on the taste buds of the cook.
With its mélange of warm, earthy, piquant, sweet and herbal tones, garam masala is supremely versatile, suitable for turkey or chicken, steak or fish, rice or grain dishes, soups, stews, vegetables and even dessert cakes and ice creams. Coles formulated his own mix for American Tandoor and kindly shares the recipe (see right).
For added depth and flavor, the ingredients should be toasted in a dry pan over medium heat for several minutes before grinding.

Ramin Coles' Garam Masala
Yield: About 1 1/4 cups
Ingredients:
One 2-inch cinnamon stick, broken into pieces
4 dried bay leaves
1/2 cup cumin seeds
2/3 cup coriander seeds
2 tablespoons green cardamom pods
2 tablespoons whole black peppercorns
4 teaspoons whole cloves
2 dried red chilies, preferably Kashmiri
1/2 teaspoon freshly grated nutmeg
1/4 teaspoon ground mace
Place all ingredients into a spice grinder and pulverize into powder. Store in an airtight container in a cool, dry space.