The Crawfish Are Coming! – Chasin' Tails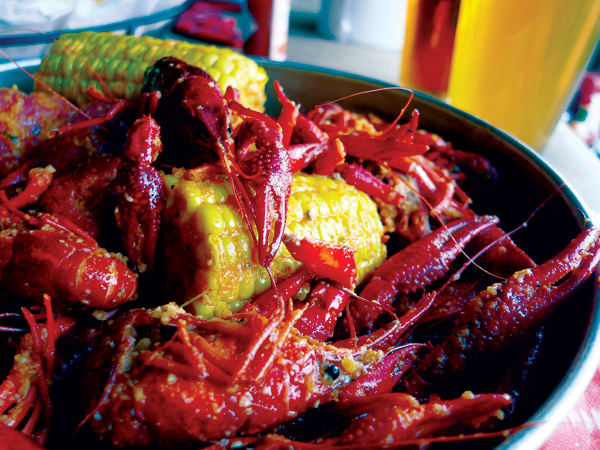 Mid-March signals the kickoff of crawfish season, and the frenzy over this sweet, succulent Louisiana staple isn't limited to the throngs who visit New Orleans for Mardi Gras and Jazz Fest.
These bite-size freshwater crustaceans, which resemble tiny lobsters, are in their prime through May.
"In spring, the crawfish are in perfect balance, large in size and easy to peel," says Au Dang, co-owner of Chasin' Tails, a two-year-old Cajun seafood restaurant and bar in the Westlee area of Arlington near the Falls Church border. In Big Easy-style, the boiled and spiced critters ($11 per pound) are brought to butcher-paper-covered tables in galvanized metal buckets, which also serve as refuse containers for the shells.
Dipping sauces at Chasin' Tails include spicy Cajun, garlic butter and lemon pepper, as well as the restaurateur's signature "Au Dang Sauce"—a mixture of all three.
"For me, it packs in the flavor," says Dang, a graduate of the University of Virginia. "It's at the same time tangy, sweet and salty." Boiled red-skinned potatoes and ears of corn are served alongside.
Dang's partners include his two older brothers, Di and Hac, both of whom are fellow UVA grads and professional poker players, who over several years together won more than $15 million playing online games. When computer gambling was banned in the U.S. in spring 2011, the pair switched to high stakes poker in casinos.
More locations for their Cajun venture, as well as an additional dining concept in the Washington, D.C., area, are in the works.
Photo courtesy of Chasin' Tails | Chasin' Tails, 2200 North Westmoreland St., Arlington, 703-538-2565, www.chasintailscrawfish.com