The Greenest Beach House in Bethany Beach
Darcy and Kathy Williamson's net-zero vacation home is bold, bright and produces the same amount of energy it consumes.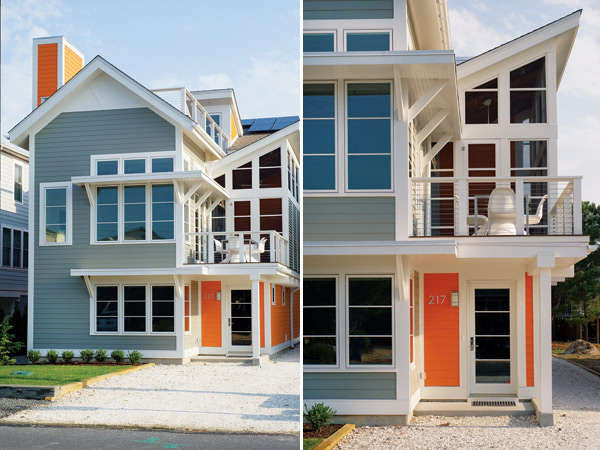 The house includes 2,500 square feet of living space, plus another 1,000 square feet on the lower level—which is restricted by federal floodplain-management regulations to garage and storage (non-living) use. Photos by Scott Nathan.
Darcy and Kathy Williamson hold sentimental ties to the Delaware shore, having met there in the summer of 1994 when both were staying in Dewey Beach group rentals. Later on, with their crash-pad days behind them, they married, had kids and bought a place in nearby Bethany Beach with Kathy's sister and brother-in-law. But as the two families expanded, their shared vacation quarters grew cramped.
By 2012 the Williamsons, both busy executives, began a focused search for an ocean getaway of their own. "We wanted to be close to the beach and town, so we only looked in a four-block radius," Kathy explains.
Initially they considered renovating or adding on to an existing house. But then they happened upon a bargain-priced, teardown property on a 40-foot-wide lot, where they could build from the ground up, making an ideal retreat for themselves and their two daughters, ages 8 and 11. Tearing down and building new also meant they could go modern. And sustainable.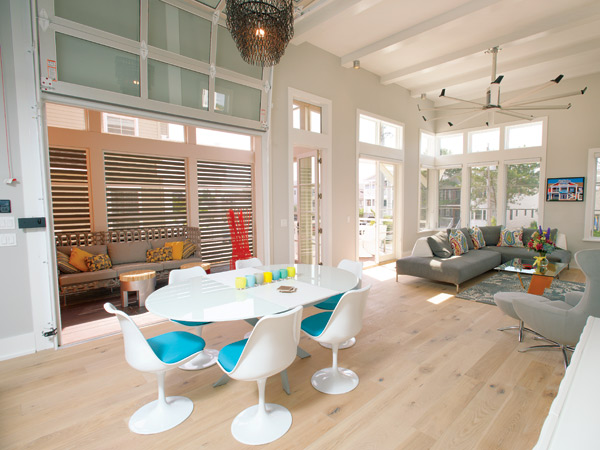 Photo by Scott Nathan.
When a Google search for "Bethany Beach architects" led them to SEA Studio, they knew they'd found the aesthetic they were looking for. "They wanted something different from their brick farmhouse in Falls Church—something fun and beachy," says the firm's principal, Scott Edmonston.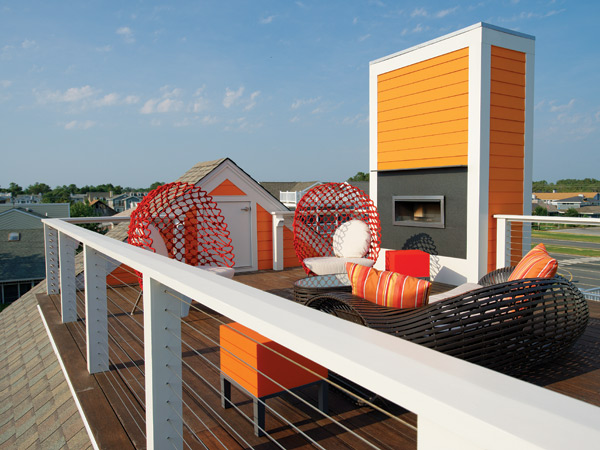 The roof deck's furniture, designed by Kenneth Cobonpue, is available at Muléh on 14th Street NW in Washington, D.C. Inspired by fishermen's nets, the cocoon-like Dragnet chairs have a Hollywood connection: After actor Brad Pitt purchased some for his home, Cobonpue was hired to design part of the Ocean's Thirteen movie set. Photo by Scott Nathan.
The whimsical cottage is certainly that, featuring playful colors inside and out, along with three balconies and a roof deck. Inside, it's a comfortable space that enjoys ocean breezes and ample cross-ventilation, courtesy of large windows and a retractable overhead door that connects the living room to a screened porch. "It's designed so the air conditioning doesn't always have to be on," Edmonston says.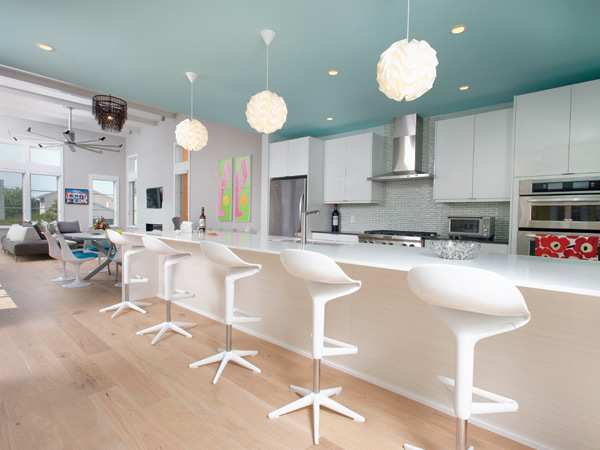 Sculptural Le Klint pendant lights, a recycled-glass backsplash from Fireclay Tile, Kartell Spoon bar stools and a blue ceiling (Jack Frost 729 by Benjamin Moore) give the kitchen a beachy-mod vibe. Photo by Scott Nathan.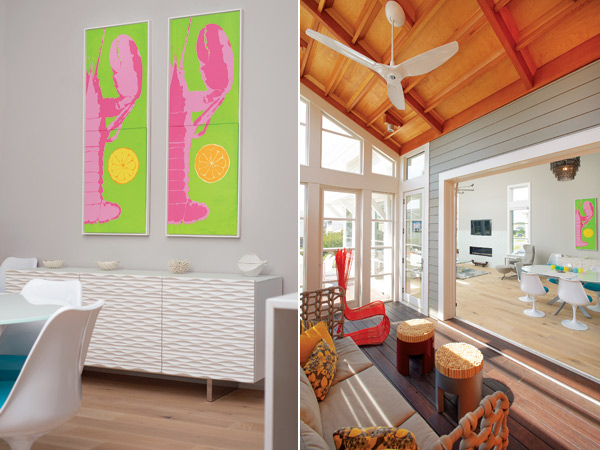 Left: Neutral walls in the living room (Benjamin Moore Stonington Gray HC-170) are punched up with lobster prints by artist Nina Mickelsen of Clarissa Studio Art in Lewes, Delaware. Right: Ceiling fans from Big Ass Fans promote cross-ventilation between the main living space and the adjacent screened porch. The white Saarinen-style dining chairs are from the Virginia Museum of Fine Arts in Richmond. Photos by Scott Nathan.
That's not the only energy saver. The structure is also outfitted with solar panels, a geothermal heating-and-cooling system and other eco-friendly features that make it net-zero—meaning it produces the same amount of energy as it uses.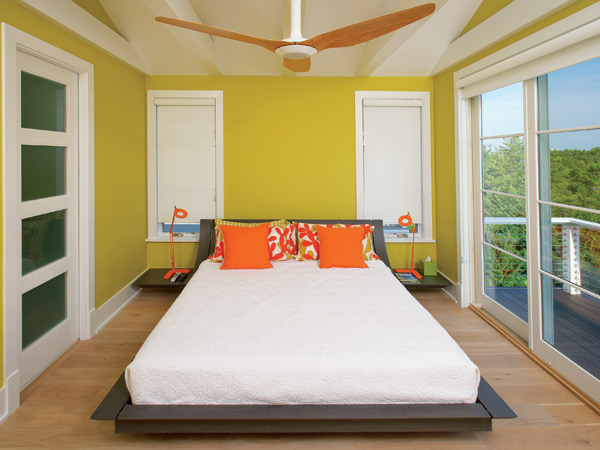 Chartreuse paint (Benjamin Moore Sweet Vibrations 391) offsets the master bedroom's minimalist furniture.  Photo by Scott Nathan.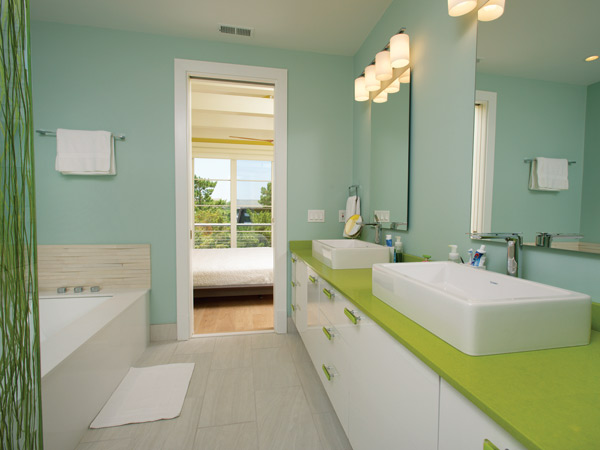 Caesarstone quartz countertops in Apple Martini offer a spirited counterpoint to the master bathroom's soothing blue-green walls (Benjamin Moore Bali 702). The shower surround, a pressed glass inlaid with seaweed, is by 3form. Photo by Scott Nathan.
Though the Williamsons say they chose Edmonston, first and foremost, for his crisp style and sustainable building philosophy, it didn't hurt that he, like them, is a Virginia Tech graduate. So when it came time to design the home's crowning detail, the three hatched a little inside joke. A white VT trim detail on the roof gable is an understated tribute to their alma mater.
CREDITS
Architect: Scott Edmonston,
SEA Studio, Bethany Beach, Del.,
www.seagreenstudio.com
Builder: Dewson Construction Co., Rehoboth Beach, Del.,
www.dewsonconstruction.com
Green Products: Lynne Templeton, Renewal, Wayne Pa.,
www.renewalse.com
Interior Design: Alice Sydney Minkoff, Washington, D.C.,
www.houzz.com/pro/alice-minkoff/alice-sydney-llc
Writer and design enthusiast Catherine Funkhouser lives in Lyon Village and daydreams about having a beach house to decorate.
Being Green
The Williamsons' house is net-zero, meaning it actually produces the same amount of energy that it consumes. It respects the environment in other ways, too. Here's how.
Solar panels. A $6,000 incentive grant from the State of Delaware offset the owners' initial investment of $23,000.
Solar shades. Horizontal overhangs on the home's south-facing front façade are precisely angled to block out the sun during warmer months (when the sun is higher in the sky), while allowing it in during colder months.
Geothermal heating and cooling. Whereas air temperatures can vary widely, underground temperatures remain a fairly constant 55 degrees, regardless of the season. The home's ultra-efficient geothermal "loop" system pumps water through an underground loop (where the water naturally gains or loses heat) and then back through the house. This natural system uses a lot less energy than mechanical systems that rely entirely on gas or electricity to manipulate indoor air temperature.
Spray-foam insulation. Sprayed into walls and ceilings, this high-performance insulation seals all cavities, thereby preventing outside air from leaking in on extremely hot or extremely cold days.
Daylighting. Abundant windows bring in plenty of natural light, reducing the need for artificial lighting sources. Frosted-glass panes on some interior doors (such as those leading to bathrooms and the laundry room) preserve privacy while allowing sunlight to illuminate smaller spaces.
LED lighting. Used throughout the home, LED (light-emitting diode) fixtures consume less energy and last longer than conventional incandescent bulbs.
Eco-friendly products. The exterior of the house is clad in HardiePlank fiber-cement siding, a durable and long-lasting alternative to wood that stands up to coastal salt air. The decking is made of natural bamboo, a rapidly renewable resource. Inside, the owners opted for nontoxic, low-VOC paints.