The Lobbyist and the Rock Club
Doug Davenport doesn't play golf. His passion is an underground tribute to all things metal.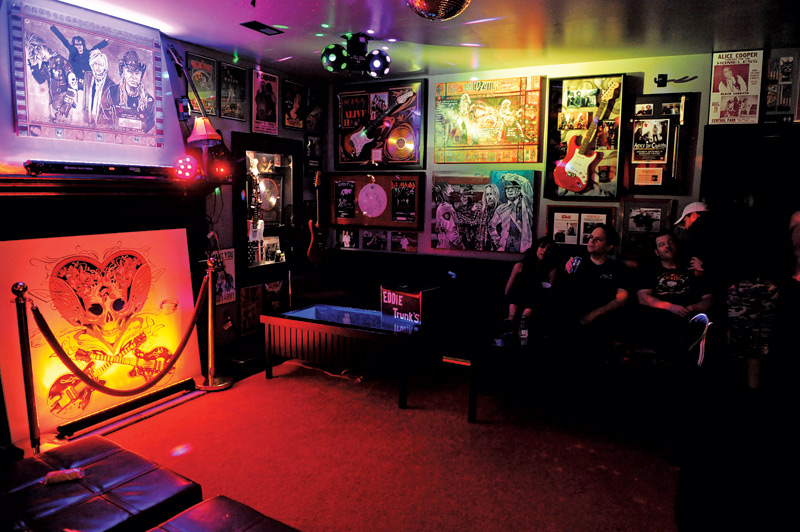 Photo by Ron Akiyama
Here's what you might expect from a high-powered Washington lobbyist: He's got an enviable Rolodex. He works a room with aplomb. He's been a partner in a major K Street firm. He's got a couple of controversial clients in his background. He might have an expensive hobby at which he can throw his disposable income. He probably lives in a tony neighborhood like Arlington's Country Club Hills, where his neighbors include Congressman Joe Crowley and Meet the Press host Chuck Todd.
Doug Davenport brings all those things to the table plus a few more you probably wouldn't see coming. Like the record label he started. Or the charity shows he puts on with rock stars. Or the private tour of the White House that he gave to Motley Crüe's own Tommy Lee—the same Tommy Lee who tells us via email that Davenport "is all things rock!"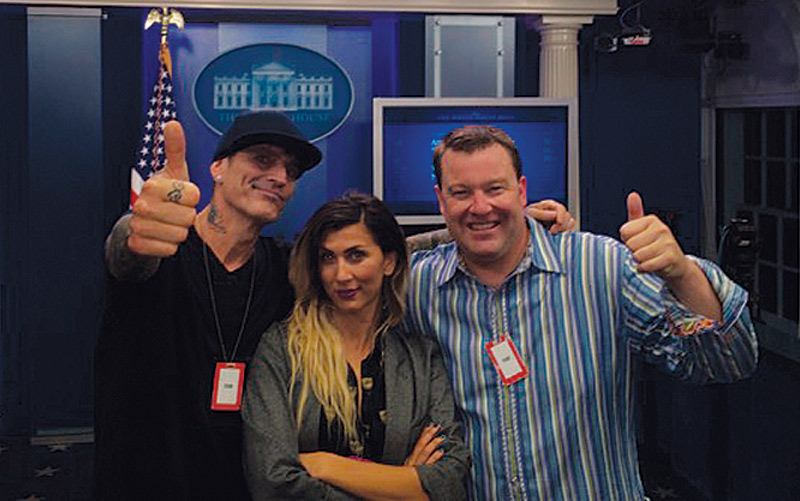 Touring the White House with Motley Crüe's Tommy Lee and Lee's fiancee, Sofia Toufa
Oh, and his basement. You definitely don't expect that. Although that's where the disposable income figures in.
"I don't play golf," says Davenport, 44, a father of 6-year-old twins who is perfectly at home in a T-shirt and baseball cap. "I don't fit the profile of the K Street guy. I go to rock 'n' roll shows. This is my outlet."
So naturally, he built an underground rock club in his basement. It's the "stuff of myth, legend and wonderment," says Billy Morrison, the longtime guitarist for Billy Idol, who's actually played a show in Davenport's subterranean lair. "You can't really explain the depth of love and emotion that has gone into building this shrine to rock music underneath a normal family home. We don't usually make a habit of playing people's houses—these days an arena is more the vibe—but Doug has a full-on stage/PA setup down there."
In fact, for rock fans, these four rooms may be the best thing to happen in a suburban basement since Wayne's World.
Truly, you can cue the Wayne-and-Garth-style awe anytime party guests walk in for the first time and see not just a bona fide English rock star onstage but a dance floor and a brass pole. And when they leave their things at the coat check (painted blood red, under the stairs), grab a drink at the bar and commence perusing the memorabilia—a dozen collectible guitars in custom-made glass displays; a drum kit used by Megadeth on a recent Asian tour; walls plastered with concert posters; album covers and Rolling Stone magazine clippings. Are there lasers? Oh yes, there are lasers.
You'd never know all this from the street. If there's a party, you might see a lone velvet rope outside the garage, signaling you to enter. But regardless of how many guitars are plugged into amps inside, the dead-quiet street is just that. Davenport's had the space soundproofed to studio specifications, such that he's never had a noise complaint.
Not when he's had a band down there. Nor when it's just him hanging out blasting a Foo Fighters concert DVD, or meeting with the occasional client who doesn't mind the same. "This is here all the time," he says. "There is no last call."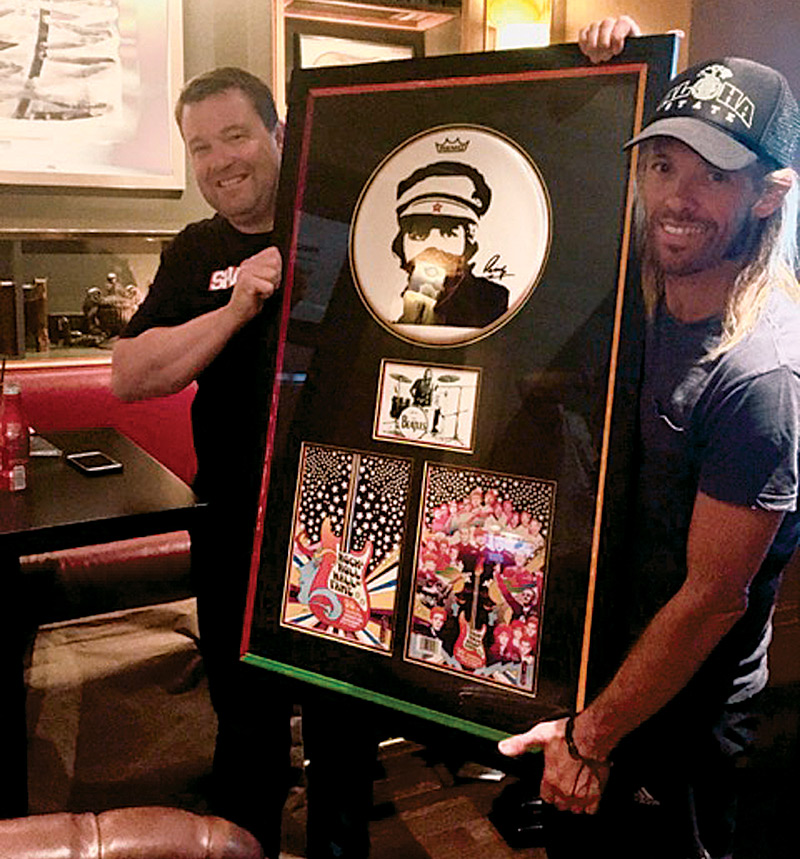 With Foo Fighters drummer Taylor Hawkins (who ended up claiming the Ringo Starr collage for his own).
As you might expect, the basement wasn't exactly like this when he and his wife, Kelley, a communications exec for the Amgen pharmaceutical company, bought the place in 2008. It was just a nanny suite.
But then again, Davenport's career hasn't always been like this either. Rewind to the early '90s. As a young government relations pro, his star was rising quickly. His firm, BMSK Public Affairs, served the likes of Donald Trump. When Richard Nixon came to town, Davenport was his aide.
Before he turned 30, Davenport was overseeing lobbying for GTECH, then the largest supplier of lottery systems to state and local governments. In 2000, he founded the lobbying practice at DCI Group, a powerhouse public affairs firm. He was also ascendant as a behind-the-scenes player in the Republican Party. In 2008, he was tapped by John McCain's presidential campaign to be its regional campaign manager in the mid-Atlantic.
That's when that phase of his life came to an abrupt halt. After the media noted that DCI Group had represented a faction of the repressive military junta in Burma in 2002, Davenport (along with DCI Group's CEO) resigned from McCain's campaign so as not to become a "distraction." Davenport would leave the firm soon after.
He retrenched, working out of his home and taking on clients himself, keeping a low enough profile that he didn't even establish a Facebook or Twitter account (he still hasn't). As part of his second act solo, he's worked with NASCAR on voter registration and with the NHL on sustainability issues and invested in a D.C. bar (Bar Civita in Woodley Park) and a luxury limo company. He's also begun to scratch the rock 'n' roll itch he first picked up as a teenager—seeing as many shows as possible whenever he's traveling.
Which is how, in 2010, he found himself in Los Angeles meeting the musicians who would eventually form the Royal Machines, a sort of superstar cover band whose members include Dave Navarro of Jane's Addiction, Mark McGrath of Sugar Ray and the aforementioned Morrison—all "idols of mine," says Davenport.
"I decided with my Rolodex I could raise the money" to do something with them in D.C., he continues. A year later, he brought them to the 9:30 Club to play a benefit show for wounded veterans. That success started him down the live-music production path, and more shows followed.
"Music guys don't tend to be in D.C.," Davenport says, but he remembers thinking, "There's really something here, career-wise. One thing that looked like fun has become work has become fun."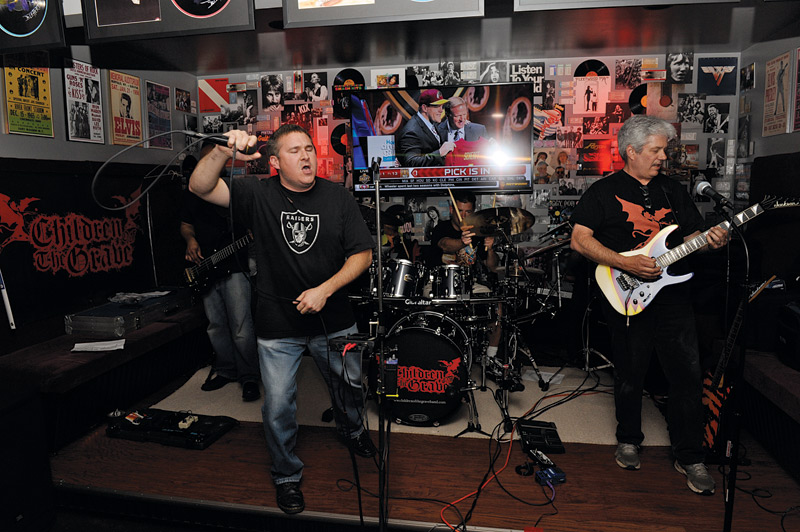 A private show featuring the Black Sabbath tribute band Children of the Grave. Photo by Ron Akiyama/akiyamaphotography.com
While all this was going on, Davenport started getting ideas about that nanny suite and sketching out his vision on a piece of foam board (which, naturally, he still has). In talking to designers, architects and artists, a couple of things became clear: He wanted a place to showcase the hard rock and hair metal memorabilia he'd been collecting ever since he first got into Van Halen and Aerosmith as a teenager. And he wasn't going to go halfway. "Any band can come in and plug in and play a show," he says. "Not some unplugged thing. A full show."
Occasionally, there's even a host. Eddie Trunk, host of VH1's That Metal Show, makes an annual appearance and does stand-up comedy and rock trivia, followed by a Black Sabbath or Motley Crüe cover band. This private event serves as a kick-off to the annual M3 Rock Festival at Merriweather Post Pavilion in Columbia, Maryland.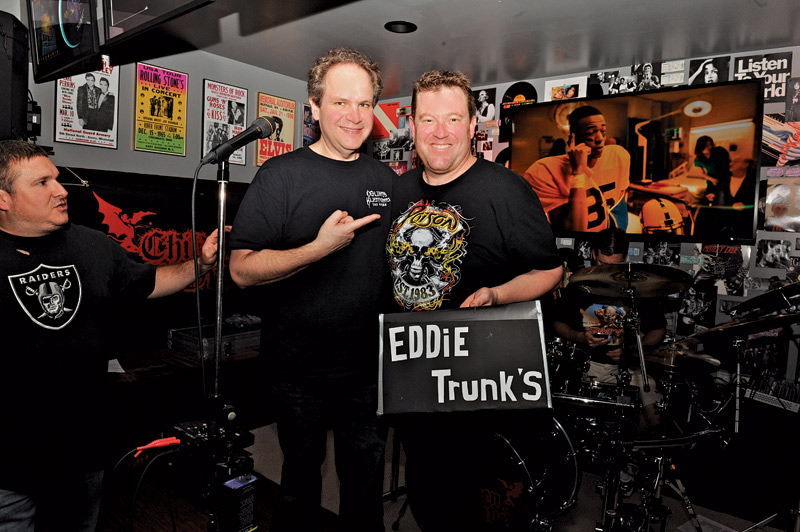 Davenport (right) with VJ and music producer Eddie Trunk. Photo by Ron Akiyama/akiyamaphotography.com
Other regular guests include Erik Huey, the head lobbyist for the Entertainment Software Association (the video game industry's trade group) who also fronts a country-rock "cowpunk" band called the Surreal McCoys. He and Davenport met right before that first 9:30 Club show, and found they were of like mind. "We had a lot of conversations that so many people in D.C. are buttoned down," says Huey. "They have to pack their freak flag, put it in a box never to be seen again."
Last year, when Huey's band was looking for a label to release its second album, he and Davenport decided to start their own, called Across the Aisle Music (ATA). They're now talking to various political campaigns about designing music playlists for candidates and handling rights clearances for the songs they use. This summer, ATA will produce a Royal Machines concert in Cleveland during the Republican National Convention. Davenport says they hope to have a presence at both conventions.
"There's a lot of tentacles and overlapping between labels and live shows," Huey says. "And the whole base of operations is Doug's basement."
Naturally, Davenport is also looking forward to hosting a few political fund­raisers in the coming months. "You put some pretty uptight Washington folks down here and you'll see another side of them." Just about everyone who experiences the basement club gets it, he says—everyone except maybe his father-in-law.
"I have a short attention span," Davenport says. "Adulthood doesn't mean growing up. It means doing all the awesome shit you said you would when you were a kid."
Jeff Dufour is a senior editor at National Journal. He's also written about restaurants, spirits, music and sports for DC Magazine, Capitol File and UrbanDaddy.