The Recycled Vacation Home
Hans Bauman's cabin in the Blue Ridge Mountains is built almost entirely of salvaged materials.

Bauman refinishing the hardwood floors. Photo by Hans Bauman
By the spring of 2010, it was time to build. Bauman made his first big purchase—new structural lumber—and bribed a small team of friends to help with framing on weekends in exchange for beer. The lumber was driven to the end of a paved road three miles from the building site, then shuttled closer with a 4-wheel drive pickup and hand-carried for the last hundred or so yards.
Digging the holes for 18 foundation posts took nine months. An auger wouldn't make it to the site, so Bauman and his volunteer crew dug each four- or five-foot-deep hole by hand.
In January 2011, the foundation was in place and Bauman had a plan. According to his spreadsheet and monthly goals, he figured he'd have most of the cabin done by the end of the year. "That [schedule] lasted for about two months," he says with a laugh.
In reality, the cabin construction was putting a strain on his free time with his wife and kids, given that he was working during the week and then heading west to the building site on weekends. That's when the cabin became a family affair.
"We had a reset and it went from the cabin being my project to being a family project," Bauman says. "We got rid of the timeline and switched to a project management plan of 'What's next?' "
Simenson and the kids started making trips out to the property and everyone found a role to play. Penn and Tor learned to use a rotary saw, while Lenka squeezed into tight spaces to help install insulation."The kids loved climbing around on the skeleton of the house," Simenson says. "They also liked seeing how the hard work turned into something tangible—something that we could live in."
The work was grueling, but resulted in only one major injury: Bauman suffered a broken rib after a fall in the attic rafters.

The family with their dog, Jackson
After three years, the 900-square-foot, cement-board cabin was finally taking shape. Bauman sanded and refinished his piecemeal wood floors, their patchwork planks varying slightly in width and color. He installed a composting toilet in the bathroom and a gravity water system to pump filtered rainwater to the sink.
An outdoor kitchen includes a camp stove and working sink. Inside, the first-floor family room and master bedroom are filled with light and mismatched secondhand furniture. For now, there's no electricity, but he has the place wired in case the family ever changes its mind about being off the grid.
Asymmetrical windows—nearly all salvaged from different houses—offer one of the few clues that the cabin was designed around found materials, and not the other way around. In total, Bauman estimates that the two-story structure cost a little more than $20,000 to complete.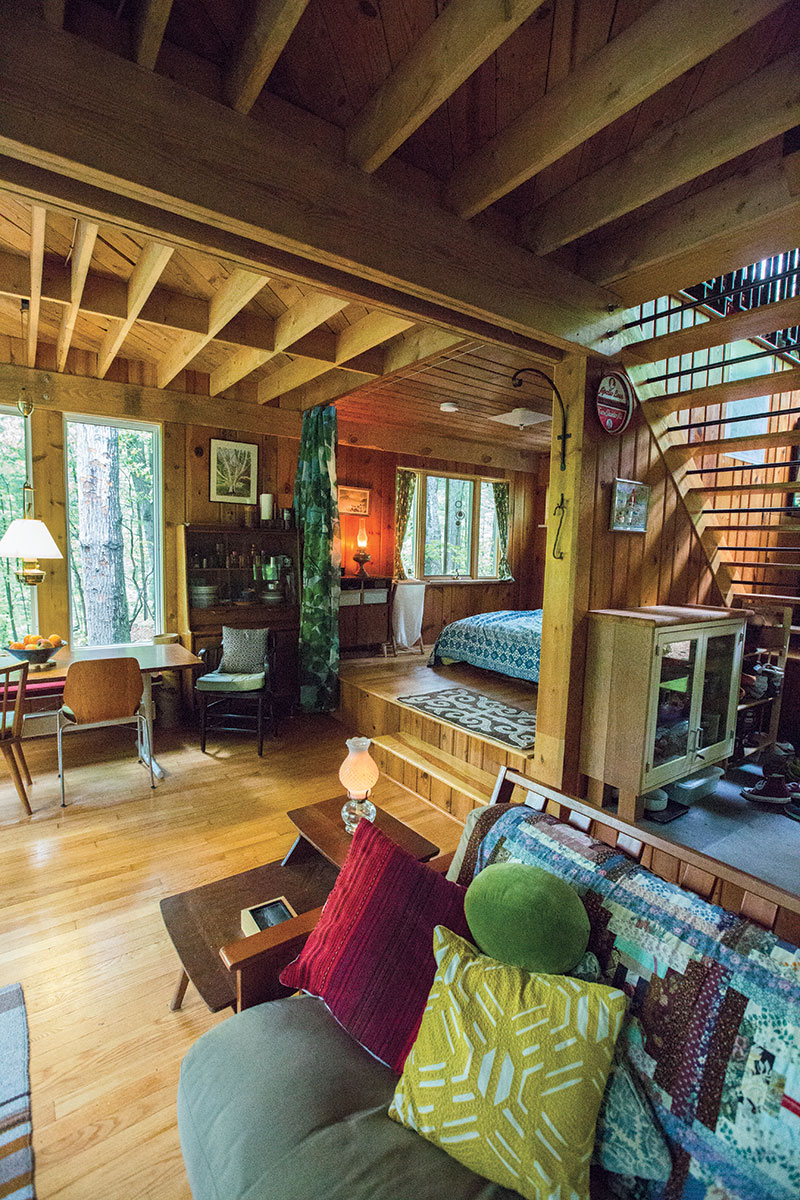 "Moon Hollow," as it is now known, was finished in late 2013. The family tries to make it out once a month, even in winter, which has become their favorite time to get away to the mountains.
Meanwhile, back in Arlington, Bauman's newly honed homebuilding skills aren't going to waste. In 2015, he left the IT industry to launch his one-man HouseMeister Handyman Service. The business keeps him busy with projects such as bathroom remodels, window and door replacements, and screened-porch repairs.
He says he still feels the urge to pull over whenever he sees building scrap or furniture piled by the side of the road. But with Moon Hollow completed, he rarely stops. Most of the homeowners he counts as clients aren't looking for used materials.
And a second vacation retreat? Not in the cards. After all, the recycled cabin was a 12-month project that stretched out over four years.
"I don't know that I would change much," Bauman says in retrospect. "We did it as a family, and that's what was important."
Associate editor Emily Van Zandt is a firm believer in Craigslist furniture.