Tim Ma Talks Kyirisan, Move to D.C.
The Northern Virginia chef readies his new D.C. restaurant after finding success in Arlington.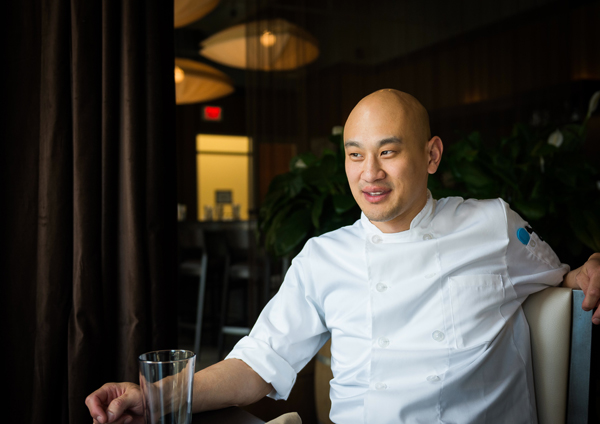 Chef Tim Ma. Photo by Rey Lopez
It's been a busy eight years for Tim Ma. In less than a decade, the chef who started with a nine-table eatery in Vienna has had three kids and as many restaurants, if you count his first Washington eatery, set to open next month.
Ma and his wife sold their first restaurant, Maple Ave (in Vienna), to his sous chef and manager at the beginning of 2015. At the time, he had plenty of other irons in the fire: The team at Water & Wall in Arlington's Virginia Square neighborhood hadn't taken a breath since the place opened to a steady stream of press at the end of 2013. Ma signed a lease on new spaces in Vienna and D.C. around the same time, and the Virginia-groomed chef has been gearing up to cross the river ever since.
In November, Ma opened a fast-casual sandwich shop, Chase the Submarine (named after his middle son), in Vienna. In March, he'll open a French-Asian concept called Kyirisan in D.C.'s Shaw neighborhood. We caught up with him at Water & Wall and asked him to fill us in on the latest.
Are there advantages to going from Arlington to the District rather than the other way around?
I think I'm maybe one of the only guys who is doing it in reverse right now. This used to be the natural progression for everybody — you start out "in the country" and then you make steps in. When I started doing restaurants in 2009, [the goal was to] end up with a restaurant in the city. That was kind of the pinnacle of your career and where you always wanted to end up. There's a certain stage in D.C. that you get put on regionally.
How will your experience in Northern Virginia influence what you're doing in D.C.?
As Virginia becomes known for its agriculture and, in some respects, its wine, my connection to that is going to help me in D.C. I'm not going to put (my sourcing) on blast. I think a lot of people do that now and it's become cliché. Like, "Oh, I use Virginia this and Maryland that." But if people ask, "Where does this come from?" I love to talk about Virginia.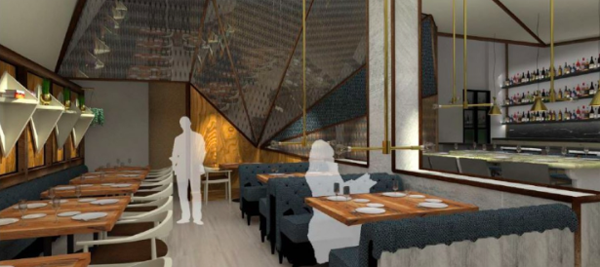 Rendering of Kyirisan's interior by Grizform
How will Kyirisan complement your other restaurants?
I like to think that now, with my restaurants, I could span an entire day for you. Chase the Submarine opens at 10:30 a.m. and it's very casual, fast casual. Water & Wall will sit in the middle and explore different cuisine. You'll actually see the menu there shift. It will go to more of a progressive American menu with a new chef de cuisine, and it will hit a price point in the middle, with [dishes ranging from] $7 to $29. Dinner is still the money game here in Arlington, but we're in the mid-tier level. Then D.C. is where we'll start to push more toward fine dining.
Is it harder doing business in the District?
Everything per square foot is [more expensive]. Anything you do just becomes more costly — construction, permitting, regulations. Even the plates are more expensive in D.C. But at the same time there's a certain density there that you don't get out here.
How has your experience in Arlington prepared you for this next step?
I learned how to run a bigger restaurant, that's for sure. Arlington is a different market [from] Vienna. It's younger in every respect. The young people are younger, the families are younger and the older generation is much younger than the older generation in Vienna. That was significant to me.
Tell us about the new place, Kyirisan.
I'm excited for a return to a more Asian tilt on food. I'm French-trained so anything I know about cooking is how the French do it, which is the absolute opposite of how Chinese people cook. [Asian cooking] is high heat cooking, all based on the sauce, whereas French cooking is built on slowly developing flavors by layering. So I've always approached my food by doing it the French way and then applying Chinese ingredients or flavor profiles. At Kyirisan, we're going to attack it from the other end as well. We will build upon Chinese cooking and apply French techniques, which is a different approach.
The kitchen at Water & Wall will be testing some of the new menu items for Kyirisan on a prix fixe menu over Valentine's Day weekend, which runs Friday, Feb. 12 through Monday, Feb. 15.