Trendspotting: Khachapuri
Try these cheesy, addictive Georgian bread boats at the Tasty Dug-Out in Arlington.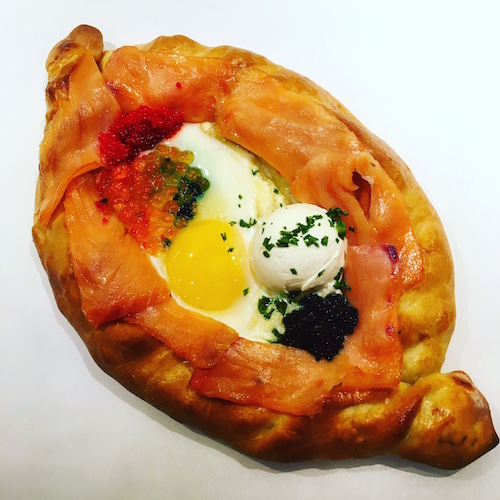 Tasty Dug-Out's "Tsarina's Delight" features smoked salmon, caviar, cream cheese, onion and dill. Photo by Jenny Sullivan
On a recent trip to the Republic of Georgia, I considered for a moment whether I could smuggle an unfinished chunk of Acharuli khachapuri back to the States.
The dish — which comes from the words "khacho," meaning fresh cheese and "puri," meaning bread — turns crusty, hollowed out loaves into vessels for salty cheese, butter and still-soft egg. And it's become a de facto ambassador for its small country of origin, which is sandwiched between Russia and Turkey on the Black Sea.
Thankfully, no smuggling was necessary. There are a growing number of restaurants in the D.C. area jumping into the khachapuri boat, including two in Arlington.
Bringing khachapuri stateside
This spring, restaurant owner Michael Landrum carved out a dimly lit portion of his Ray's Hell Burger dining room to introduce the Tasty Dug-Out, an eight-table eatery whose menu is loosely based on the cuisines of Georgia, Russia and the Mediterranean. Tucked between Courthouse and Rosslyn, the restaurant is open Tuesday through Saturday evenings. The name is an ode to khachapuri bread's resemblance to a dug-out canoe, and at Landrum's place those breads become vessels for all sorts of non-traditional toppings.
"I'm not trying to do Georgian," says Landrum, who describes the restaurant's fare as "modern Zemblan cuisine," named after a fictional kingdom described in Russian author Vladimir Nobokov's novels.
Landrum first discovered Georgian food where many traveling Americans do: in Russia. There, Georgian restaurants are as popular as, say, Italian restaurants are in the U.S. The restaurateur says he fell in love with the complex flavors, noting that countless incursions (Romans, Greeks, Arabs, Mongols, Persians, Turks and Russians have all invaded Georgia at some point in time) have left behind spices and culinary traditions from other cultures.
Enchanting as it was, Georgian cuisine struck Landrum as "too complex, too broad" to tackle in its entirety for a restaurant concept. "So I took the two dishes I loved the most and wanted to have fun with," he says.
Khachapuri — spelled khachapouri on Landrum's menu (English spellings of Georgian dishes still vary widely) — was on that short list. The four versions that are featured on the Tasty Dug-Out menu are $11 to $17 each and are made in the Acharuli or Adjarian regional style. (Other regions of Georgia offer quesadilla-like variations of khachapuri that fold the cheese between thinner pieces of bread.) Acharuli is the boat-of-cheese version that's most popular outside the country. Many American chefs are embracing it as a vessel to add their own twists.
Landrum's renditions add toppings such as steak tartare, smoked salmon and roasted mushrooms, though for a traditional taste, first-timers may want to start with the "classic," which features the simple but power-packed combination of briny cheese, butter, spices and a runny egg. (He also offers three "pizza dug-outs" with even more toppings.) Two dipping sauces prove to be worthy accompaniments. For a kick, try the spicy adjika sauce, which smacks of chili peppers, garlic and traditional Georgian herbs like coriander and fenugreek.
It's clear Landrum has done his homework, finding just the right mix of cheeses to represent the flavor profile of Georgian ingredients that are not available in the United States. His version mixes two types of feta, a mozzarella and another pair of Italian cheeses to strike the right chord of creaminess. He intentionally makes the dough a bit sweeter (with milk rather than yogurt) than the traditional style, to offset the dish's briny middle.
To eat khachapuri, use a fork to break the soft yolk and thoroughly blend it with the pat of marigold butter and cheese. Then, tear pieces of the bread from the edges and dip them into the oozy center.
Where to dig in
The Tasty Dug-Out (1650 Wilson Blvd.) isn't the only Arlington restaurant serving what's become the gateway food for Georgian cuisine. Bistro 360 (1800 Wilson Blvd.) offers a longer, thinner khachapuri as one of two flatbreads on its menu with a sunny-side-up egg, for $9.
In the District, $14 khachapuris have become standouts on Compass Rose's international street food menu. The Russian restaurant Mari Vanna also offers two types of the cheese bread at $18, including the quesadilla-esque Imeruli version with the cheese tucked inside.