Trendspotting: Ramen
Try the cult classic dish at Paper Horse, Jinya Ramen Bar, Yona and other local hot spots.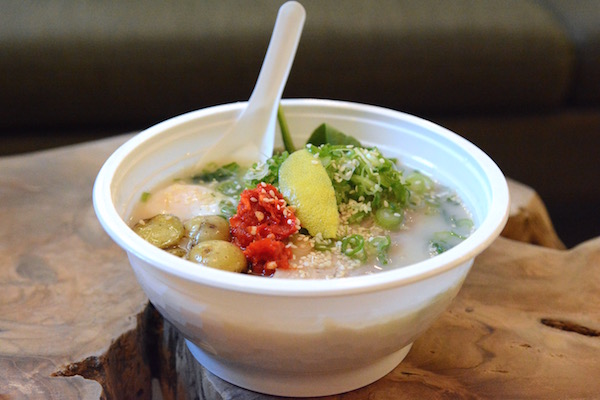 The "All Business" ramen at Paper Horse in Pentagon City. Photo by Laura Hayes
There's little apathy when it comes to ramen. You're either part of the cult that puts the Japanese dish of piping hot noodles on a food pedestal – or you haven't tried it. And the "haven't touched the stuff" camp doesn't have much of an excuse: Ramen's proliferation in Northern Virginia is becoming hard to ignore.
The latest newcomer to start ladling is Paper Horse ramen in Pentagon City's Whole Foods Market (520 12th St S #100, Arlington), which opened in late June. The noodle stand is Chef Erik Bruner-Yang's first foray into Virginia. There, the Springfield native serves two types of ramen ($12 each): the "all business" with pork broth, pork belly, poached egg and spinach, and the vegan, "keeping it light," with fried Brussels sprouts, shiitake mushrooms, corn and potatoes in a vegetable broth.
Bruner-Yang says that the ramen at Paper Horse is meant to satisfy with speed. "It should feel like you're at the train station in Japan or next to your bus stop," says the chef. "The purpose of Paper Horse is to get a bowl you're going to eat real quick; you're just trying to get that ramen fix." Ramen, indeed, is eaten with haste in Japan. The strategy is to audibly slurp the noodles, using your breath to cool them en route to your mouth.
As one of the first chefs to popularize ramen in the D.C. metro area when he opened Toki Underground in 2011, Bruner-Yang explains ramen basics: "The word ramen translates to the word noodle, and traditionally it started as Chinese dish that evolved into the current Japanese iteration. It's a broth made from specific ingredients with a noodle that fits that particular broth, whether that's curly or straight. Typically, the toppings will represent everything used to make that broth."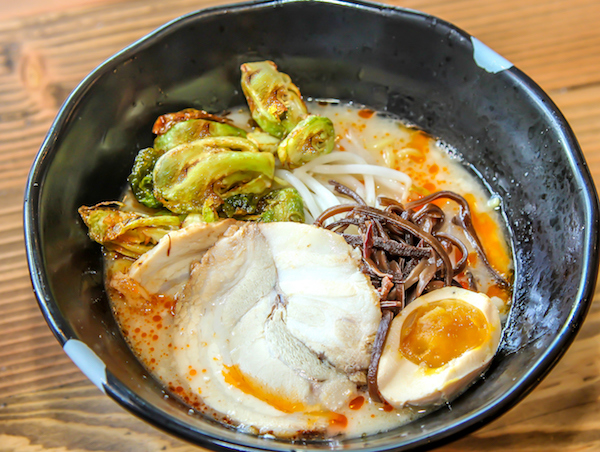 The "Sprouting Up" ramen at Jinya Ramen Bar in the Mosaic District. Photo by Peter Stepanek
So, what is ramen?
There are four components in a bowl of ramen:
Noodles: The width and texture may vary, but ramen noodles are almost always made from wheat and cooked in alkaline water that's rich in potassium carbonate and sodium bi-carbonate. Alkalinity is responsible for the noodles' springy texture and yellow color.
Broth: The reason a bowl of noodles in a proper ramen shop costs substantially more than a packet of Cup Noodles is the amount of effort that goes into developing flavor in the broth. Stocks made from boiling pork or chicken until the bones dissolve takes time. Then, dashi (made from kelp and dried bonito flakes) is added for depth of flavor.
Tare: Think of tare as an indispensable flavor boost that gives a bowl of ramen its identity. Shoyu ramen, which is popular in Tokyo, uses soy sauce as its flavoring agent, while miso ramen, made famous in Sapporo, gets its umami blast from fermented soy beans. "There are hundreds of styles of ramen," Bruner-Yang explains. "Each region of Japan has its own."
Toppings: In addition to the pork or chicken that compliments the broth, ramen is typically adorned with vegetables such as corn, bamboo shoots, mushrooms, scallions, bean sprouts and seaweed. The other key topping is a soft-boiled egg, which adds richness to any order, especially if it's been marinated in a sauce first.
These are just the basics. Despite ramen's popularity in the U.S., we still have a long way to go when it comes to understanding it, according to Bruner-Yang. "The knowledge of ramen in the U.S. is still very small. We're only familiar with a couple of styles, thanks to shops like Ippudo and Momofuku [Noodle Bar] on the East Coast," he says. "On the West Coast, you have other shops."
Northern Virginia native David Chang opened Momofuku Noodle Bar in New York in 2004, kick-starting a ramen craze that eventually spread from New York and Los Angeles to other major U.S. cities. Chang, who opened Momofuku CCDC in D.C. in the fall, also publishes Lucky Peach magazine. That's where you'll find a comprehensive history of the dish.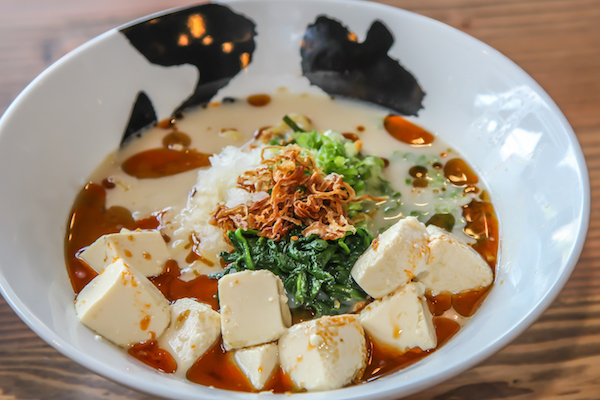 Creamy vegan ramen at Jinya Ramen Bar. Photo by Peter Stepanek
Where to find it
Paper Horse isn't the only place to try ramen in the area. The past year has seen the openings of Gaijin Ramen Shop in Cherrydale; Yona in Ballston; Jinya Ramen Bar in Merrifield; Marumen in Fairfax; and Kizuna Sushi & Ramen in Tysons Corner. Here are some suggestions on what to order at three of these hot spots:
Gaijin Ramen Shop
3800 Lee Highway, Arlington
While Gaijin Ramen Shop has nine bowls on offer ($10-$13), it specializes in two styles. The Kyushu-style tonkotsu ramen features a creamy pork broth topped with slices of Chashu pork shoulder. Then there's Sapporo-style miso ramen, also topped with Chashu pork shoulder. With the latter, you can opt for double miso or spicy miso. Customize your order by selecting from a long toppings list that includes everything from nontraditional avocado and BBQ chicken to staples like bamboo shoots and corn.
Yona
4000 Wilson Blvd., Arlington
Chef Jonah Kim's ramen ($15-$19) has big personality. In addition to a "miso porky" ramen and Maryland blue crab ramen, he serves tsukemen—a style in which noodles are served chilled next to a condensed broth that's meant for dipping. This style is popular during the summer, when no one wants to sweat over a piping hot bowl. Where Kim skirts tradition, however, is by topping the room temperature noodles with double-fried chicken. "You know me, I love fried chicken," he jokes. Bonito flakes, benishoga (pickled ginger) and a lemon wedge are nice surprises too. Kim says to squeeze the lemon into the broth when you're half way through to brighten up the last few bites.
Jinya Ramen Bar
2911 District Ave #140, Fairfax
Los Angeles import Jinya Ramen Bar specializes in the tonkotsu-style ramen that's popular in the Kyushu region of Japan. It's characterized by a rich, creamy pork-bone broth and is often thought of as the most decadent (read: calorie packed) ramen. Jinya builds its tonkotsu broth for 18 hours and serves it six ways, including the "cha cha cha" for garlic lovers, and "tonkotsu spicy" for those who like heat. Diners who don't eat pork will also find chicken ramen, vegetarian ramen and vegan ramen. The fun part is selecting from more than 20 toppings. Bowls of ramen here are in the $12 range.