Backyard Retreats
These homeowners wanted to get out of the house for a little breathing room. But they didn't have to go far.

 The barn sits just a few steps from the home Nassikas shares with her husband, John, a partner at the law firm Arnold & Porter, and their four children.
Art Barn
When Georgia Nassikas and her husband, John, bought their McLean property in 2001, the 100-year-old house needed work. But Nassikas was more preoccupied with the 600-square-foot barn that stood roughly 50 yards from her back door. An artist working in encaustics—a painting process that uses melted beeswax infused with pigments—she immediately set up a studio in the barn's hayloft, despite the fact that it had no heating or air conditioning.
After a decade, however, those rustic conditions were beginning to wear on her. "I was out there melting in the summer and chipping ice in the winter," says the painter, whose works are sold locally at Touchstone Gallery and Long View Gallery in Washington, D.C., as well as internationally.
That's when she hired architect Michael Nawrocki, principal of McLean-based Nawrocki Architects, to give the century-old barn a makeover. The two had previously worked together at another architectural firm and had remained in touch. "I wanted to elevate the windows, put in proper lighting, create some exhibition walls and deal with having no [temperature controls]," Nassikas says.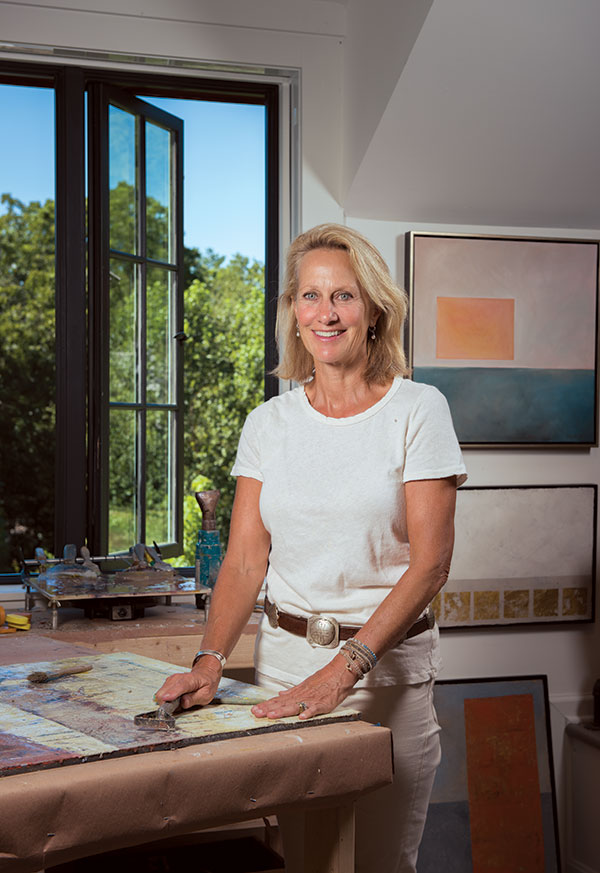 Nawrocki's redesign was resourceful. Working in partnership with Bowie, Maryland-based Tobin Construction, he repurposed the trunk of a cedar tree that had fallen on the property to form a support post on the barn's first floor.The team also constructed a "false ceiling" between floors to create a cavity for insulation.
And then there was the need for natural light. "We put in drywall upstairs and added a round window…using an old wagon wheel for a frame that we found on the property," Nawrocki says.
"Georgia and I went through a couple of different schemes and ended up with what we called the 'Big Sky look.' We re-formed the roof to get the shed dormers in, which works well because it's a vernacular, agrarian kind of look."

Large, operable windows flood the studio with natural light and fresh air.
A cable lighting system now fills in what the sun doesn't provide, and complements an exposed cable-tie system that keeps the barn's roof from flexing too much. (The latter was introduced as an alternative to additional rafters or roof trusses, which would have lowered the headroom on the second floor.)
Today, the barn's second level includes a working art studio, a sitting area and ample wall space where Nassikas can display her completed works. Large casement windows offer a bucolic view of the apiary that she maintains (and from which she harvests her own beeswax for painting) on the 1.5-acre property. A ductless mini-split HVAC system keeps the studio warm in winter and cool in summer.
"I'm able to look out at a changing sky and have the bees in my view, which is integral to my art," says the artist. "I just love sliding open that barn door."

A sliding door on the first floor hides the staircase leading to the second-floor workspace. Photo by Judy Davis / Hoachlander Davis Photography
Scott Sowers writes about architecture, design, real estate, energy, cars and the utility industry. In his spare time he rides motorcycles and plays golf, but not at the same time.