Water & Wall Welcomes New Chef
John Leavitt previously cooked at Provision No. 14 in D.C.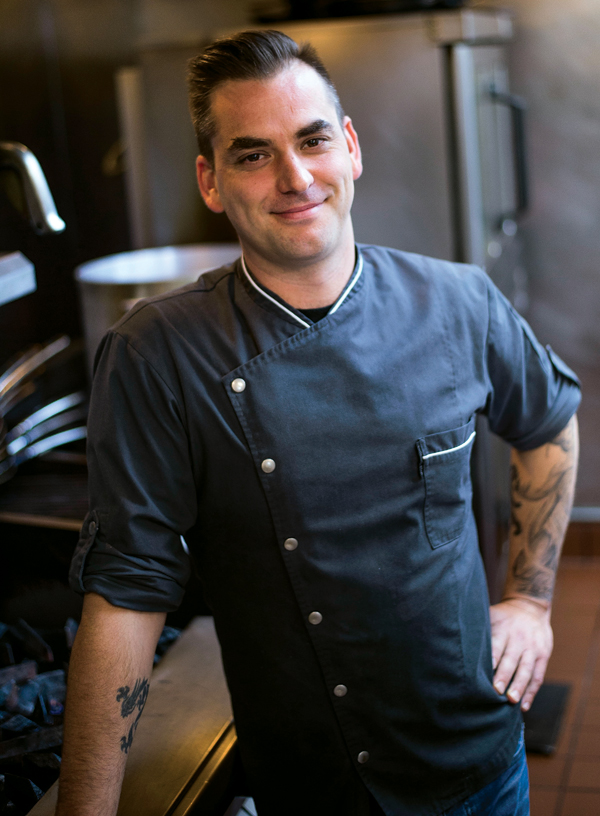 Photo by Lisa Helfert
In June, Water & Wall chef/owner Tim Ma decided to take a step back from the Virginia Square restaurant he opened in 2013 (he's currently got his hands full with Kyirisan, the D.C. eatery he opened in March) and handed the cooking duties over to 40-year-old chef John Leavitt, whose résumé includes stints at 2941, Driftwood and, most recently, Provision No. 14 in D.C.
How did you get the job at Water & Wall?
My [future] wife, Jamie, sent my résumé to Tim [Ma] for an a.m. sous chef position at Kyirisan. He asked if I'd do a tasting for this job.
What did you make?
I brought three courses: pickled lobster with roasted pork belly and English pea purée; pickled chickpea hummus with lamb belly and green garlic pesto; and halibut with curry-roasted Romanesco [broccoli], gooseberries, compressed endive and gooseberry honey.
Chef Ma's style blends French technique with Eastern flavors. How would you describe yours?
There are many influences from having worked with so many cuisines—Italian, French, American, Indian. So I'd say Modern American melting pot.
What are the hallmarks of your cooking?
For protein, I like to use a lot of game, such as rabbit, venison or any game bird. Then I wrap a technique around that. I have an acidic palate, so I like vinegar and I pickle a lot of things, often balancing that [flavor profile] by incorporating natural sweetness into a dish with fruit. And I like spices—especially weird ones like Urfa biber, dried Turkish pepper flakes that taste like smoky raisins, which I sprinkle on deep-fried rabbit rillettes with apricot-cherry mostarda.
You've worked in a lot of places. Do you have wanderlust?
My father was a Marine. We moved every one to three years, so my childhood implanted a nomadic nature in me. I like chaos. Some places I had no intention of staying a long time and just wanted to learn. I've constantly been searching for a better fit—a smaller, more intimate, food-forward place—and Water & Wall is perfect. www.waterandwall.com