Where to Eat and Drink in Rosslyn
Diverse dining in Arlington's urban village.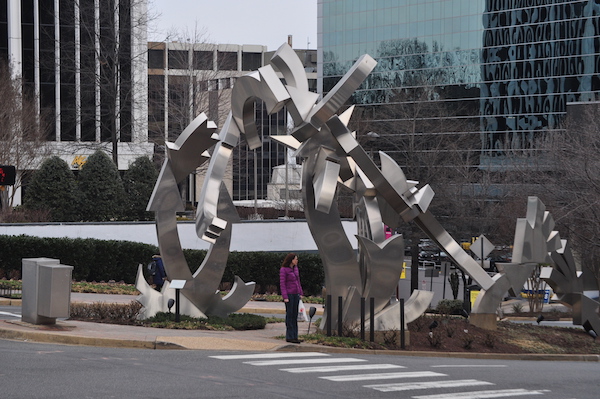 Rosslyn has long been appreciated for its proximity to D.C., but a recent renaissance of redevelopment has transformed this urban neighborhood into a destination in its own right. Public art and outdoor plazas bring a lively street scene — and a spate of tasty restaurants make the eating and drinking pretty handy, too.
​Looking for a midday bite, a happy hour stop or a laid-back place to spend a lazy Saturday? Put these spots on your list:
SURF & TURF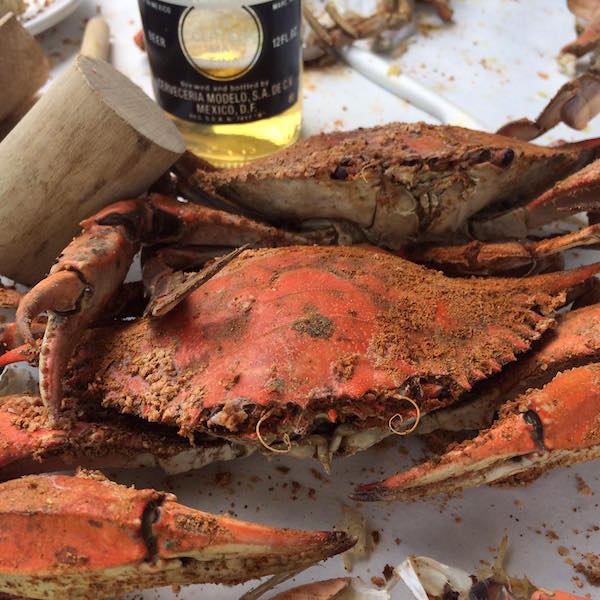 Quarterdeck
The all-you-can-eat crab feasts are worth the mess that comes with all the cracking. When Maryland blue crabs are in season (officially starting April 1), there's little reason to order anything else at this at this venerable establishment that's been selling the crustaceans alongside cold beers for 30 years. Landlubbers will also find pizza and burgers on the menu. If you want the crabs without getting down and dirty, opt for a crabcake sandwich.
1200 Fort Myer Dr.; 703-528-2722; quarterdeckarlington.com
Ray's Hell Burger 
The best burger-and-shake in town can be customized to your liking, whether your taste skews basic or deluxe. The steakhouse-style burgers are considerably more upscale than the ones you scarfed down in college (with toppers ranging from grilled onions to foie gras) and a departure from the Dollar Menu (they're more like $12). To take it up a notch, order one of the thick and equally indulgent shakes — which, thankfully, come with a double-wide straw that allows you to slurp up every last Oreo-cookie chunk. Chef/owner Michael Landrum, is also the force behind Ray's the Steaks in Arlington's Court House neighborhood.
1725 Wilson Blvd.; 703-841-0001; rayshellburger.com 
TASTES OF ASIA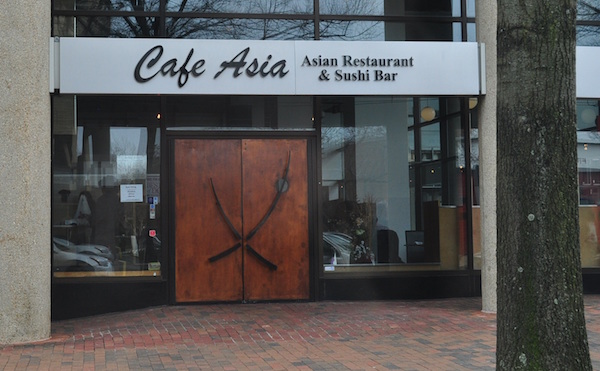 Cafe Asia 
Dishes from a half-dozen Asian countries make it onto the menu at this airy escape. Pull up a seat to the sushi bar or, when the weather is right, on the patio. The menu is as long as you might expect from a kitchen whose flavor profiles span an entire continent, from Indonesian fried rice to drunken Thai noodles or ramen.
1550 Wilson Blvd.; 703-741-0870; cafeasia.com 
Kanpai Japanese Restaurant
Nothing says "treat yourself" quite like having your sushi served in a tiny wooden ship. That's par for the course at this family-owned sushi spot, where traditional Japanese eats are served raw or from the hibachi grill. From creative sushi rolls (Burdock root or sour plum, anyone?) to baby octopus and roe-stuffed rice balls, you're sure to leave with a full belly and a healthy dose of culture.
1401 Wilson Blvd.; 703-527-8400; kanpai-sushi.com
Tom Yum District​
Need a lunch that will help you power through the day? Consider this Chipotle-like approach to Thai. The fast-casual concept lets customers build their own bowls from the counter, layering proteins (steak, shrimp, chicken or tofu), vegetables and a choice of rice and sauces. The sides are also snack-worthy. For a mid-day pick-me-up, try peanuts seasoned with garlic, lemongrass, chili, galangal, kaffir lime, tamarind and shallots.
1515 Wilson Blvd.; 703-528-8424; tomyumdistrict.com
CARRY OUT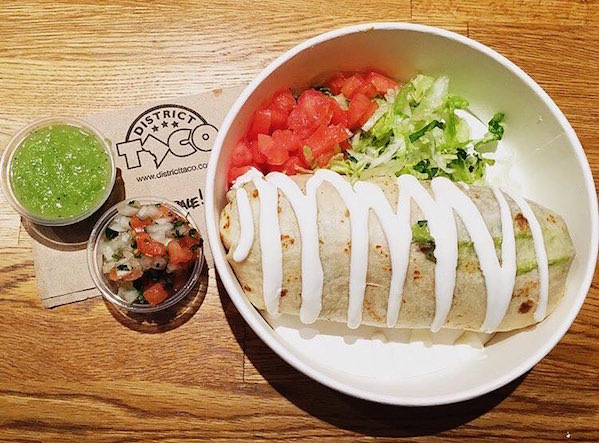 District Taco
On a weekday afternoon, it seems like half of Rosslyn is carrying to-go bags of District Taco back to their desks, condos or favorite park benches. The cult-status taco and burrito purveyor that started as a food truck in 2009 is now a cult-status eatery with seven brick-and-mortar locations in Virginia and D.C. If you love the flavors of the Yucatan, the pork carnitas, barbacoa and pollo asado will take you to your happy place. They serve breakfast, too.
1500 Wilson Blvd., #102; 703-237-1204; districttaco.com
Ben's Chili Bowl 
Salad just not doing it for you? Ditch the diet and go for a half-smoke doused in chili or a jumbo dog at this popular spin-off of the original Ben's Chili Bowl, a District institution since 1958. Need lunch in a hurry? Order online and your food will be ready when you arrive.
1725 Wilson Blvd.; 703-649-5255; benschilibowl.com 
Pho 75
If you're nursing a hangover or seeking comfort on a cold, rainy day, the pho can't come fast enough. Not to worry. Order this Vietnamese staple and you'll be slurping to your heart's content in a matter of minutes. But there is some assembly required. Customizing the broth to your liking is part of the experience, with fixins such as sliced steak, chicken, meatballs, fresh herbs, chili peppers, scallions and bean sprouts.
1721 Wilson Blvd.; 703-525-7355
HAPPY HOUR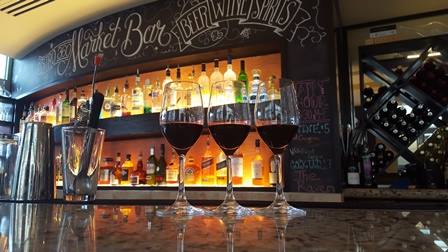 Bistro 360 
For an elevated happy hour experience, grab a seat at the wine bar and tell your significant other you're grocery shopping. It's easy enough to do, given there's a market inside this full-service restaurant and bar, where you can pick up everything from charcuterie, cheese, wine and craft beer to duck fat and bake-at-home biscuits. Alternately, settle in for the evening and pair your vino (which is often discounted at happy hour) with an ever-changing assortment of international small plates, from kimchi to khachapuri to tuna tostada. The main dishes on the bistro menu are just as diverse and no less flavorful.
1800 Wilson Blvd.; 703-522-3600; bistro360.net
Heavy Seas Alehouse
Oysters and cold pints are popular picks at this pirate-themed outpost (the original location is in Baltimore) known for its happy hour specials. Need something heartier to soak up the suds?  Try the buffalo burger with short rib and bacon, paired with one of the rotating craft beers on tap.
1501 Wilson Blvd.; 703-879-4388; heavyseaalehouse.com