Where to Eat and Drink on Columbia Pike
You'll find a diverse array of dining choices along one of Arlington's most popular drags.
If you're eager to try affordable, ethnic food, look no further than Columbia Pike. Characterized as Arlington's "Main Street," the Pike serves as the nearly four mile connection between Arlington and Falls Church, D.C. and Alexandria. Locally, it's regarded as a melting pot of cheap eats, from Ethiopian to Salvadoran to Thai.
Tucked away from the Metro corridor, Columbia Pike can be overlooked by food critics and local residents alike. But thanks to plans by local government to revitalize the area, the Pike is experiencing somewhat of a culinary renaissance. While local stalwarts remain ever-popular — a 24/7 greasy spoon, a tiny red burrito cart — the recent additions of venues including a doughnut shop and an upscale Moroccan restaurant indicate that Pike organizers aren't afraid of further diversifying the area's food scene.
Columbia Pike offers an array of choices for the early bird, the late-night snacker, and everyone in between. We've helped narrow down the options with some of our favorite restaurant picks:
HAPPY HOUR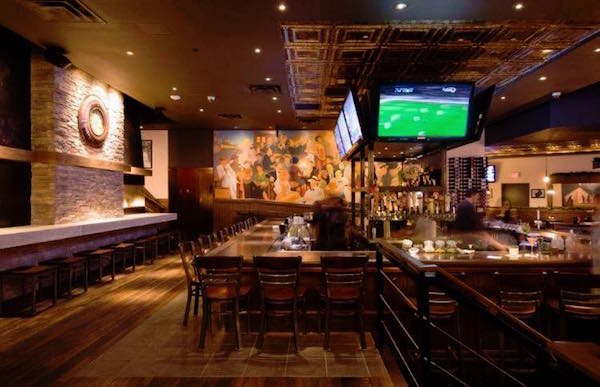 William Jeffrey's Tavern in Arlington. Photo via facebook.com/williamjeffreystavern
William Jeffrey's Tavern
This cozy neighborhood pub, decorated to look like a Prohibition-era speakeasy, boasts an extensive selection of cocktails, wines, canned and bottled beers, and draft brews. The happy hour menu includes steals on mussel pots, popcorn shrimp and oysters on the half-shell. Looking to postpone your happy hour in favor of a brunch date? William Jeffrey's Sunday brunch includes an omelet and waffle bar, as well as a create-your-own Bloody Mary station.
2301 Columbia Pike, Suite 101, Arlington; www.williamjeffreystavern.com
Marble & Rye
The space that was formerly Red Rocks Neapolitan Bistro is now Marble & Rye, which reopened last November with a focus on whiskey. Come for the extensive beer list and cocktails at happy hour (the blackberry schnapps-infused Rock Paper Scissors will please whiskey-lovers looking for a hint of summer in their drink), but stay for the spicy-sweet candied bacon — one of several $6 small bites served at the bar. The wide-open space, with its urban-rustic décor, is the perfect venue for an office party or birthday dinner.
2501 Columbia Pike, Arlington; www.marbleandryeva.com
Taqueria el Poblano
With locations in both Arlington and Alexandria, Taqueria el Poblano was named by Zagat in 2014 as one of the top ten best Mexican restaurants in the D.C. area and has consistently received critical praise for its margaritas. Start light with the cebollitas, charcoal-grilled green onions drizzled with Mexican sour cream. Fish fans will love the Baja fish tacos, which arrive stuffed with fried chunks of mahi-mahi and a light, mellow cabbage slaw. Wash them down with the signature Taqueria Margarita, made with an in-house margarita mix and Silver tequila.
2401 Columbia Pike, Arlington; www.taqueriapoblano.com
DATE NIGHT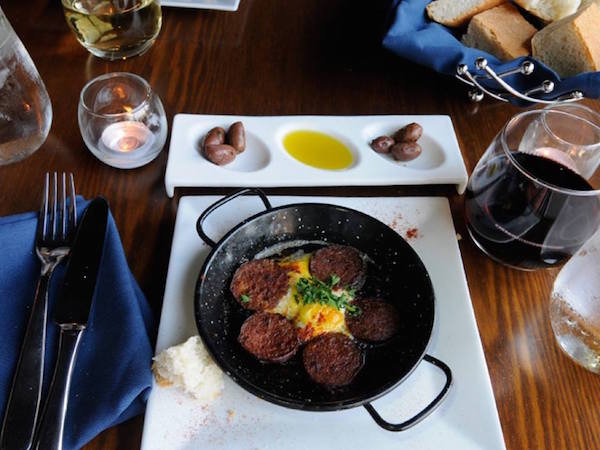 Mazagan in Arlington. Photo via facebook.com/mazaganva
Mazagan
Now entering its second year on Columbia Pike, Mazagan specializes in contemporary Moroccan cuisine. Opt to start your meal with the bastilla, a baked savory confection of crispy phyllo dough stuffed with fragrant chicken, crushed almonds and eggs. Mazagan is well-known for its tagines — traditional Moroccan stews prepared in clay pots — and also boasts an extensive list of kabobs. The wine list includes vintages from Lebanon and Morocco. Migrate to the lounge after dinner for some traditional Moroccan tea and hookah.
2901 Columbia Pike, Arlington; www.mazaganrestaurant.com
Dama Pastry and Restaurant
Impress your date with this family-owned and operated Ethiopian restaurant, located just in sight of the Air Force Memorial. Vegetarians and vegans in particular will enjoy the vegetarian sampler, which includes several richly-flavored vegetable stews with a palate-cleansing salad on the side. Each order is served with bottomless homemade injera, flat and slightly spongy bread used to scoop up the assortment of stews. Dama also serves breakfast, and the next-door bakery is worth stopping by for a quick slice of tiramisu cake.
1503 Columbia Pike, Arlington; www.damapastry.com/pastry
Bangkok 54 Restaurant and Bar
Bangkok 54 knows how to set the mood — the lighting is dim, the tables are candlelit, and the booths are cushioned by embroidered throw pillows. Pad Thai sophisticates can satisfy their craving with the delicate and silky version of the Thai classic served here. Located up the street from the Arlington Cinema and Drafthouse, Bangkok 54 is also a haven for heat-seekers: the bestsellers here are the spicy duck and the fiery kaprao (a wok-fried dish made with chilies, garlic and fresh basil). Want to try your hand at cooking Thai food at home? The restaurant also owns an Asian market next door.
2919 Columbia Pike, Arlington; bangkok54restaurant.com
FAST CASUAL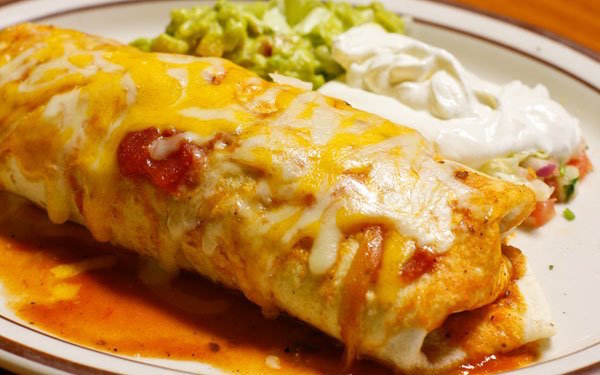 Abi Azteca Grill and Bar in Arlington. Photo via facebook.com/abi-azteca-grill-bar
Abi Azteca Grill and Bar
Abi Azteca may have a no-frills ambiance, but make no mistake: the food is serious El Salvadoran cuisine. Start your night by sharing an order of pupusas, or pan-fried stuffed cornmeal cakes. The cheese and loroco (herb) pupusa is a crowd favorite and arrives with a vinegar cabbage slaw and a smoky chili salsa. For your entrée, go traditional with the chicken fajitas, or opt for one of the signature steaks. Feeling under the weather? Try a bowl of the sopa de res, a hearty, rustic soup with roughly-chopped vegetables and chunks of beef on the bone. If you're hungry enough for dessert, their flan is failsafe.
3505 Columbia Pike, Arlington; 703-979-3579
Atlacatl 
Regarded as a popular lunch spot, Atlacatl specializes in pupusas and tamales. Shirking the free tortilla chips and salsa often served at Latin American restaurants, Atlacatl instead brings fried yucca and dipping sauce to the table upon your arrival. Try the Especial Atlacatl 2 for a little bit of everything: pan-fried steak, sausage, rice, and refried beans. Feel like staying in? No worries — Atlacatl does take-out.
4701 Columbia Pike, Arlington; 703-920-3680
Café Sazon
Located across the street from Atlacatl, Café Sazon's intimate lounge area and free Wi-Fi make it the ideal place to get work done. Breakfast is served all day — don't pass up the huevos rancheros — and the display case at the front contains traditional Latin American pastries. Grab a sweet empanada — the strawberry-filled ones sell out quickly here — and a cup of coffee on your commute, or opt to sit by the window and enjoy their Bolivian take on steak and eggs.
4704 Columbia Pike, Arlington; 703-566-1686 
Pedro and Vinny's
A D.C. original, Pedro and Vinny's Burritos has set up shop on Columbia Pike, making a booming business during the lunch rush. Hungry customers will certainly be sated by the enormous "honest to goodness" burritos, which come with a variety of hot sauces (ranked on their website according to spiciness, one being the lowest, and nine being the highest). Looking for lighter fare? Pedro and Vinny's also serves chicken, steak or pork tacos. Come here if you have a late-night craving; they're open until 3:00 a.m. on Friday and Saturday.
2599 Columbia Pike, Arlington; www.pedroandvinnys.com
Bob and Edith's Diner
Open all day every day, Bob and Edith's is a local favorite, serving classic breakfasts, sandwiches and subs. Avoid the crowds at weekend brunch by opting to visit late at night or early in the morning, when the coffee's fresh and the breakfast specials are being wheeled out. Choose the country-fried steak if you're in a breakfast mood, or get your fingers greasy with the classic cheeseburger and fries. Round out your meal — and loosen your belt — with a slice of key lime pie.
2310 Columbia Pike, Arlington; 703.920.6103
SWEET TREATS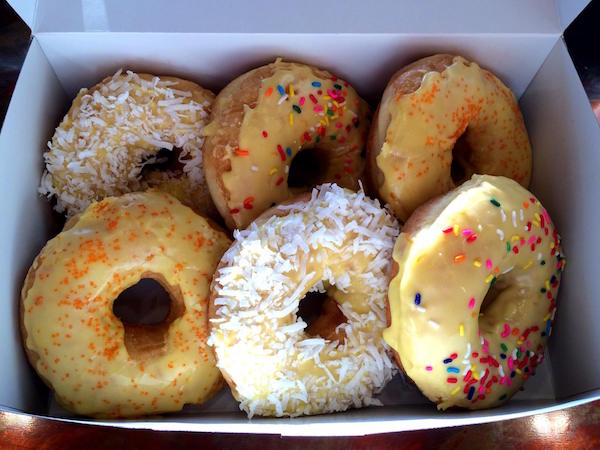 Sugar Shack in Arlington. Photo via facebook.com/sugarshacksoutharlington
Sugar Shack
Originally a Richmond establishment, Sugar Shack has recently set up shop just off of Columbia Pike. Swing by Sugar Shack on your commute to pick up one (or more) of its nationally-ranked doughnuts. If you like your treats sweet and savory, try the bacon-maple doughnut, which tends to sell out quickly. Need to dip that doughnut in a cup of joe? Not a problem — Sugar Shack's Arlington location brews Zeke's Coffee, which is based in Baltimore.
1014 S Glebe Rd., Arlington; www.sugarshackdonuts.com/locations/arlington
Pan American Bakery and Grill
Early birds often hurry to Pan American to get there before they sell out of their signature salteñas, the Bolivian version of a meat pie. Customers tend to stay for the other pastries, most notably the tres leches cake and the multi-layered passionfruit mousse. If you have the time to stay for lunch or dinner, Pan American specializes in steak platters, which are perfect for sharing.
4113 Columbia Pike, Arlington; www.panamerican-bakery.com
Raspados Tropical 
Cool off during one of Arlington's infernal summer days with a visit to the Raspados Tropical truck. Located in the parking lot of the Food Star grocery store, Raspados Tropical offers Latin American-style shaved ice, flavored with your choice of syrup. For a sweet and sour combination, choose a strawberry-lime raspado; the strawberry syrup is made with real pulp.
Located in the Food Star parking lot: 950 S. George Mason Dr., Arlington