Take-Home Dining Options That Take It Up a Notch
Time to think outside the pizza box. These prepared foods are good to go.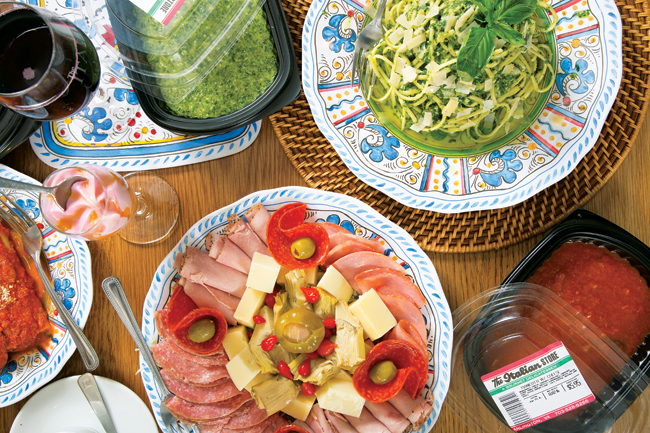 From The Italian Store: antipasto, frozen manicotti and a frozen dessert parfait, plus pesto and marinara sauces made with Tramonte family recipes. Photo by Stacy Zarin-Goldberg
"Thank goodness I don't have to make it myself!" is a mantra that anyone with a busy family, a long workday or absolutely zero culinary skills can appreciate. Fortunately, artful entertaining—or simply putting a decent dinner on the table—doesn't have to involve hours in the kitchen. Our area offers a veritable smorgasbord of to-go options that extend well beyond pizza, burritos and rotisserie chicken. Keep these local restaurants and markets in mind for any occasion that calls for food, be it a family dinner, Sunday brunch, impromptu cocktail party, cookout or game day buffet.
Sunday Dinner, Italian Style
The Italian Store, 5837 Washington Blvd. (Westover), 571-341-1080; 3123 Lee Highway (Lyon Village), 703-528-6266, Arlington; www.italianstore.com
Everyone knows The Italian Store as a go-to place for overstuffed cold-cut subs and New York-style pizza. (If you're stopping in on a Saturday afternoon, bring a book and prepare to wait.) But its other takeout offerings—especially those at the spacious Westover location, which opened last year—allow you to put on a Sunday dinner that would make Nonna proud. In fact, most of the recipes for the shop's homemade sauces and pastas come from owner Robert Tramonte's mother.
Start with a cheese-and-salumi antipasto spread and an array of salads, which range from artichoke or broccoli-tomato to pasta primavera. For the main course, try a house-made linguine with chunky, garlicky clam sauce or pesto. Or go for one of the heat-and-serve entrées, such as eggplant Parmigiana (made with crispy slices of eggplant and plenty of gooey cheese), baked ziti or chicken Marsala.
The frozen pastas, which are made with Italian Store recipes by a private company in New York City, excel. Line a pan with Nino's marinara sauce, top with spinach- and ricotta-cheese-filled manicotti, add more sauce, bake for 25 minutes and you're done. For dessert, pack up a few pints of freshly scooped Dolci Gelati, or try the surprisingly good Bindi frozen dessert parfaits, which are sold in real glasses. The coppa spagnola (swirled vanilla and amarena-cherry gelato) and the flute of colorful guava gelato with mango sauce will earn kudos.