Up in Arms
Many local residents bristle at the thought of a gun store in their neighborhood. But Arlington is already home to more guns than some may realize.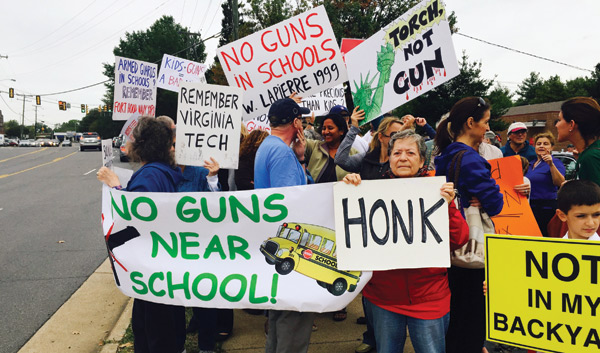 Protesters outside NOVA Firearms in McLean in 2015. Photo by Benjamin C. Tankersley.
Susan Newton never intended to become an anti-gun activist. But when gun retailer NOVA Firearms announced plans to open a store in Cherrydale this past May, she found herself conferring with neighbors and attending meetings about the shop's potential impact.
A short time later, Newton launched a Change.org petition opposing the store, arguing that its intended location at the corner of Lee Highway and North Pollard Street was too close to H-B Woodlawn and five other schools. Students walk past the strip mall on their way home every day.
With lockdown drills now standard practice in classrooms—a protocol that Arlington Public Schools teacher Launa Hall described as "rehearsing for death" in a recent op-ed in The Washington Post—having a gun store in the community would send the wrong message, Newton's petition argued.
"I don't think I'm saying to people in Arlington, You can't have a gun," says Newton, who lives in Donaldson Run. "But I think that [having a gun] is very different than having a [gun] shop. I don't have an ability to shield my kids from that influence."
As Newton's petition racked up nearly 2,700 electronic signatures, the National Rifle Association responded with a counter-petition in support of the store. But NOVA Firearms owner James "J.B." Gates (who was looking to relocate from a smaller retail space in McLean) ultimately lost his bid when the landlord conceded to pressure and cancelled the lease.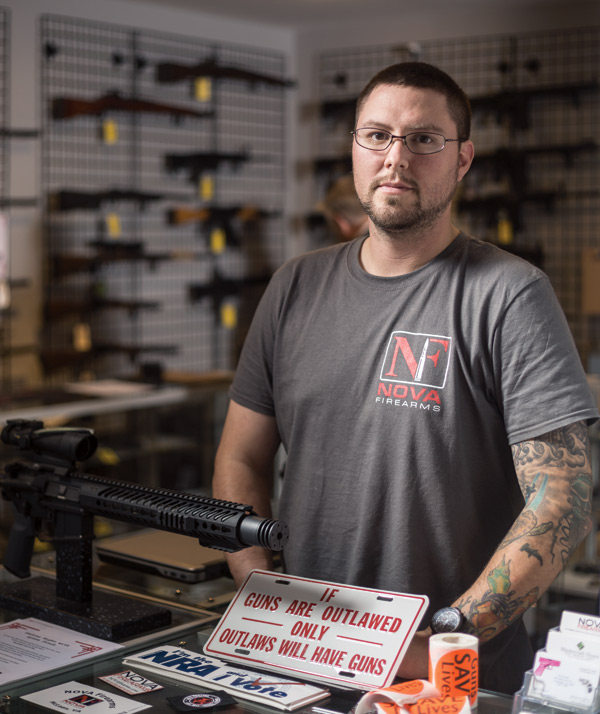 NOVA Firearms owner and U.S. Marine Corps veteran J.B. Gates at his store in McLean. Photo by Benjamin C. Tankersley.
"People did come in and say they would not come back" if a gun store opened [next door], says Chuck Kipp, owner of Sterling Picture Framing, whose shop would have shared a wall with NOVA Firearms.
John Nicholson, whose flower shop, Company Flowers, would have shared the opposite wall, worried that a gun store would inhibit the pedestrian traffic that he and other merchants rely on from surrounding neighborhoods. It just wasn't the right "fit," he says.
Annie Moyer, director of the Sun and Moon Yoga studio down the street, says she believed NOVA Firearms would have followed the letter of the law on age restrictions and safety precautions inside the store. But she feared the parking lot might become a transaction point for private gun sales, as well as a political staging ground for those inclined to assert their Second Amendment rights by openly carrying assault-style weapons.
"When there are guns in your community," Moyer says, "it is no longer a safe place to be."