Up in Arms
Many local residents bristle at the thought of a gun store in their neighborhood. But Arlington is already home to more guns than some may realize.
The thing is, Arlington already has its fair share of guns. National Pawnbrokers on Lee Highway (located roughly a half mile east of NOVA Firearms' intended spot in Cherrydale) has sold used guns legally for years. Three Arlington high schools have rifle teams that are virtually unknown and get little play in the local media. Capital Defense Instruction, a firearms academy headquartered one block from the Clarendon Metro, offers training classes several times a week. Many of its courses sell out weeks in advance.
And there are plenty of average citizens packing heat. Over the five years ending in 2014, more than 4,100 residents of Arlington and Falls Church applied for concealed handgun permits (aka "concealed carry" permits), according to data collected by Arlington Magazine from the Circuit Court of Arlington County, which also handles gun permit applications for the City of Falls Church.
In 2013, the Circuit Court received 1,100 concealed-carry applications—a marked increase over the 800 or so it receives in an average year, according to Circuit Court Clerk Paul Ferguson.
Why the uptick? Ferguson thinks the mass shooting at Sandy Hook Elementary School in Newtown, Connecticut, in December 2012 may have had something to do with it. "We were getting a lot [of applications] in the winter of 2013 because there was talk of [tighter gun control] restrictions," he says.
It isn't hard to get a concealed-carry permit in Arlington. To do so, an applicant must provide a certificate of handgun competency, proof of residence, a notarized application and a $50 fee.
"There's a 20-question online test that you can take to prove competency," says Josh Horwitz, executive director of the Coalition to Stop Gun Violence and an Arlington resident. "You can carry a firearm without ever having fired it or showed proficiency."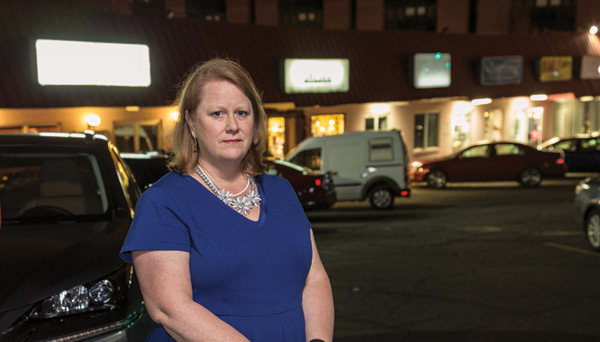 Community activist Susan Newton outside of NOVA Firearms' thwarted Cherrydale location. Photo by Benjamin C. Tankersley.
By law, the court has 90 days to review a concealed permit application, though most are processed faster than that. "The vast majority are approved," says Christopher Falcon, civil division supervisor of the Circuit Court.
Indeed, a review of 886 concealed handgun permit applications filed in  Arlington in 2012—the last full year such records were publicly available—finds only 10 that were denied. Of those, eight were rejected because the applicant had submitted to the wrong court. Of the other two, one applicant was denied because he failed to provide proof of competency with a firearm (which he could provide if he reapplied). The other application (in this case, to renew an existing permit) was denied because the applicant had been "charged with felony attempted malicious wounding for allegedly shooting at someone," according to court records. Permits must be renewed every five years.
And yet, concealed weapons permits only paint part of the picture where local gun ownership is concerned. Permits aren't required to carry a firearm openly in public, nor are they required for those wishing to buy or keep a gun at home—meaning the number of guns tucked into nightstands, home safes and garages around town is likely higher than court records indicate.
Of course, having a concealed handgun permit is not the same as using the permit. Before Heather Pizzamiglio moved to Arlington in 2012, she lived in D.C.'s Cleveland Park neighborhood. A single mom with two kids, she worked near NASA's headquarters in Southwest D.C.—an area that turned into a ghost town after hours. "There were women who had been attacked there early in the morning," she recalls. "Anytime after 6 p.m., the whole feel of the area changed."
Taking steps to feel less vulnerable, Pizzamiglio moved her family to Arlington, bought a 9-mm handgun and received her concealed weapons permit. "Having a weapon on me was something I thought I'd need," she says.
But she soon discovered it was easier to leave the gun locked up at home. In Arlington, many privately owned stores and restaurants prohibit guns on the premises—even if they are concealed—and customers carrying concealed weapons cannot legally drink alcohol at bars. Guns also are not allowed in schools or on school property, other than in cars during drop-offs and pickups. And though Virginia has reciprocity agreements with more than two dozen states allowing Virginia permit-holders to carry guns in those states, Maryland and the District of Columbia are not among them. Meaning Pizzamiglio couldn't carry on her way to and from work.
"I just had the permit. I did not carry at all, actually," says Pizzamiglio, who has since moved out of the area. "I was more afraid of breaking the law unintentionally by driving into Maryland [than I was of potential attackers]."