8 Great Hikes Close to Home
Can't-miss trails for when you want to get closer to nature.
As the weather starts to (hopefully) turn from sweltering to tolerable, NoVa residents are hitting the trail. And they have plenty to choose from. Whether it's a challenging hike to a scenic overlook or a slow-and-steady path through a local nature center, here are a few favorite trails near home.
The Potomac Heritage National Scenic Trail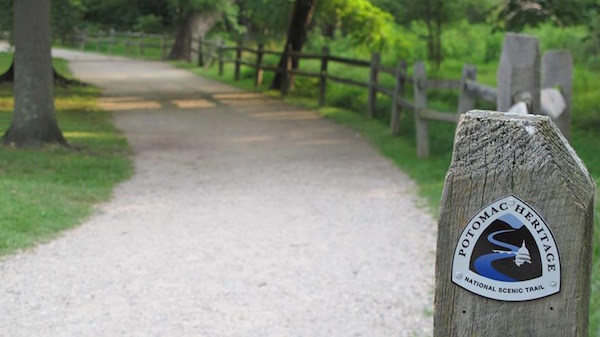 Photo via nps.gov
The Potomac Heritage National Scenic Trail is one of only 11 officially designated National Scenic Trails in the nation, along with the Appalachian and Pacific Crest Trails.
The trail runs some 830 miles from the Ohio River Basin to the Chesapeake Bay, but locals can opt for the 10-mile section of trail that winds through McLean and Arlington from Scott's Run to Roosevelt Island, winding along the Potomac River.
Arlington Magazine contributor Sue Eisenfeld describes the trail this way: "In early spring, a mind-blowingly beautiful field of Virginia bluebells follows you through floodplain areas, and in fall, you can find pawpaws, or 'custard apples,' a little-known native fruit that George Washington enjoyed for dessert.
"Walking the narrow, verdant path brings bald eagle and osprey sightings and the sounds of lapping shores and roiling eddies to awaken senses dulled by everyday Washington-ness. It's so close to D.C. and all of its grand global importance, and yet it seems so very far away."