8 Great Hikes Close to Home
Can't-miss trails for when you want to get closer to nature.
As the weather starts to (hopefully) turn from sweltering to tolerable, NoVa residents are hitting the trail. And they have plenty to choose from. Whether it's a challenging hike to a scenic overlook or a slow-and-steady path through a local nature center, here are a few favorite trails near home.
The Potomac Heritage National Scenic Trail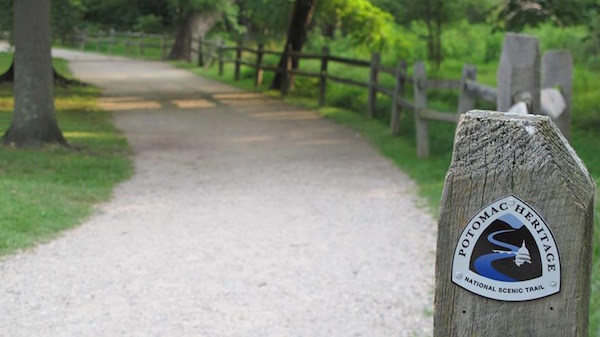 Photo via nps.gov
The Potomac Heritage National Scenic Trail is one of only 11 officially designated National Scenic Trails in the nation, along with the Appalachian and Pacific Crest Trails.
The trail runs some 830 miles from the Ohio River Basin to the Chesapeake Bay, but locals can opt for the 10-mile section of trail that winds through McLean and Arlington from Scott's Run to Roosevelt Island, winding along the Potomac River.
Arlington Magazine contributor Sue Eisenfeld describes the trail this way: "In early spring, a mind-blowingly beautiful field of Virginia bluebells follows you through floodplain areas, and in fall, you can find pawpaws, or 'custard apples,' a little-known native fruit that George Washington enjoyed for dessert.
"Walking the narrow, verdant path brings bald eagle and osprey sightings and the sounds of lapping shores and roiling eddies to awaken senses dulled by everyday Washington-ness. It's so close to D.C. and all of its grand global importance, and yet it seems so very far away."
---
Theodore Roosevelt Island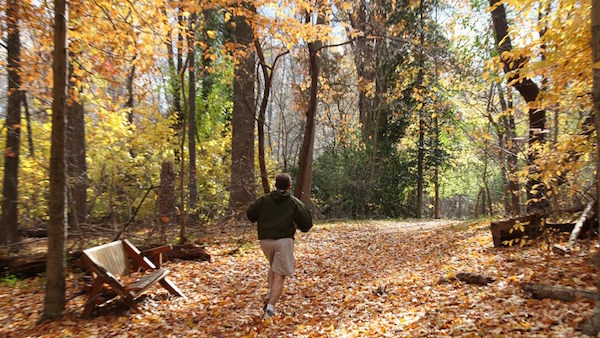 Photo via nps.gov
Wedged between Arlington and Georgetown, Theodore Roosevelt Island is a popular spot for area hikers, runners and families.  The 90-acre island features many different shorter trails off the main loop.
Arlington Magazine writer Kim O'Connell describes the side trails as narrower, rootier and rockier than the main trail.
"Especially on the eastern side of the island, where a long boardwalk takes you through a boggy swamp and tidal marsh, the sights and sounds of the city fall away (except for the omnipresent airplanes ascending or descending overhead)," O' Connell writes. "Stop at a bench or an overlook and you may spot a blue heron or red-shouldered hawk perched on a branch."
---
Turkey Run Loop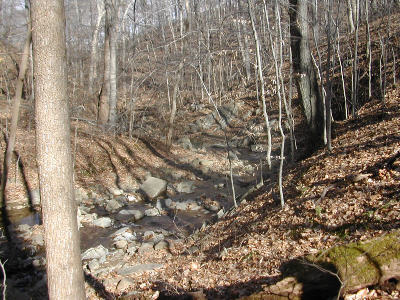 Photo via localhikes.com
"Don't expect to see any wild turkeys trotting down this 1.75-mile loop trail; it's named after one of the many streams—called runs—that flow beneath the George Washington Memorial Parkway and into the Potomac River," writes Arlington Magazine contributor Laurie McClellan. "But what this trail might lack in gobbling, it makes up for in wildflowers, lovely river views and some streamside hiking along Turkey Run."
This an easy-to-moderate hike is part of the larger Potomac Heritage Trail, and begins at the C-1 parking lot in Turkey Run Park, located off the George Washington Parkway in McLean.
---
Scott's Run Nature Preserve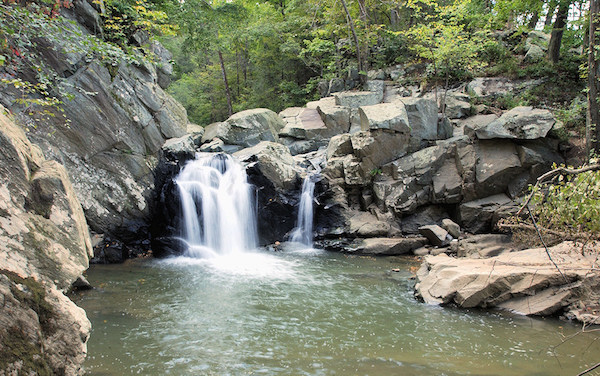 Photo via fairfaxcounty.gov
McLean is home to several popular hiking and biking trails, but none boast a view quite as beautiful as the waterfall at Scott's Run. You'll find the falls off a stream that cuts through the nature preserve and heads to the Potomac River. But if you're thinking of cooling off with a quick dip, take note: Swimming and wading in the water is illegal.
"If you're all about business, the most direct way to hike Scott's Run is to beeline to the stream, cross the stone pilings and then head straight to the waterfall and back again," writes Arlington Magazine contributor Madelyn Rosenberg. "Other trails lead to rock outcroppings or to the ruins of the old Burling House, named for the family that once owned the property.
"Today, wildflowers such as mayapple (so named because it blooms in May), Dutchman's breeches, Virginia bluebells and bloodroot can be seen along the paths, while ducks bathe in the stream."
At nearly 400 acres, Scott's Run includes seven different hiking trails in all. To enter, look for signs off of Georgetown Pike.