8 Great Hikes Close to Home
Can't-miss trails for when you want to get closer to nature.
Scott's Run Nature Preserve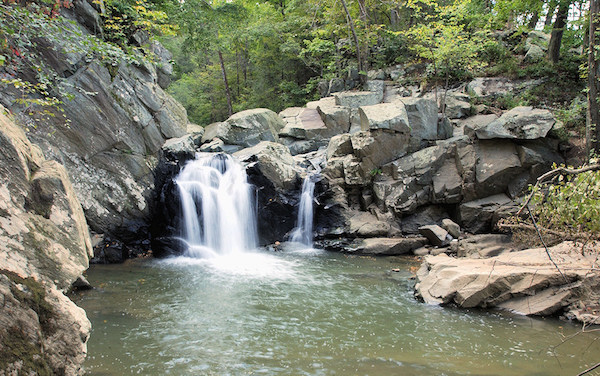 Photo via fairfaxcounty.gov
McLean is home to several popular hiking and biking trails, but none boast a view quite as beautiful as the waterfall at Scott's Run. You'll find the falls off a stream that cuts through the nature preserve and heads to the Potomac River. But if you're thinking of cooling off with a quick dip, take note: Swimming and wading in the water is illegal.
"If you're all about business, the most direct way to hike Scott's Run is to beeline to the stream, cross the stone pilings and then head straight to the waterfall and back again," writes Arlington Magazine contributor Madelyn Rosenberg. "Other trails lead to rock outcroppings or to the ruins of the old Burling House, named for the family that once owned the property.
"Today, wildflowers such as mayapple (so named because it blooms in May), Dutchman's breeches, Virginia bluebells and bloodroot can be seen along the paths, while ducks bathe in the stream."
At nearly 400 acres, Scott's Run includes seven different hiking trails in all. To enter, look for signs off of Georgetown Pike.