Are There Two Arlingtons?
Understanding the history behind Arlington's North-South divide and how it's shaping present-day perceptions and realities.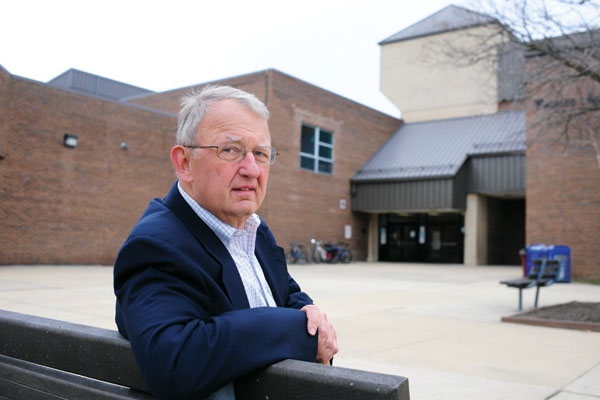 John Milliken. Photo by Michael Ventura
Sometimes the best decision for the county as a whole is not in the best interests of a single neighborhood or a smaller subset of residents, adds John Milliken, who was recently appointed chair of the Arlington Community Facilities Study Task Force, a group formed in January to make recommendations regarding the future placement of schools, fire stations, vehicle storage and other county services.
A resident of Arlington Ridge, Milliken is now charged with creating a 20-year "resource strategic plan" that is geographically agnostic.
"I think the criteria should apply countywide," says Milliken, who is no stranger to controversy. He served on the Arlington County Board in the 1980s, during a time when political tensions were high over the development of the Rosslyn-Ballston Metro corridor and its effects on adjacent neighborhoods.
There is a certain pride of place in South Arlington today.
A line of T-shirts and hoodies, created by Wakefield High School alum Ryan Fountain, bears images of well-known landmarks, intersections and neighborhoods, from Shirlington to Green Valley, with the words "South Arlington" in bold type. One shirt reads, "It's not an accident kids from South Arlington are successful!"  Fountain worked as a facilities manager in the cultural affairs division of Arlington Economic Development before recently relocating to Austin, Texas.
At L.A. Bar (the acronym stands for Lower Arlington) across from Penrose Square on Columbia Pike, the slogan "Keeping yuppies out of South Arlington" strikes a defiant tone.
But some county residents view such invocations as counterproductive. "I've seen great changes in Arlington as a whole," says Taylor, the former Nauck Civic Association president, who holds a doctorate from Virginia Tech. He understands the origins of some old resentments, but says he prefers to focus on establishing unity as the county evolves to find its 21st-century identity.
"I personally believe in one Arlington," concurs David Remick, a resident of the Claremont neighborhood in South Arlington. Now the executive director of the Alexandria/Arlington Workforce Investment Board, he originally moved to Arlington from Boston, where, he says, similar tensions exist between areas like South Boston and the city's more-affluent neighborhoods.
"I understand people's frustrations," Remick says, though he sees little evidence of a dichotomy in Arlington today. "The way I see it, my daughter will be attending a brand-new Wakefield High School. When it snows, my neighborhood is one of the first to get plowed. I go to the [county-run] Barcroft sports complex to work out. I have no complaints."
But some say the "south card" still gets played in certain scenarios.
"It was an easy retort when the streetcar [discussion] was going on, [as in] 'Oh, it's South Arlington's turn' [to get some serious development money]," says Matt Wavro, a former county board candidate and the current chair of the Arlington GOP. He lives just off Columbia Pike and did not support the streetcar measure. "People would just say, 'Money…If we don't get this, it will take us another 20 years to get something.' "
A few residents also cried foul when a planned concession stand on Wakefield High School's athletic fields was missing from the school's renovation blueprints. The oversight was quickly rectified and the stand was built, but some still saw it as "one more example" of South Arlington getting ignored.
"[The concession stand was] one of those things that—oops—fell through the cracks at first," says Wakefield PTA President Kate McCauley-Balick.
McCauley-Balick lives in North Arlington (Courthouse). Her kids went to Gunston Middle and Wakefield High after completing the Spanish immersion program at Key Elementary. She says her current role as head of the PTA is a testament to her appreciation for the fine education her kids have received at Wakefield. And with a price tag of $118.6 million (one of the most expensive school renovations in state history, according to the Virginia Department of Education), she says one would be hard-pressed to accuse the county of skimping on the school building itself.
Similarly, others say the ongoing characterization of South Arlington as economically stagnant is tough to defend when one considers the massive tide of redevelopment that has swept areas like Shirlington, Pentagon City, Crystal City and Columbia Pike in recent years.
"I think it's well on the way to becoming upscale," says John Van Doren, an arts and antiques consultant and fourth-generation Arlingtonian who has lived in the Bluemont neighborhood since childhood. He sees the persistence of North-South stereotypes as misguided and culturally detrimental.
"South Arlington doesn't mean any one thing to any one person," he says, noting that the neighborhoods that make up the county's southern half are as diverse as the people who live there.
---