Where to Eat and Drink in Merrifield/Mosaic District
Choices abound in this rapidly redeveloping area on the Falls Church/Fairfax border.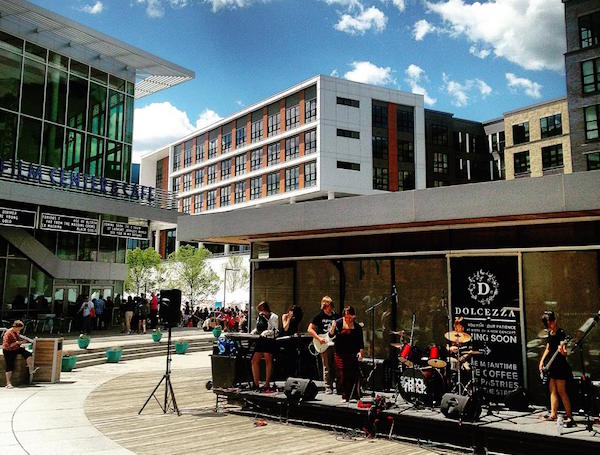 Merrifield's Mosaic District, while coffee shop Mom & Pop was still under construction. Photo via facebook.com/mosaicdistrict
Mention Merrifield—the NoVa neighborhood that's not-quite-Fairfax and not-quite-Falls Church—and you'll likely get a knowing nod from serious shoppers. The neighborhood's popular Mosaic District is a destination known as much for its clothing retail (think Anthropologie, Lululemon, Madewell) as it is for gourmet food and gifts (Ah Love Oil & Vinegar, Red Apron Butcher, Capital Teas).
Situated within walking distance of the Dunn Loring-Merrifield Metro stop on the Orange Line, this quickly redeveloping area is also home to a swath of enviable townhouses and offices. And between the shoppers, residents and area workers, restaurant business is booming.
Merrifield dining scene (both inside and outside of Mosaic) boasts a wide variety of restaurants ranging from fast-casual cafés to date night spots from big name chefs. Here are a few of our favorites:
Family Brunch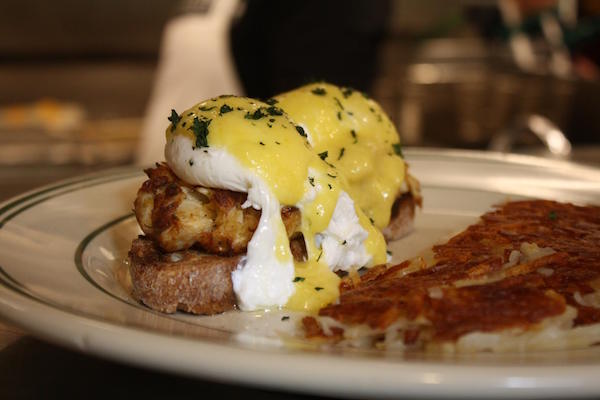 Breakfast at Ted's Bulletin. Photo via facebook.com/tedsbulletin
Ted's Bulletin
The all-day breakfast at this upscale diner at Mosaic—part of a DC-area chain that includes neighboring Matchbox—will please both grown-up and kid-sized appetites alike. Entrées are classic and hearty, including steak and eggs, biscuits and sausage gravy, and fried chicken biscuits. Kids will especially enjoy the homemade Pop Tart, aka Ted's Tart, that comes with the Big Mark Breakfast—a hunger-crushing platter of three eggs, bacon, sausage, hash browns and toast. Ted's Tarts are also available for purchase to-go and a la carte.
2911 District Ave., Fairfax; 571-830-6680; tedsbulletin.com
DGS Delicatessen
Fans of smoked fish will be in heaven at this Mosaic District eatery, which serves contemporary takes on Jewish deli favorites and is a spin-off of the original location in Dupont Circle. The smoked whitefish salad, smoked salmon platter and other dishes all feature fish that is smoked in-house. In the sharing mood? Get a plate of potato latkes (served with sour cream and house-made apple preserves) for the table.
2985 District Ave., Fairfax; 703-280-1111; dgsdelicatessen.com
Silver Diner
The Merrifield location of this East Coast chain serves breakfast all day, including fully-loaded omelets and outside-the-box pancakes and French toast. Quinoa-coconut pancakes come with blueberries, pecans, grilled bananas, strawberries and cinnamon sour cream, while the banana-stuffed French toast features layers of vanilla bean cream, chocolate chips and salted caramel. Plan on scheduling a nap after you're done.
8150 Porter Rd., Falls Church; 703-204-0812; silverdiner.com
Sea Pearl
Have picky eaters in the family? Hit up Sea Pearl's Sunday brunch from 10 a.m.-3 p.m. The $35 per-person spread (half-off for kids under 10) features traditional breakfast dishes mixed with Asian-influenced bites. That means you can chase pancakes and pork sausage with fresh sushi and steamed buns.
8191 Strawberry Lane, Falls Church; 703-372-5161; seapearlrestaurant.com
Shopping Fuel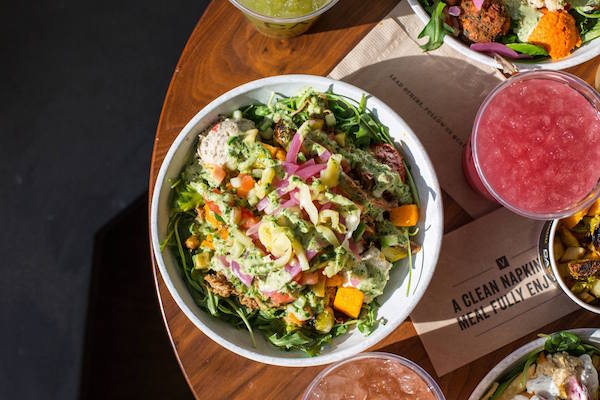 Lunch at Cava Grill. Photo via facebook.com/cavagrill
Cava Grill
Centrally located amid Mosaic's shops and boutiques, this Mediterranean spot is a good choice for a protein-packed lunch. The quick-service restaurant features customizable salads, grain bowls and pita wraps which can be layered with hummus, feta mousse, tzatziki, grilled chicken, braised lamb, falafel and more. Need your eats extra fast? Order online to have your lunch ready when you arrive.
2905 District Ave., Fairfax; 703-988-4313; cavagrill.com
Sisters Thai – The Ordinary Cafe
Take a break from shopping at this comfy Thai café, a spin-off of the original location in Old Town Fairfax. Veggie lovers, or those looking for lighter fare, will appreciate options like fresh spring rolls, pad eggplant and som tum (green papaya salad). Feel like indulging? Try a piece of the matcha chocolate cake or green tea cake for dessert. Lines can be out the door for this homey spot (picture pillow-lined bench seats and bookshelves), so arrive at a non-peak hour if you don't like to wait.
2985 District Ave., Fairfax; 703-280-0429; sistersthai.com
Mom & Pop
For a caffeine jolt (or a relaxing beverage), check out Mom & Pop, a coffee shop from the team behind Dolcezza Gelato, which operates a location just across the street. It's hard to miss the glass-enclosed café, which stands apart in the center of the Mosaic District near the Angelika Theater. The menu features Stumptown Coffee Roasters brews, along with a selection of pastries, sandwiches, wine and local beer from breweries like Atlas and DC Brau.
2909 District Ave., Fairfax; dolcezzagelato.com
True Food Kitchen
Get a nutritional boost at this health food-focused chain. Indulge in a spread of appetizers like the creamy avocado and kale dip, herb hummus, edamame dumplings and bruschetta piled with asparagus, radishes and goat cheese. Entrees include pizzas, salads, sandwiches and dishes like roast chicken, turkey lasagna and sustainable seafood. Need to cool down on a hot day? Opt for one of the housemade sodas or a cold-pressed juice.
2910 District Ave., Mosaic District; 571-326-1616; truefoodkitchen.com
Spice 6 Modern Indian
Steps from the trains at the Dunn Loring-Merrifield metro station, Spice 6 offers Indian favorites in fast-casual style. Guests can customize a rice bowl, naan pizza, naan wrap or salad, or opt for a kabob entrée. Toppings include chicken, lamb, tofu or paneer with sauces like tikka masala, korma masala and more.
2674 I Avenir Place, Vienna; 703-641-0080; spice6modernindianva.com
Happy Hour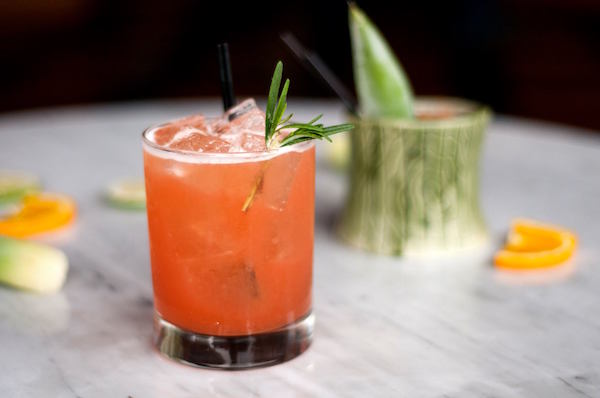 Drinks at Trio Grill. Photo via facebook.com/triogrill
Trio Grill
Tucked into a new pocket of development on Lee Highway, this upscale American spot—from the owners of Circa in D.C. and Clarendon—has a steakhouse vibe and offers happy hour specials from 4-7 p.m. Monday through Friday, including $7 appetizers like tuna tartar nachos and lemongrass shrimp skewers. Soak up some sunshine out on the patio, or enjoy your cocktail in the restaurant's cigar lounge.
8100 Lee Highway, Falls Church; 703-992-9200; triomerrifield.com
Open Road Grill
Located in the same strip with sister restaurant Trio Grill (the two are separated by Merrifield Wine & Beer), Open Road is the more casual sibling, serving up plenty of outdoor seating and comfort food favorites like wings, nachos, guacamole, burgers and pizza. Happy hour from 4-7 p.m. Monday-Friday brings discounts on the bar's extensive beer menu. Stick around after happy hour for live music Monday-Saturday.
8100 Lee Highway, Falls Church; 571-395-4400; openroadgrill.com
Sweetwater Tavern
Craft beer fans will appreciate bellying up to the bar for a post-work pint at this Merrifield brewpub. Sweetwater has locations in Centreville, Sterling and Merrifield, each featuring the tavern's signature brews, including the Straight Shooter Stout, Red Ryeder IPA and Great American Restaurants Pale Ale. Sip your pint on the extensive covered patio or grab a growler to-go.
3066 Gate House Plaza, Falls Church; 703-645-8100; greatamericanrestaurants.com/sweetwater/merrifield
Ovvio Osteria
This Italian restaurant at Halstead Square may be known for gnocchi and rigatoni, but it's the drink specials that drive visitors to the bar from 4-7 p.m. The daily specials include $2 off beers, $3 off some wines and $4 off specialty cocktails. The cocktail menu runs from $11-$15 and includes classics like The Last Word (chartreuse, gin, luxardo and lime) and a Caipirinha (cachaca, St. Germaine, lime juice, grapefruit bitters), along with unique options like La Mela, made with Crown Royal, Apple Pucker and cranberry juice.
2727 Merrilee Drive, Merrifield; 703-573-2161; ovvioosteria.com
Date Night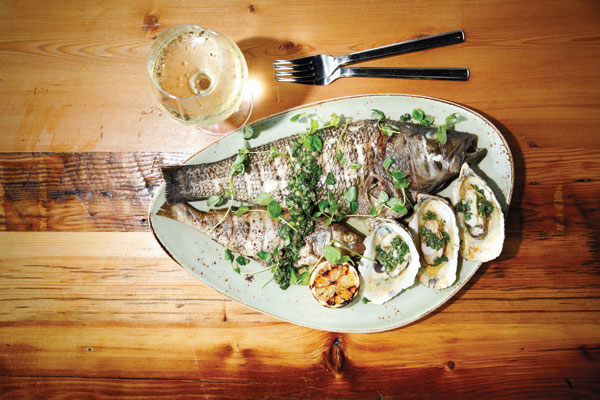 ​Seafood rotisserie with charred lemon and anchovy salsa verde at Brine. Photo by Jonathan Timmes
Brine
Start date night off with a dozen oysters from the ample raw bar at this trendy Mosaic establishment. Owner Travis Croxton, co-owner of Rappahannock River Oysters, makes sure the restaurant is perpetually stocked with multiple varieties of bi-valves, ranging from sweet to briny. Select oysters are $1 each from 3:30-7 p.m. daily, or opt for entrées like seared trout with a spiced tomato broth or sea scallops with cipollini onions and harissa.
2985 District Ave., Fairfax; 703-280-1000; brinerestaurants.com
Requin
Treat your sweetheart to reservations at this much-buzzed-about French-Mediterranean spot by chef Jennifer Carroll (Mike Isabella is a partner). The seafood-focused menu is heavy on small plates, including escargot with a roasted-garlic béchamel, wild king salmon with blood orange and fennel, smoked blue catfish rillettes and more. Diners in a rush to make a movie at Angelika Theater will want to check out the pre-theater menu, which includes dishes that come out quickly.
8296 Glass Alley, Fairfax; 703-462-8662; requinbymic.com
Iron Chef House
Settle in for an intimate dinner for two at this sleek Mosaic District sushi spot. Iron Chef House opened in summer 2015 and has been finding favor with diners for elaborate signature rolls like the Fantasy Roll, layered with lobster, crab, eel, shrimp, avocado and cream cheese.
2985 District Ave., Ste. 145, Fairfax; 703-280-5555; ironchef.house
B Side
Looking for a laid back date spot? B Side—a tiny restaurant adjoining the adjacent Red Apron Butcher—features indulgent dishes like beef fat fries with confit garlic, a smokehouse burger topped with pulled pork and chef/butcher/owner Nate Anda's "Rotissifried Chicken," a half-roasted, half-fried chicken with hot honey sauce. Pair it with a brew from the extensive beer menu, which features selections from craft breweries across the U.S.
8298 Glass Alley, Fairfax; 703-676-3550; bsidecuts.com