Where to Eat and Drink in Shirlington
If a village vibe is what you seek, this is the place.
The Village at Shirlington takes its name from the nearest major roadway— Route 395 also goes by "Shirley Highway"—but don't let the interstate reference fool you. Hop off the highway and you'll find yourself immersed in a pedestrian-friendly shopping, dining and arts district that continues to grow and expand. Flanked by Signature Theatre at one end and Capitol City Brewing Co. at the other, Shirlington has become a prime spot for street festivals (including Cap City's annual fall Oktoberfest), outdoor summer concerts and other seasonal events.
With its plentiful sidewalk cafes (some equipped with heat lamps on chilly nights), Shirlington's atmosphere is often lively. A typical Friday night or Saturday afternoon finds crowds of all ages, include plenty of canines who are welcome to occupy the patios with their owners. The scene skews toward local restaurant chains (emphasis on local) and offers enough options that you can drive there nearly any time of day—and then decide what you're in the mood for.
Not sure where to start? Here are a few of the area's top haunts:
COFFEE & BREAKFAST

Busboys & Poets
The all-day eatery and coffee shop, named after busboy-turned-poet Langston Hughes, was restaurateur Andy Shallal's second of six outposts in the Washington area when it opened in 2007. Call ahead to snag a seat for a weekend brunch of Mekhleme (an Iraqi spin on corned beef hash) and sweet potato pancakes, or stop in on a weekday morning for atmospheric inspiration (Friends-like couches included) over a vegan-friendly breakfast and coffee. 4251 South Campbell Ave.; (703) 379-9757, busboysandpoets.com/about/shirlington
Best Buns Bread Company
Meet the bakers behind those Great American Restaurant breadbaskets (the ones with the fried dough balls) served at Carlyle next door, as well as sister restaurants elsewhere in the area, including Coastal Flats and Sweetwater Tavern. Hearth-baked bagels or almond-walnut croissants make for great breakfasts on the go with coffee. Or, grab a loaf of the brioche and make an at-home version of Carlyle's legendary French toast. 4010 Campbell Ave.; 703-578-1502, greatamericanrestaurants.com/bestbuns
Peet's Coffee & Tea
The less omnipresent Seattle coffee chain brings variety to the Shirlington strip, tucked between a smoothie shop (Robek's Fruit Smoothie & Healthy Eats) for the morning crowd and a movie theater (AMC Loews Shirlington 7) for the night owls. Peet's locations are known for longer roasting times of their beans, resulting in some darker flavors. 4115 S. Campbell Ave.; peets.com
LUNCH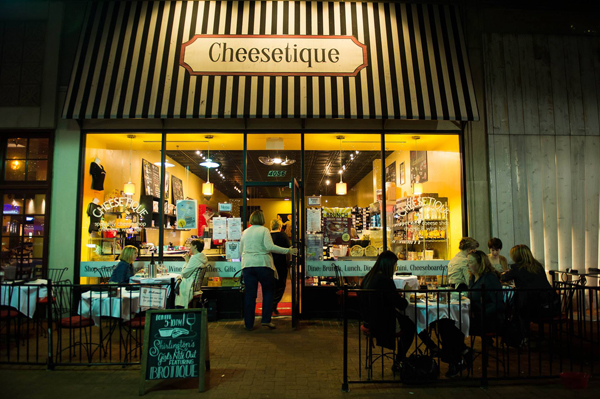 Cheesetique
A (lactose-tolerant) ladies lunch couldn't find a better location than this specialty cheese shop that has churned out the "Best Mac 'n Cheese in the Country," according to both Food & Wine and Travel + Leisure magazines. The menu features sharable dishes like fromage fort (i.e. a fort of melted, wine-laden cheeses for dipping) and arugula salads to sop up the guilt. Stop by the shop to take the makings of a cheese board home. 4056 Campbell Ave.; 703-933-8787, cheesetique.com
Carlyle 
Speaking of Great American Restaurants, Carlyle doesn't fail when it comes to lunch for a mixed group—from diners with gluten sensitivities to the under-12 set. The bar-centric bistro features the best of American fare in an airy, sophisticated setting. Consider swapping lunch for brunch on weekends or dining on the patio as the seasons allow. 4000 Campbell Ave.; 703-931-0777 (call ahead), greatamericanrestaurants.com/carlyle
​T.H.A.I. in Shirlington
Thai fans can get their fill at this longstanding spot on Shirlington's main drag. Lunch specials run from 11:30 a.m.-4 p.m. and include $6.99 entrees like a crispy shrimp bahn mi, tom yum ramen or pad gai. Don't have much time? Order ahead online for quick carryout service. 4029 Campbell Ave; 703-931-3203, thaiinshirlington.com
*Need to pick up a last-minute gift on your lunch hour? Try Ah Love Oil & Vinegar's Shirlington location at 4017B Campbell Ave. The shop is a foodie favorite, stocked with infused olive oils, fine vinegars and a wide selection of giftworthy artisan food items.
DINNER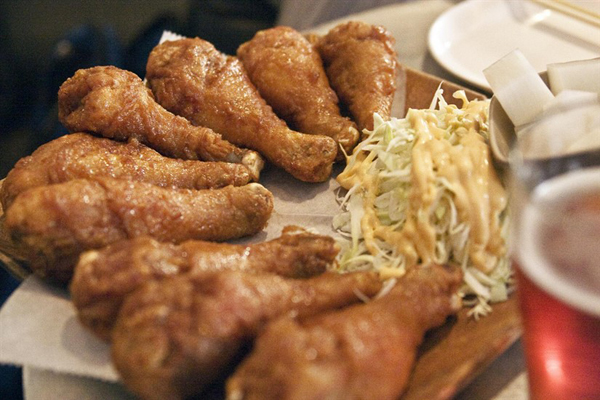 Dak Chicken
Shirlington got its first taste of Korean fried chicken when this fusion eatery moved to town last year, bringing bulgogi tacos and kimchi coleslaw to the main drag. Here, spicy soy-and-honey-glazed chicken comes in wings or strips and up to 20 pieces at a time. 4040 Campbell Ave. NW, Arlington, Va.; 571-982-5862, dakchicken.com
Osteria da Nino
Meet Nino and you'll know you've landed in the hands of a 40-year Italian hospitality veteran. His eponymous restaurant is tucked around the corner from the main strip in the former Curious Grape space. Nino's Sicilian background plays into dishes ranging from Garganelli con ragù (pork ragu) to squid ink tagliatelle tangled with shrimp, scallops and calamari. 2900 S. Quincy St.; (703) 820-1128, osteriadaninova.com
Guapo's
Sometimes the only antidote to a wintry Friday night is a heaping pile of Mexican food, and Shirlington has that, too. Chimichangas, fajitas and sizable margaritas (not the machine-mixed kind, but the real deal) are all on tap at this neighborhood eatery. Sure, the staff sings happy birthday when the occasion calls for it, but the din provides just enough cover for a family trying to get a night out with (or without) the kids. 4028 Campbell Avenue; 703-671-1701, guaposrestaurant.com
* Palette 22 is expected to add to Shirlington's international offerings with a February 2016 opening. The concept combines "modern street food" and small plate dishes with international flavor. The dining room will feature live studio space for working artists. 
DRINKS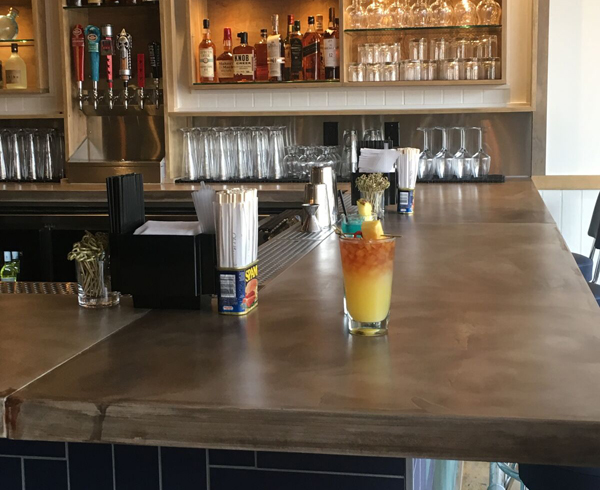 Hula Girl Bar & Grill
Sure, the food truck that spawned this eatery was all about spam musubi and other signature Hawaiian dishes. But in the brick-and-mortar restaurant that opened in November, beach wishers can have their spam and drink something, too. The Hula Girl Mai Tai features macadamia orgeat and tiki bitters alongside two types of rum. The Diamond Head Sunset, complete with guava and carrot juice, reads something like a health drink (but for the ocean vodka). That's not to mention bonafide Hawaiian brews. The bar stays open until 11 p.m. on weekends, 10 p.m. on weeknights. 4044 Campbell Ave.; 703-998-4853, hulagirlbarandgrill.com
Copperwood Tavern
Juniper-infused moonshine more your style? Swing by the bar with 10 different moonshines (un-aged whiskey) and 30 different bourbon choices on hand to wash down farm-to-table dishes. The drinks list features boozy warmers for wintry nights, alongside mules and nogs. It's Reclaimed Nail cocktail pairs sweet potato syrup with absinthe, Drambuie and scotch, for starters, with a focus on local purveyors. Open until 2 a.m. Saturday and Sunday, 1 a.m. Sunday through Thursday. 4021 Campbell Ave.; 703-552-8010, coperwoodtavern.com
Samuel Beckett's Irish Gastro Pub
Have your Guinness with a side of Irish ambiance, live music or a rugby match at this neighborhood pub, open daily until 2 a.m. Or, whet your whistle with a selection from the cocktail menu. The Sophisticate features "hangover-free Reyka vodka" (and free humor) while a signature martini is infused with ginger syrup. Look for the red door on the corner when stopping in for happy hour weekdays from 4 to 7 p.m., or trivia night at 7:30 p.m. Tuesdays. 2800 S. Randolph St.; 703-379-0122, samuelbecketts.com
New District Brewing Company
Opened in January, this new brewery and taproom is a little off the beaten path (it's around the corner in a warehouse off of Four Mile Run) but is worth the detour. New District features brews like the "Bury The Past" ESB, "Folded Note" Pilsner, "1821" Ale and a spicy ginger saison. Try a pint at the bar or snag a growler to go. 2709 S. Oakland St.; 703-888-5820, facebook.com/newdistrictbrewing