Arlington's Hottest Musicians
Meet the biggest names in local music, from rising stars and Grammy nominees to legends of blues, bluegrass and reggae.
Speedy Tolliver
Speedy Tolliver has slowed down a bit.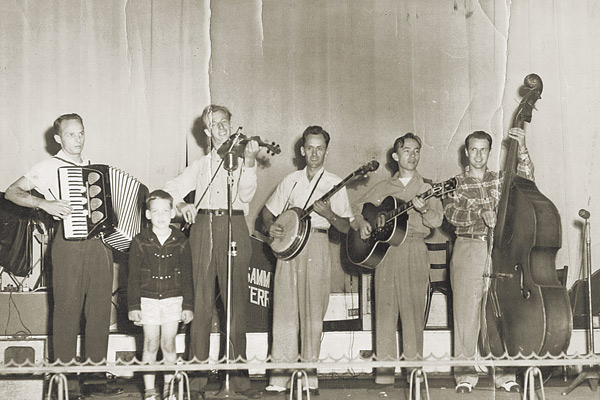 Courtesy Photo
In the early 2000s, the local bluegrass legend was still performing several times a week in and around Arlington, but these days he's content to pass the time socializing in Bluemont, his neighborhood for more than five decades. At 97, Tolliver performs in public only on occasion, though he insists he hasn't lost his musical chops.
Born in 1918 in Green Cove, Virginia, a blue-collar hamlet at the foothills of the Blue Ridge Mountains that harbors a rich folk music tradition, Tolliver (whose given name is Odell Roy) never received formal training. His father played the harmonica and banjo, and he was exposed to hordes of amateur players who were well-versed in bluegrass, country and old-time music. Tolliver cut his teeth on the banjo, using his adept listening skills and a talent for mimicry to re-create songs and melodies by ear.
"I was a natural talent," the nonagenarian explains in a Southern drawl.
By his late teens, the budding musician—who had earned the nickname "Speedy" not for the velocity with which he plucked strings, but as a tongue-in-cheek reference to his habit of sauntering about—was acquitting himself well in banjo competitions at the renowned White Top Folk Festival in Grayson County, Virginia. First lady Eleanor Roosevelt attended the festival one year and made a point of shaking his hand.
But as the Great Depression set in, scratching out a living in Green Cove became more difficult, prompting Tolliver to consider his options. He flirted with the idea of going to California and made it as far as Cincinnati before heading back home. In 1939, he migrated north, along with thousands of other Virginians searching for work and a better life, landing in the Washington, D.C., area.
The influx of rural transplants in the early 1940s turned the nation's capital into a haven of bluegrass music, and it didn't take Tolliver long to make a name for himself. He formed the Lee Highway Boys with his friend John Stringer, transitioning to the fiddle and quickly demonstrating the same level of adroitness as he had on the banjo. The Lee Highway Boys performed at establishments like Hunter's Lodge in Fairfax County—a rowdy roadhouse that stood on the site of what is now Costco Plaza—as well as at private parties and other social gatherings where folksy traditions like square dancing abounded.
Tolliver's ability to incorporate bluegrass stylizations and facets of old-time music—a mountain folk tradition that predates bluegrass—into single melodies or songs became a calling card, though, by the 1950s, he had put his music on hold, taken a job at a U.S. Navy munitions factory in Indian Head, Maryland, and started a family with his wife, Gala. Together they raised four children in Arlington. (Gala died in 2012 at the age of 93.)
Tolliver resumed playing in the 1960s when time allowed, and continued to garner accolades. He played with renowned country musician Roy Clark, and performed on the White House lawn for officials in the Carter administration. One gig took him to a Maryland nudist colony—the mention of which still brings a touch of crimson to his face, showing the Green Cove native retains a sense of small-town propriety.
While these accomplishments speak volumes, the defining aspect of Tolliver's legacy is not his singular style, or his many brushes with celebrity, or even the fact that the now-defunct Speedy Tolliver Fiddler and Banjo Fest, which was held annually at Arlington's Lubber Run Amphitheater for more than a decade, bore his name.
It's a continued willingness to share his trade secrets with anyone who is willing to pick up an instrument. "Speedy is totally selfless and doesn't consider himself aloof in any way," says longtime friend and musical partner John Kaparakis. He just loves the music.
—Kevin Craft