Running Rampant
What compels thousands of us to hit the roads and trails, day after day? Stress? Friendship? Health? Survival? For many, it's all of the above.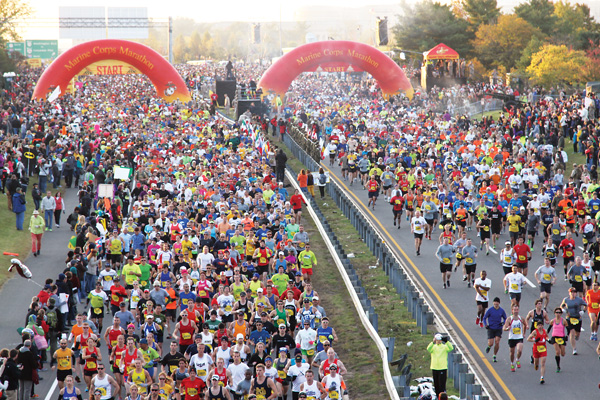 Running culture's veritable stampede into the 21st century isn't just a local phenomenon. According to a biennial survey compiled by the national nonprofit Running USA, the number of male race-finishers nationwide nearly doubled in the last decade, increasing from 3.6 million to 6.8 million between 1990 and 2012. And that's nothing compared with the women. During that same time period, the ranks of females entering and finishing foot races exploded from 1.2 million to 8.7 million.
Hannah Grieco is one of those women. At 38, she is one of the 650 members of the Arlington/Alexandria chapter of Moms RUN This Town (MRTT), a group she joined last year. Since then she has completed more than ten races, including three half-marathons. She is now registered to run the Marine Corps Marathon this fall. "Running has been my lifeline to sanity and happiness," explains the Waverly Hills mom of three. "In moms' groups, you talk about breastfeeding and your birth story, but it's still all about your kids. I was proud of myself for doing something that had nothing to do with being a mom. I had lost sight of who I was."
Deborah Brooks tells a similar story. "I was a stay-at-home mom and my life was revolving around my kids," says the McLean resident, 44, who founded MRTT's McLean chapter in February 2013. "I found something that was only for me." Clearly other McLean moms had a similar urge to lace up and hit the road. Within 14 months, Brooks' group had 250 members.
MRTT is a nationwide outfit with multiple chapters in our area (the Falls Church group has 187 members, according to its Facebook page), but it's hardly the only runners' club in town. Countless other tribes of like-minded individuals have assembled around the common goal of staying fit through this most basic form of exercise.
Take Lava Ladies, a cadre that first came together in 2003 when four women, whose kids attended the Children's House Montessori School on North Glebe Road, discovered that they were training separately for marathons.
"For the first several years it was just the four of us, but then we started to grow by word of mouth," says the group's leader, Darla Gonson, who lives in East Falls Church.
Today, its two dozen or so members range in age from the late 30s to mid-50s. Many are current or former moms from Tuckahoe Elementary School; all are crazy enough to get up in the dark while the rest of their families are still in bed, and run five miles or more, three times a week.
What's up with the name, Lava Ladies? It was coined when the group's founding members ran their first Ragnar (a 200-mile overnight relay race) in 2009. "We had to come up with a team name to enter," explains Gonson, now 50. "Our tagline was Not so fast, but pretty damn hot." Today, that tagline is a bit of a misnomer, considering that the various members who participate in relays—they've done six—usually end up placing first or second in their age group. But they stress that it's not all about winning.
"Forty percent of the reason I get up at 5 a.m. to run with this group is the physical aspect of it, but 60 percent is mental," says Marta Perez Drake, 43, a Yorktown resident who's been running with Lava since 2004. "It's about starting your day with a group of women who I can talk to about anything"—aging parents, illnesses, marriages, kids—"and I know that anything we discuss is confidential. We have a saying, What's said on the trail stays on the trail. There's something about how when you're both looking forward rather than right at each other, you share more. You talk about everything."
Plus, Drake adds wryly, the group serves as a de facto neighborhood watch. "I have two kids and I hope they always make good choices," she says. "But I will often remind them that when they're out and about on their own to remember, Lava is watching. We are everywhere in this town. You can't get away with something without having one of us find out."
Is running our new cultural obsession, in the same way that throngs of ab-crunching hopefuls sweated it out to Jane Fonda aerobics routines in the '80s? A snapshot of the local landscape certainly seems to suggest as much—except that there are far more guys in on the action now that the uniform doesn't include leotards and leg warmers.
"At 6 p.m., you'll see just as many people going for a run as are going to the bars [for happy hour]," says ultra-runner Michael Wardian, 40, who lives in the Arlington Forest neighborhood. "And if you show up at Iwo Jima on Saturday morning, good luck getting a spot on the trail."
Despite the crowds, Wardian, an Olympic 100K silver medalist and a Guinness World Record holder (he ran the fastest marathon dressed as a superhero), is intent on rounding up more converts. He occasionally leads organized group runs—departing from the Pacers store in Clarendon, or from the sweetgreen in Ballston—designed to get first-time runners into the sport.
"We talk about shoes, nutrition, and go for a short 1.5-mile run," he says. "It's community-building. People see that I'm not a freak of nature just because I now run hundred-milers; I started out just like them."