Running Rampant
What compels thousands of us to hit the roads and trails, day after day? Stress? Friendship? Health? Survival? For many, it's all of the above.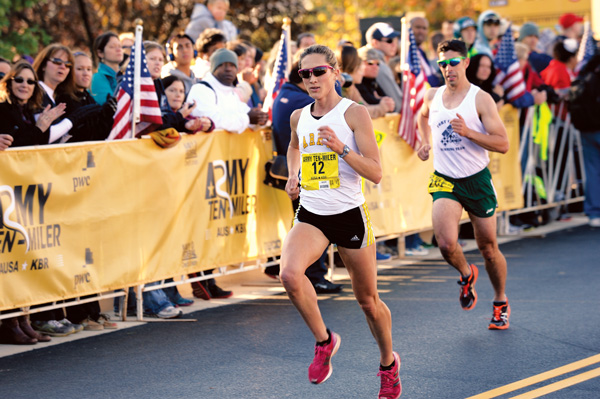 Moreover, training and competing in a group can have other psychological benefits. "Shared experiences, like facing and overcoming challenges together, are very powerful experiences," Lager says. "To support someone through that is very meaningful."
Running has obvious physical benefits, too. "It sounds corny, but physical fitness really is the best medicine there is," says Lauren Proctor, a physical therapist at Body Dynamics in Falls Church. "The more in shape you are, the longer you'll stave off any illness, whether that's diabetes or heart disease. We've had…clients who come in on medication and who are then able to reduce medications or get off them all together [through exercise]."
A high-impact aerobic activity like running also can help to increase bone density, Proctor says. "When you run, you're putting two to three times your body weight on your legs with each step," she explains. "This is what's known as Wolff's Law, which states that bone mass in a healthy person will increase to accommodate the pressure that's put on it."
Janeen Porche, 37, a financial analyst who lives near Shirlington, runs for health reasons that supersede her mere desire to stay in shape. Thirteen years ago, she was diagnosed with a brain AVM (an arteriovenous malformation or "brain bleed"), which left her in a wheelchair and unable to speak clearly. She was told she'd never walk again.
Determined to overcome that prognosis, Porche endured 10 months of grueling physical therapy and regained her ability to walk and talk. In 2011, she saw a flier for Team in Training, a fundraising program for the Leukemia & Lymphoma Society. The program promised it could get her to run a half-marathon. She accepted the challenge.
"I ran outside once a week—it scared the bejezus out of me [because] I was self-conscious and slow," she says. "I worried that people would judge me and think Oh, you're not a runner. But [I've found that] runners are only encouraging." In 2012, Porche joined the Arlington Road Runners Club, which at last count had 180 members.
She now runs 10 to 30 miles a week and has completed five half-marathons in three years.
Falls Church resident Heather Jeff similarly chose running as a form of therapy after being diagnosed with multiple sclerosis in 2002.
"It shifted my foundation. I realized that I needed to enjoy what I had. For me, running was giving the middle finger to MS," says Jeff, now 40, whose blog, findyourinnerpace.com, chronicles her story. "I'm not on medication—my doctor is amazed. My identity is not my disease."
For Meg Nelson, 33, a member of the Arlington/Alexandria chapter of MRTT, running is an activity that's helped her keep a lifelong eating disorder at bay.
"Anorexia/bulimia is a psychological disorder: Any time I felt like something started spinning out of my control, I would turn to food to try to regain control of my life," explains Nelson, who, for 15 years, yo-yoed in a pattern of starvation and weight gain.
"When my daughter was 3, she started to ask me about the way I was eating," Nelson says. "Here I was, telling her to make healthy choices and teaching her not to rely on outward appearances—that you're only as pretty as you are on the inside—and I realized that I didn't feel about myself the way I was asking her to feel about herself. I was totally hypocritical."
Resolving to get healthy, Nelson started a Couch-to-5K program ("It sucked, I hated it," she admits) and kept surprising herself by going farther and farther.
She also educated herself on what she needed to eat in order to fuel her body, which included a balanced intake of proteins, fats and carbs. This fall, she will run her second marathon.
"In order to run 30-plus miles a week, I have to eat a good diet and have a good measure of determination—it kind of forces me to stay healthy. It's been transformational," Nelson says. "Running has really saved me."
Sometimes we run to save others. Jennica Whitfield, who lives in Falls Church, ran a 10K in May to raise funds for the Leukemia & Lymphoma Society. Her daughter, Ellie, was diagnosed with leukemia in 2013 at age 4. "I run now because I want to connect with other moms and because it's raising money for a good cause," explains Whitfield, 36. She says that Ellie has responded well to treatment and her prognosis is good. "I want to give back to an organization that's helped save my daughter's life."
Frank Fumich, 46, a resident of Arlington's Stoneridge neighborhood, recently ran 450 miles from D.C. to Boston with his friend Matt Nelson to raise money for the families of the Boston Marathon bombing victims. He describes the sensation of crossing the finish line as one of both pleasure and pain.
"I don't do it because it's fun," says Fumich, who raised $81,100 on the road to Bean Town. "I do it because I want to see what I'm made of."
If there's one thing local running groups know how to do, it's rally.
Falls Church resident Whitney Casstevens, 39, who runs with Lava Ladies, can attest to that fact. "I recently fell and broke both wrists at 10 p.m. on a Saturday night," says the mother of three. "By 5 a.m. Sunday, the group had set up a meal service website for me and the list was already full. Here I am with two broken arms, but I knew that my family was going to be okay. This group is just amazing."
Many of us run for fitness, competition, camaraderie and charitable causes. We also run to feel our feet on the ground; to show our gratitude that our bodies continue to move forward in the face of illness and tragedy; to show that life's challenges won't break us. We run to be better parents, better partners, bigger thinkers and more effective leaders. We run to connect to the community around us.
Remember that crying baby who first propelled me out the door in a fit of frustration? He's now my race partner. My 9-year-old son, Liam, and I have run five 5K races side by side; he's got a collection of race medals and bib numbers to prove it. We take morning jogs when we go on vacation so that we can see a new city in a way we never would otherwise.
Liam's 11-year-old brother, Ethan—now quite the accomplished tooth-brusher—is getting into the act, too. In May, I ran alongside him as he completed his first 5K in 26 minutes, 52 seconds.
When I ask my boys why they run, they say it's because they get to spend time alone with me. If you're a mom, you can't possibly hear those words without thinking you've done something right.
And then I realize: What I started out running away from is exactly what I've been running toward this whole time.
Adrienne Wichard-Edds' best 10-mile race time is 1:12:23. She has never run more than 10 miles in a row.
---
Run Smart
How can we stay fit without wrecking our bodies? Medical experts stress that there's a smart way and a dumb way to incorporate running into your daily life. Some pointers:
Ease into it. If you're new to running, don't expect to be marathon-ready in a month. "You have to find the balance. Don't do too much too quickly," says Chris Annunziata, an orthopedic surgeon for Commonwealth Orthopaedics in Arlington (he's also the head team orthopedic physician for the Washington Redskins and a consultant to Washington Ballet and McLean Youth Soccer). For guidance, join a running club, or follow the training protocol in an app like Couch-to-5K.
Don't run through pain. If it hurts, see a doctor. "Pain is the body's response to stress," Annunziata cautions. Ignoring it can lead to more significant problems that will sideline an athlete even longer. "Most running injuries, such as stress fractures, tendonitis and the dreaded plantar fasciitis are related to overuse. Running just prolongs the problem."
Get sleep. Physical therapist Kerri Kramer, who owns the Endurance Athlete Center in Falls Church City, notes that some injuries can have a direct correlation to lack of sleep. "In that REM stage, that's when your body's really working to recover from the stress you've put on it the day before. Runners ideally need seven or eight hours" to recoup and avoid injury, she says. So if you plan to hit the pavement before dawn, it's equally important to hit the sack earlier.
Take time to stretch. But do it after you run, when your muscles are warm and elastic. Over time, this cool-down practice will improve your performance and reduce your risk of injury. "If you have a lot of tight, short muscles [a common phenomenon in people who have desk jobs], running is like driving a car with the emergency brake on," Kramer says. "Tight pecs and hip muscles can mess up a lot of things down the line." If you insist on stretching before you run, stick to dynamic, fluid movements (such as knee-ups and butt-kickers) as opposed to static stretches that can cause muscle strain.
Consider your gait. When it comes to the potential for injury, how you run may matter more than the frequency or distance of your outings. Studies have shown that the farther away your foot-strike falls from the centerline of your body, the higher your injury rate. "When we evaluate a runner, we're looking primarily at your running form," Kramer says. "We'll also look at things like what shoes you're wearing and your musculoskeletal structure, but more important is the length of your stride. The closer you can get to striking underneath your body, the exponentially smaller your probability for injury."
Barefoot running: good or bad? While barefoot running can be safe for some, it can be very unsafe for others. It all depends on your body type, running history and past injuries. "If you have high arches, you tend to have a more rigid foot architecture and therefore more stress on your joints," Annunziata explains. "If you make the transition to barefoot running, you need to make the transition little by little." Keep in mind that decades of wearing shoes will modify the way you run, so you can't just make an abrupt change, Kramer adds. "But if there's a good transition, barefoot running can be beneficial; it gives feedback to the body that you need to run softer and springier so that your body adjusts. When you have shoes on, you run harder and heavier and it changes the foot-strike."
---
Related Stories:
16 Fall Races to Get You Feeling Good While Doing Good
Why the 2018 Boston Marathon Will Go Down as the 'Worst Wet T-Shirt Contest Ever'