Extraordinary Teen Awards 2015
Our second annual teen competition honors outstanding high school students in Arlington, Falls Church and McLean.
Emma Morris
Bishop O'Connell High School
Shortly before the start of her junior year, Emma Morris moved with her family from California to McLean. It was a tough transition, but one that the 18-year-old ultimately embraced. "Whenever you move, it's a chance to turn the page and reinvent yourself," Morris says. And that she did.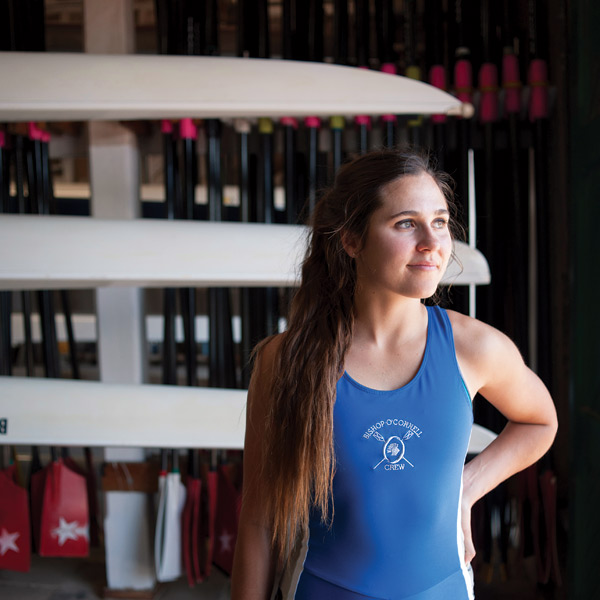 Photo by Michael Ventura
Entering Bishop O'Connell as a new kid, she landed a spot on the crew team, despite having little experience with the sport. By the winter of her junior year, she had placed in the top 15 in the junior lightweight division at the World Indoor Rowing Championship in Boston. That spring, her varsity team won the Washington Metropolitan Interscholastic Rowing Association regional championship in the four-plus boat category, and went on to snag fourth place at the Scholastic Rowing Association of America nationals.
Morris' rapid rise to elite athleticism was nothing short of "mind-boggling," says Dan Schenk, her coach at Bishop O'Connell. "It is something I actually didn't think was quite possible. For her, with two years' less experience than most girls, to get to that level is unheard of. It's a testament to how hard she works."
Of course crew is not Morris' only strength. During her two years at Bishop O'Connell, the powerhouse teen also maintained a straight-A average, interned at an oncology radiology lab at Georgetown University and spent her spare time helping people with physical disabilities learn how to row through the Capital Adaptive Rowing Program.
Drawing on personal experience, she also mentored incoming freshmen and transfer students to make them feel welcome. School counselor Tom Giska credits her as the primary reason for the mentoring program's expansion.
This fall, Morris heads to Stanford University on a rowing scholarship, where she plans to study biology and join the women's lightweight crew team.
"I am not going to be a perfect person," she says, paraphrasing an inspirational quote from Vince Lombardi. "But if I go out every day…trying to push myself and do the best I can, then I am going to find in the process that I am excellent."     —Lindsey Brookbank