Extraordinary Teen Awards 2015
Our second annual teen competition honors outstanding high school students in Arlington, Falls Church and McLean.
Amanda Hayes
H-B Woodlawn Secondary Program
On paper, Amanda Hayes is the ultimate academic. With a 4.32 GPA, the H-B Woodlawn student scored 2330 out of a possible 2400 on her SATs. By the end of her senior year, she had 10 AP classes under her belt (and at press time had earned perfect scores on all six of the AP exams she had taken). She adores physics, Latin, poetry and Shakespeare.
But there is more to Hayes than perfect scores—in particular, the black tae kwon do belt tied around her waist.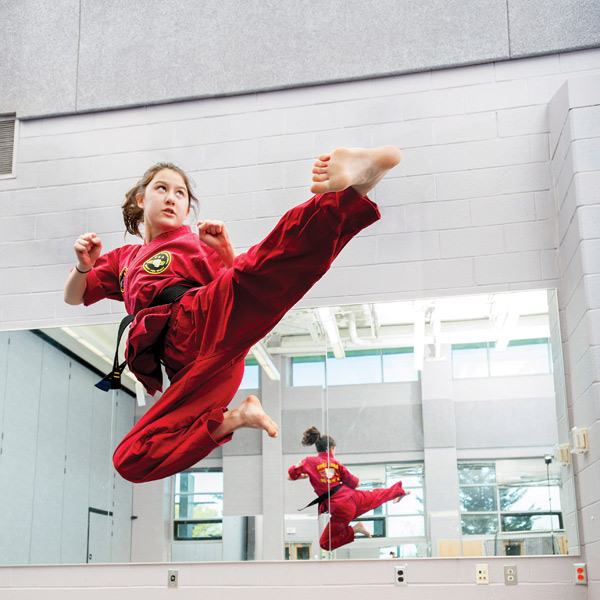 Photo by Michael Ventura
"Tae kwon do taught me to believe in myself," says the 18-year-old, who lives near Jamestown Elementary. "You build self-esteem. You work hard. You see your own improvement and how hard work pays off."
Hayes earned her black belt at the tender age of 11. "At that point, [she] was still too young to hire as a paid employee, so she participated in our advanced leadership program," says Francis Pineda, who runs the Jhoon Rhee
Tae Kwon Do studio in the Lee Harrison Shopping Center with co-owner Barry Shackelford. "Our entire staff would often joke and wish she were older so we could hire her."
They did just that on the day she turned 16. In addition to working at the martial arts studio, Hayes also volunteers in its Adaptive Tae Kwon Do (ATKD) program, which is designed for students with a wide variety of special needs, including those with autism and Asperger's syndrome. On Saturdays, she can be found working directly with one or two students who range in age from 4 to 19. "ATKD is about what you can do. Martial arts is accessible to everyone," she says.
Though discipline is central to her success, Hayes credits Ultimate Frisbee as a balancing force in her busy life. "Frisbee is a lot of fun and a big part of the culture at my school," says the teen, who served as senior co-captain of H-B's varsity coed team this past fall. "It's a collaborative sport with a great community. And there is no way to be a ball hog; you can't run with the disc!"
In the fall, she'll join the freshman class at Stanford University.     —Jenny Sokol