Extraordinary Teen Awards 2015
Our second annual teen competition honors outstanding high school students in Arlington, Falls Church and McLean.
Tremaine Scott
Yorktown High School
In April, Tremaine Scott served as the 2015 Virginia Model General Assembly (MGA) speaker of the House. He hopes to someday serve as the nation's speaker of the House. But the Yorktown grad has an even loftier goal.
"My dream is to be president," he says with a mix of modesty and confidence.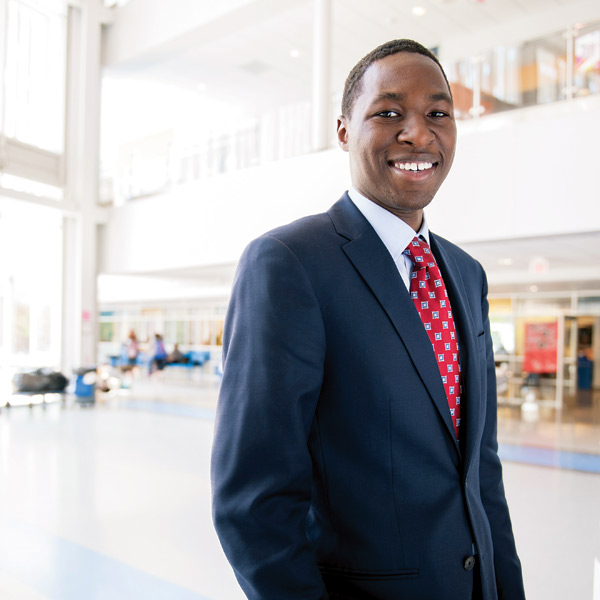 Photo by Michael Ventura
As "Mr. Speaker," Scott, 18, presided over the MGA House of Delegates at the state capital in Richmond, as 525 high school students followed Virginia's legislative process, representing, debating and voting on bills. To fill the role, he had to familiarize himself with the finer points of nearly 50 pieces of legislation and lead students during break-out sessions.
"I was quite nervous because I had to talk to an audience of about 700 people, but once I started, I felt good," says Scott. "I found my passion in politics and government. I've always had a thing for debate and I like to stay current with bills and laws."
Prior to graduating, Scott bore a rigorous academic load that included classes like AP Latin 5. Last year, he represented Arlington Public Schools (APS) at the Minority Student Achievement Network (MSAN) Student Conference in Massachusetts. This year, he led a Model General Assembly workshop for students from H-B Woodlawn, Wakefield and Yorktown at a community asset-building conference in Arlington.
His road to success has not been a smooth one. The summer after his freshman year, Scott's family experienced a significant economic hardship that left his life in turmoil and his future uncertain. When their financial situation necessitated a move outside of Arlington, Scott requested permission to remain at Yorktown. "I had so many teachers who really cared about me and cared about my future," he explains. "I was really connected to this community, and I didn't want to lose that." With strong support and approval from the Yorktown staff, he spent his last three years of high school commuting from Reston, often riding the Metro or two public transit buses.
During that time, Scott earned the Principal's Award for "Most Improved Student" two years in a row—despite having neither Internet connectivity nor a printer at home. Instead, he used computers at school to keep up with online homework assignments that required Google documents, blogging and online research.
"Tremaine was often in his high school adviser's office working on the computer early in the morning, at lunch, or after school," says his MGA adviser, Linda Horvath. "Despite these challenges, and the two hours a day spent commuting, he never complained."
Scott plans to begin the NOVA Pathway to the Baccalaureate Program in the fall, with the hope of transferring to a four-year college and eventually studying law.     —Jenny Sokol